Description
Found & Flourish presents Everything you need to know about running a business with Fleur Emery, Start-up Expert, Columnist at Courier and Salon Host at The Wing
At Found and Flourish we offer a safe space for women in business to learn the tools and techniques to build sustainable and profitable businesses so they can truly flourish in business and in life.
Is this workshop for me?
Do you have a business idea but don't know if it can really work? Maybe you have a plan that you believe is viable but don't know how to make a business model or set it up. Perhaps your business is already running but you'd like to know how to scale it?
Workshop goals
This one-day course will walk you through everything you need to know about starting a business from concept and viability to planning, developing and funding so that you have a roadmap that takes you from business-idea all the way to ready-to-launch and beyond.
Schedule
Concept viability
In this session you will learn how to scrutinise a business concept using market research, focus groups and SWOT analysis. In a hands-on jargon-free session you will learn how to thoroughly test your own business idea.
Business models / Expectations
This session will cover different business models and the reality of working in them, what they need to set up, the runway to profit and the potential wins.
Legal Obligations / reporting
This covers everything you need to know about registering your business with Companies House and HMRC, your personal tax liability and that of the business and your reporting obligations.
Writing a Business Plan and Cashflow forecast
This session will demystify the process of writing a business plan so you can feel confident about what you are writing and why. I will use real life examples and offer simple templates which will walk through in the session.
Funding
Finance options for early stage start-ups are limited and much of the general information about how to fund a business is useless in the first instance. This session will arm you with everything you need to know about the realities of funding a business at seed round and beyond.
The agenda:
11:00 - 11:45 Session 1

11:45 - 12:00 Break

12:00 - 12:45 Session 2

12:45 - 13:00 Break

13:00 - 14:45 Session 3

13:45 - 14:00 Networking (chats & hugs)
Looking forward to seeing you there!
You can join our online community by signing up to our newsletter here.
Because running a business is tough business. We're right here with you.
Found & Flourish
x
Please note: We have a number of pay-as-you-can tickets for people on low incomes, to find out more please get in touch via Hello@foundflourish.co.uk.


About your trainer
Fleur Emery
Fleur is a start-up expert with 14 years' experience both launching her own product ranges into major retailers and using her success to help to help other founders achieve. Her client roster includes Pip & Nut, Miso Tasty and Rosa Bloom. Fleur has lectured at UCL on Business & Branding, co-hosts the Courier podcast, has a regular column in the magazine. She regularly contributes as a speaker, podcaster, presenter and writer on all things modern business.

About your Host
Lara Sheldrake
Lara is the Founder & Director of Found & Flourish, a female led organisation empowering women in business through community, services and events. With a background in advertising and social media strategy, Lara has over ten years experience working with early stage startups to household brands.
Lara hopes by putting on events such as this one she can support other women in business to launch, grow and scale impactful businesses.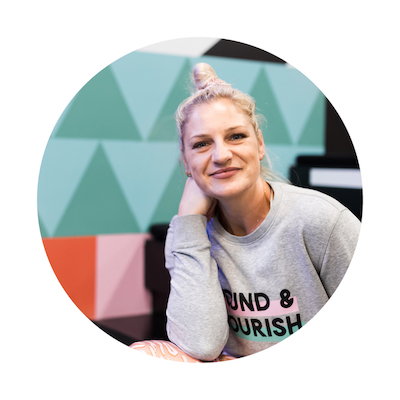 FAQs
Is your event for women only?
We welcome anyone who identifies as a woman or a non-binary woman. We're on a mission to close the opportunity gap for female founders, so if Found & Flourish is a fit for how you identify then we'd love to have you join us.
What's the refund policy?
You can receive a full refund up to 7 days before the event.