Hosts Frog Morris and Nicole Mollett will use ancient wizardry of magic lantern to conjure up walking tour of monsters & forgotten places.
About this event
Mollett and Morris' Hydra-tour Lampshow (Meet at Thames-side Gallery from 6pm on Saturday 25 September 2021)
Roll up! Roll up! Ladies and Gentlemen! Boy and Girls! For Mollett & Morris Hydra-Tour Lampshow.
Your hosts Frog Morris and Nicole Mollett will use the ancient wizardry of magic lantern to conjure up fantastical tales of monsters, forgotten places and satirical humour. You will not believe the wonders that await you in the watery nooks and crannies of the old Naval Docks...
Prior to the COVID-19 lockdown, M & M had been developing a series of guided night walks in Gravesend and Ebbsfleet using hand-held magic lanterns adapted with modern battery powered LED light to project outdoors onto pavement, tunnels, walls and buildings. During these lampshows we recreated the lost Rosherville Pleasure Gardens with exotic plants and animals and surprising guest appearances by long lost music hall entertainers such as - Little Titch's Big Boot Danc or Shrimp impersonator Herr Von Joel. For Woolwich we create a similar guided walk inspired by the water-rich history of this Naval area - War Ships, Explorers, Merchants and Buccaneers, at one time they all passed this way searching for adventure.
A live performance walking tour to take place outdoors after dark, meeting at an agreed time. The performance can involve audience interaction making sound effects and using small handheld projectors. We will assess the safety of this and make changes dependent on the COVID risk-levels. The lanterns project images 1m – 3m in height from a distance or 2 – 3m.
The Art of the Magic Lantern is a collaborative live art project by Nicole Mollett and Frog Morris which re-purposes pre-cinema projection equipment to create new live performance pieces for contemporary audiences. Hand painted illustrations and Victorian-era photographs are projected into dark spaces accompanied by live storytelling.
Times: 6.30-8pmish
Departure Point: Thames-side Gallery, Thames-Side Studios, Harrington Way, Warspite Road, Royal Borough of Greenwich, London, SE18 5NR.
End; near Woolwich Foot Tunnel – short walk through old Naval Dock Yards to finish near Fish and chips/ Woolwich Arsenal DLR station
More on website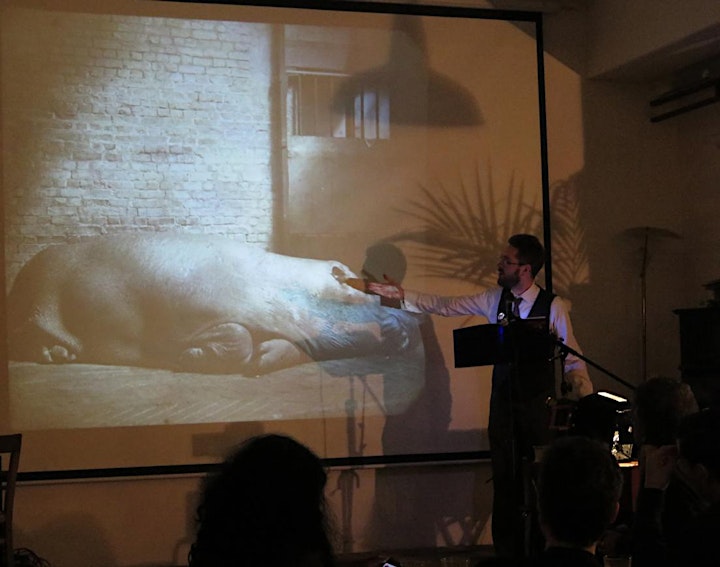 Organiser of Mollett and Morris' Hydra-tour Lampshow
InspiralLondon - an ambitious artist-led project, working collectively,  to create a new walk trail spiraling out through London, from Kings Cross to Gravesend. The 300-mile pathway is divided into 36 easily accessible walk segments, allowing the public to experience the city as one vast art space in which to re-imagine the built and natural environment.
Expanding on the potential of walking as art, we use a variety of artistic practices and artistic interventions to offer an alternative platform that provides accessible and pleasurable ways to delve into under-explored and forgotten parts of the metropole, including its watery commons.
You can view the trail on our website and use the online maps to walk the trail.https://inspirallondon.com/
Currently supported by The Royal Borough of Greenwich. We have been generously supported by Arts Council England Grants for the Arts and the Kent Arts Investment Fund (KCC). Other partners include Totally Thames 2021, Metropolitan Trails, Gravesham Arts, LV21, Hotel du Nord, soundcamp and counterproductions.