Free webinar on the latest developments in Net Impact Approaches, transforming the economy, and the implications of COVID-19
About this event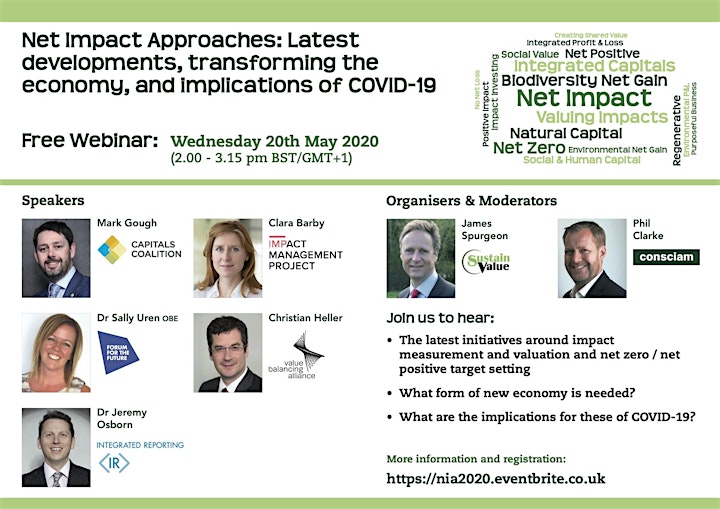 The Net Impact Approaches conference is firmly established as the leading annual event to hear the latest in impact measurement and valuation, and target setting for net zero and positive impacts. Whilst we sadly needed to postpone this year's conference due to COVID-19, we're excited to instead host this insight packed webinar involving our key Affiliates, on what would have been conference day.
Following a quick overview of the subject and aim of the webinar from the conference organisers, delegates will hear the latest updates from five leading organisations heavily involved in these topics. Our speakers will be:
Mark Gough - Capitals Coalition
Dr Sally Uren OBE - Forum for the Future
Clara Barby - Impact Management Project
Dr Jeremy Osborn - International Integrated Reporting Council
Christian Heller - Value Balancing Alliance
The speakers will also share their views on what is needed to transform the economy within the next ten years to deal with the climate, nature and inequality crises. We'll also be asking them "Should we be aiming for 'Regenerative Stakeholder Multi-Capitalism for Good'?" In addition, they will provide some brief thoughts on what implications COVID-19 may have on all this in the coming years. Around 20 minutes will be dedicated to an open question and answer session involving delegates.
The webinar be introduced and facilitated by James Spurgeon (Sustain Value) and Phil Clarke (Consciam), founders of the Net Impact Approaches conference.
Please note that the Net Impact Approaches conference 2021 has been provisionally set for 27th May 2021. Click here to see the outline agenda and receive conference updates.
By registering for this free event you are accepting our standard event terms and conditions. Please note that the webinar will be hosted using the Capitals Coalition's Zoom Account so your name and any other details you provide will be available to the Capitals Coalition as well as Sustain Value and Consciam. Please do not register if you not accept this. You can view the relevant Privacy Policies by clicking on the organisation's names above.