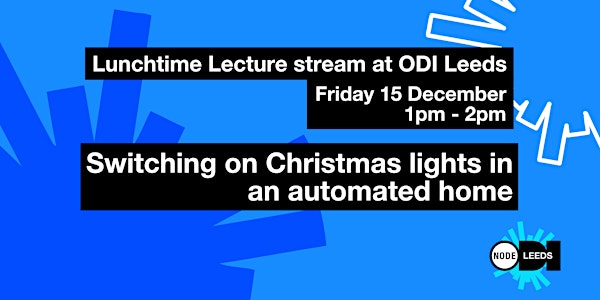 ODI Lunchtime Lecture stream - Switching on Xmas lights in automated home
Event Information
Location
ODI Leeds
Duke Street
Leeds
LS9 8AG
United Kingdom
Description
Friday 15 December 2017
1-2pm
ODI Leeds, Munro House
>>Join us in our lovely space as we stream the Lunchtime Lecture live from London. We will have tea/coffee and wifi available in a bright comfortable space. Get out of the office, stretch your legs, and catch a brilliant bite-size talk from experts in data from across the globe.<<
Over the past two years we have seen swaths of manufacture attempt to bribe us with technology to "make our lives better". As a result we now have big technology manufacturers competing to be our virtual assistants with smart speakers.
In this lecture lecture ODI Data Scientist David Tarrant looks at how these platforms are competing and producing a confusing set of services and why simple to use open standards are going to be the key to winning in the home automation market.
"OK Google, tell Alexa to ask Siri to book me a place on this amazing sounding lecture!"
About the speaker
David joined the ODI from the University of Southampton where he was a Lecturer in the Web and Internet Science Group. He was responsible for creating the world's first undergraduate course in open data.
Since joining the ODI David has put in place key educational content that has helped transform governments and unlock over $15m for startups. Additionally David has applied his data science skills to build policy making tools for open data leaders, including the Open Data Barometer visualisation. This tool has been used to guide policy development and allow leaders to compare and contrast their open data initiatives with other similar initiatives globally.
As Learning Skills Lead, David is responsible for the direction and quality of the ODI's learning offering. Products include face to face training, eLearning and the ODI's Learning Records System (LRS). Underpinned by the skills framework, all of these products put together ensure that the ODI can offer high quality online and face to face training to as many people as possible.
Date and time
Location
ODI Leeds
Duke Street
Leeds
LS9 8AG
United Kingdom