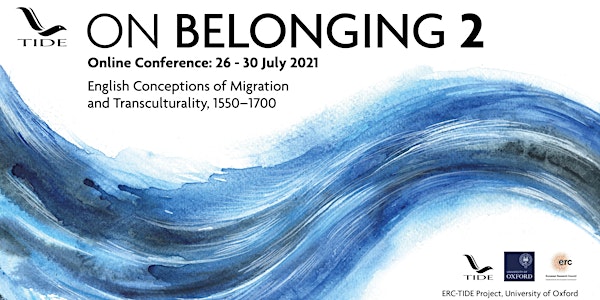 On Belonging 2: English Conceptions of Migration and Transculturality
A 4-day interdisciplinary online conference exploring how mobility in the great age of travel shaped perceptions of human identity.
About this event
Three years on from the first 'On Belonging' conference, join the ERC-funded 'Travel, Transculturality, and Identity in England, c.1550 – 1700' (TIDE) project once more to explore questions around identity, migration, and belonging in the early modern period. With a wide ranging choice of panel discussions, roundtables, lightning talks, and creative sessions scheduled over 4 days, 'On Belonging 2' will reflect on how processes of global exchange in the early modern period influenced English perceptions of human identity, and how the movement of peoples, objects, and ideas across the globe shaped English concepts of belonging both at home and abroad. To watch the conference, please follow the Crowdcast link on the TIDE website: http://www.tideproject.uk/on-belonging-2/.
'On Belonging 2' is free to attend, although those in permanent employment are warmly encouraged to donate to the Society of Renaissance Studies. The SRS supports scholarly activity at all stages by providing annual postdoctoral fellowships, conference support, public engagement awards, doctoral scholarships and support for students at MA level. For more information and to donate, please visit https://www.rensoc.org.uk/donate-to-the-srs/.
TIDE is committed to promoting research and fostering a research environment that is non-discriminatory, respectful of diversity, and welcoming to those historically under-represented in academia and in this particular field of study. The project's Equality, Diversity, and Inclusivity statement can be viewed here: http://www.tideproject.uk/on-belonging-2/.
Please send all queries to erctide@gmail.com. We look forward to seeing you there!