Join the FIRM team for this online event exploring resourcing plans for 2021
About this Event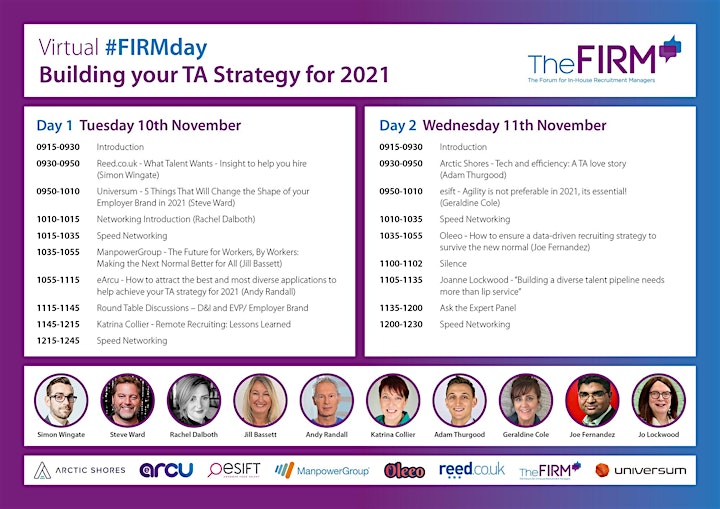 Registration begins both days at 9.00am BST
Each day closes 12.30pm BST
Sessions include:
Remote Recruiting: Lessons Learned – Katrina Collier
For recruiters who already do much of their initial candidate screening via email, text, phone or video chat, embracing remote recruiting has had less of an impact day-to-day than to those people who are used to conducting in-person interviews, like hiring managers. Changes have had to happen, both with tools and with attitude. In this session, Katrina will share some of the lessons that have been learned during 2020 to help craft a 2021 strategy that works well into the future.
Tech and efficiency: A TA love story
We know that technology has made everyday life that little bit simpler, from the way we shop, to the way we get from A to B. But how can technology help with you in your working life, as a TA professional? Discover more with our UK&I Account Director, Adam Thurgood, on how the latest solutions can save you time and costs (and headaches!), all while delivering a strong candidate experience.
How to ensure a data-driven recruiting strategy to survive the new normal
Companies are facing new pressures in talent acquisition that impact both processes and technology. Talent acquisition and HR leaders can no longer afford to rely on a reactive or traditional approach to recruitment. They must look to the future and rely on data to meet the needs of the business and the changing expectations of candidates, recruiters, and hiring managers. This session will explore how, including:
- Why it is vital to consider a more systematic, data-centric approach to talent acquisition
- How to shift from talent decisions made based on gut alone to ones built on data and insights
- How to ensure your business is able to define, measure, and track quality of hire using data
- How data can help facilitate better decision criteria such as soft skills, potential, and the likelihood of offer acceptance
- Top ways that data-driven data strategies can aid reducing bias, lifting the administrative burden & personalizing the candidate experience
"How to attract the best and most diverse applications to help achieve your TA strategy for 2021."
5 Things That Will Change the Shape of your Employer Brand in 2021
After what has been something of a remarkable year, has Employer Brand changed forever? Universum works with some of the largest and progressive companies in the world on Employer Brand strategy and creative execution and is seeing landmark moves that will redefine how we position employer branding to the organisation, and refine the way in which we engage and excite talent. UK Director Steve Ward walks through these elements and provides best practice advice on the smart moves for 2021.
The Future for Workers, By Workers: Making the Next Normal Better for All.
A dramatic workforce transformation is happening in front of our eyes. Covid-19 began as a health crisis and is playing out as an economic and social crisis. Work literally left the building and whole industries are being disrupted at speeds never seen before.
Workforce demand is shifting too. Increased demand for cyber security experts, data analysts, software and app developers and new roles like contact tracers, distance monitors and temperature checkers are emerging as fast as others decline in aviation, hospitality and entertainment. To find out how this crisis is accelerating What Workers Want, ManpowerGroup asked 14,000 people in 8 countries, including 1,000 across the United Kingdom, about the future for workers.
In these unpredictable times, one thing is certain – this crisis should be a catalyst for a new future of work, that is more flexible, more diverse and more wellbeing-oriented than we could ever have imagined. Let's take this opportunity to go back to the future of work and create more opportunities for the many not the few.
"What Talent Wants - Insight to help you hire"
Based on research conducted in January and July 2020, we will look at jobseeker opinions through the recruitment lifecycle, from the steps taken by new entrants into the world of work when embarking on their first job search through to what jobseekers look for in an ideal employer. We'll also discuss how the pandemic has changed attitudes towards job-hunting and to the organisations they want to work for, giving an insight into how employers can better retain talent and maximise their engagement with potential employees.
Agility is not preferable in 2021, its essential!
Agility is about reacting and reinventing. Never has there been a more important time to reinvigorate. This session will share some practical methodologies you can implement with your team or as a stand-alone talent professional. Maintaining agility requires the correct mindset and vision. Don't underestimate your ability to be creative, this session may provide a different perspective on how you manage your tasks and emotions
Plus not forgetting our popular virtual round table discussions and our fast paced speed networking!
There are so many benefits to attending a #FIRMday Event! But what we hope you take away from the two virtual half days is:
Great networking with in house recruiter peers
Understanding the key challenges facing in-house recruiters today
Upskilling/ capability building in a supportive and friendly environment
PLEASE NOTE:
By registering for the event, you will automatically receive updates from The FIRM regarding research, events and news. You can unsubscribe at any time.