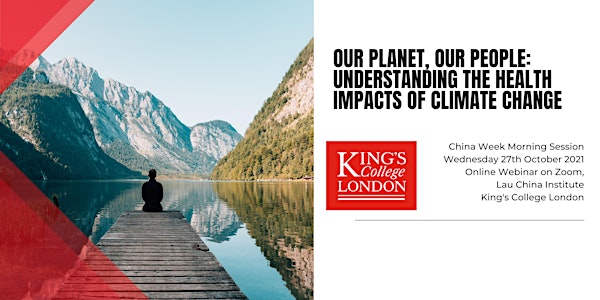 Our Planet, Our People: Understanding the Health Impacts of Climate Change
WEBINAR| Our Planet, Our People: Understanding the Health Impacts of Climate Change, China Week Morning Session, Wednesday 27th October
About this event
On 6 September 2021, more than 200 health journals across the globe banded together to issue a warning about the 'catastrophic harm to health' resulting from climate change. The joint editorial pointed unequivocally to the detrimental effects of higher temperatures and biodiversity loss on human health, such as "tropical infections, adverse mental health outcomes, pregnancy complications, allergies, cardiovascular and pulmonary morbidity and mortality".
In China, communities are already experiencing the health effects resulting from pollution, overpopulation, urbanisation, extreme weather events and rising temperatures. In addition to the physical health indicators, researchers in China and the UK are discovering increasing implications for mental health – including causal links arising from pollution, weather events, access and use of natural resources and broader 'eco-anxiety'.
Ahead of the UNCOP26 in Glasgow, the international health community – including the British Medical Journal, the Lancet and the Chinese Science Bulletin – have firmly put governments across the globe on notice, stating: "2021 has to be the year the world changes course—our health depends on it".
COP26 provides a critical platform for countries to map out a coordinated approach to global public health - to share knowledge, resources, and health-tech innovations to respond to global health inequality and limit the impacts of climate change on people's health and well-being.
In this session, we are delighted to bring together a panel of world-renowned experts to put in focus the physical and mental health impacts of climate change, including:
A/Professor Ying Zhang, University of Sydney & The MJA-Lancet Countdown on Health and Climate Change for Australia
Ying is a senior epidemiologist and a dedicated researcher and educator on climate change and global health. She has led national and international research projects in the field with over 100 publications. Ying's research aims to build community resilience to changing climate and environment, with a focus on the most vulnerable populations in the Asia Pacific Region. Ying is the Co-Chair of the MJA-Lancet Countdown on Health and Climate Change in Australia, which produces annual reports to track progress on health and climate change in the country until 2030. Ying is the Convenor of the Sustainability, Climate and Health Collaboration. Ying is also keen on promoting research translation and policy advocacy to address health and climate change issues. She has been awarded prestigious fellowships, such as the Australian Prime Minister Endeavor Fellowship and the Homeward Bound Fellowship which included a three-week trip to Antarctica in 2019.
Professor & Dean Tong Zhu, College of Environmental Sciences and Engineering, Peking University
Tong studies the health effects of environmental pollution, transport and transformation of air pollutants in megacities and surrounding regions, air-surface exchange of air pollutants and greenhouse gases, atmospheric degradation and transport of persistent organic pollutants. He has been the principle investigator of more than 20 research projects and published more than 300 papers in peer-reviewed journals with more than 14,000 citations and h-index of 61. Tong initiated and organized an international collaborative research project CAREBeijing (Campaigns of Air Quality Research in Beijing and Surrounding Region) with more than 200 scientist and students participated in it. Tong led a team to formulate air pollution controlling measures to improve air quality for 2008 Olympics and the measures were adapted by the Chinese central government and successfully implemented. In 2007 Tong established the Center for Environment and Health at Peking University and was appointed Director of the center.
Professor Haidong Kan, Fudan University & World Economic Forum
Haidong Kan is a professor of environmental health sciences in Fudan University, Shanghai, China. He is a member of the China National Advisory Committee of Environment and Health, associate editor of Environmental Health Perspectives and International Journal of Epidemiology. His research investigates how ambient air pollution and global climate change affect human health.
Professor Chi Zhang, Beijing Institute of Technology & the Lancet Countdown Regional Center for Asia
Chi is a Professor in Economics and Policy of Energy and the Environment at the School of Management and Economics, Beijing Institute of Technology. Her research areas include climate change and healthy economics, energy economics and sustainable development, environmental economics and management. She has published papers in The Lancet Public Health, Applied Energy, Energy Conversion and Management and etc.
Dr. Shuo Zhang, Institute of Psychiatry, Psychology & Neuroscience, King's College London
Shuo is a Specialist Registrar in Child and Adolescent Mental Health in North West London and an honorary research associate with the department of child psychiatry at the IOPPN, King's College London. At medical school Shuo intercalated in Politics, Social Psychology and Sociology and subsequently undertook a Msc in Global Mental Health at the London School of Hygiene and Tropical Medicine and King's College London. Shuo's academic interests focus on how to improve clinical care through a better understanding of the social and environmental determinants of mental health. Shuo is a member of the Planetary Health and Sustainability Committee of the Royal College of Psychiatrists and contributed to the development of the college position statement on the climate emergency and development of resources to promote sustainable mental health practice.
Dr Ioannis Bakolis, Institute of Psychiatry, Psychology and Neuroscience (IoPPN), King's College London
Ioannis is a senior lecturer in Biostatistics and Epidemiology at the Institute of Psychiatry, Psychology and Neuroscience. His multidisciplinary programme of research focuses on how social and environmental factors affect the epidemiology of both physical and mental health over the life course. Ioannis work also extends to the use of quasi-experimental methods and data from hybrid trials on the evaluation and implementation of population health interventions and nationwide policies to address health inequalities. Although not exclusively, much of Ioannis work is conducted within large population-based surveys; birth cohorts and routinely collected information stemming from smartphone technologies and electronic health records. His work has received funding from several national (NIHR, MRC, ESRC, Welcome Trust) and international (Juvenile Diabetes Research Foundation) funding bodies. Before joining King's College, Ioannis have previously held research positions at Imperial College London (2013-2015) and London School of Hygiene and Tropical Medicine (2012-2013).
Chair: Hannah Bretherton, Lau China Institute, King's College London
Hannah is Impact & Engagement Manager at the Lau China Institute, responsible for global partnerships, external engagement and research impact. She is also the founder of The China Puzzle - a digital media channel designed to create constructive dialogue on China in the UK.
Hannah has significant policy experience, having worked as an energy policy advisor for the New South Wales Government Department of Premier & Cabinet. She also led on policy advocacy and business-government engagement for the Australia-UK Free Trade Agreement in her role at the Australia-UK Chamber of Commerce.
Hannah began her career as a researcher at the Australia-China Relations Institute, the University of Technology Sydney, and went on to facilitate senior level strategic dialogue on China between business and government at China Matters. Her research has been published in peer reviewed academic journals including the Australian Journal of Politics and History, the China Economic Journal, and the Australian Journal of International Affairs. Hannah received First Class Honours in International Relations from the University of New South Wales and received two scholarships to study in China – at Lanzhou University and Shanghai Jiaotong University.
Primary Event Partner: Institute of Psychiatry, Psychology and Neuroscience (IoPPN)
This online webinar will be held on Zoom and registered guests will be sent the access link via email a week before the event. Tickets are free for all to attend.
To tweet about the event, use the tags @lauchinainst on Twitter, and hashtags #ChinaWeek2021 #COP26 #lauchinainstitute #climatechange #healthimpacts #kingscollegelondon
For media and event inquiries, please contact lauchina@kcl.ac.uk.
This year's China Week forum at the Lau China Institute of King's College London is held in partnership with:
Chatham House (Asia-Pacific Programme)
Australian National University (ANU)
The China-Britain Business Council (CBBC)
The Great Britain China Centre
Society for Anglo-Chinese Understanding
Italian Institute for International Political Studies (ISPI)
China Biodiversity Conservation and Green Development Foundation (CBCGDF)
Oxford University Silk Road Society