Members of the BAME Scottish Writers' Group join this panel with readings. Coffee/tea and pastries included in ticket price!
About this Event
In celebration of the BAME Writers' Group pamphlet (forthcoming from Tapsalteerie Press), contributors Nadine Aisha Jassat, Andrés Nicolás Ordorica and Jeda Pearl will each read a selection of their work. This discussion will be chaired by Alycia Pirmohamed.
This event will include a brief discussion about the current poetry climate in Scotland. It will highlight the experiences of BAME writers creating in predominantly white spaces. This event will focus on the creative work, lived experiences and personal narratives of the writers, particularly on the importance and vibrancy of BAME-led spaces.
About the Panellists
Nadine Aisha Jassat is a poet, writer, and creative practitioner. She has appeared at literary festivals across the UK, and her essays, poetry and short stories have been published widely, including in It's Not About the Burqa (Picador) and 404 Ink's highly-praised Nasty Women. Her work has drawn acclaim: in 2018, she received a Scottish Book Trust New Writers' Award, won the British Council's UK Open Call for the Discover project, and was shortlisted for the Outspoken London Prize for Poetry in Film and the prestigious Edwin Morgan Poetry Award. Her debut poetry collection, Let Me Tell You This (404 Ink,2019) was described by Scotland's Makar Jackie Kay as a 'punchy, powerful debut', with readers advised by Sabeena Akhtar: 'if you read one poetry collection this year, let it be this.'
Andrés N. Ordorica is a Queer Latinx writer and educator based in Edinburgh, Scotland. As a writer, he aspires to create worlds filled with characters who are from neither here nor there (ni de aquí, ni de allá). His work has been published by Confluence Medway, The Acentos Review, 404 ink, The Colour of Madness, The Skinny and Bella Caledonia.  His writing often addresses ideas of loss, queerness, mental health and navigating life in a liminal state. 
Jeda Pearl is a Scottish writer and poet. Inspired by her Jamaican and Geordie-Scottish heritage, her work often explores the intersections of identity, belonging, secrecy and survival. Jeda was awarded Cove Park's Scottish Emerging Writer Residency in 2019. She's an editor for The Selkie, and her short fiction appears in the Cambridge Short Story and Momaya Press anthologies and her poetry appears in Multiverse – New International Science Fiction Poetry. Find her online @jedapearl or jedapearl.com.
Alycia Pirmohamed (chair) is a Ph.D. student at the University of Edinburgh, where she is studying poetry written by second-generation immigrants. Her pamphlet, Faces that Fled the Wind, was selected for the 2018 BOAAT Press Chapbook Prize, and she was a recent recipient of the 92Y/Discovery Poetry Contest, the Ploughshares' Emerging Writer's Contest, and the Gulf Coast Prize for Poetry. Alycia is a co-editor of They Rise Like A Wave: An Anthology of Asian American Women Poets (Blue Oak Press) and a poetry reader for Tinderbox Poetry Journal. She co-founded The Scottish BAME Writers Network, and has received an Individual Artist Program grant via Calgary Arts Development and The City of Calgary, as well as a Literature Matters Award via The Royal Society of Literature.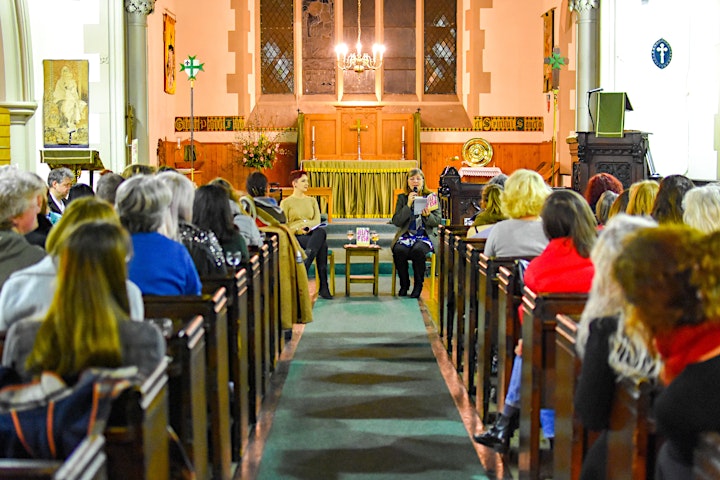 About the venue
St Vincent's Chapel
For Golden Hare Books, St Vincent's Chapel is a home from home, just a short walk along from the bookshop and directly opposite St Stephens. A village church in the centre of Edinburgh, St Vincent's is friendly and a beautiful space for author talks, panels and spoken word.
During the Golden Hare Books Festival, St Vincent's will be home to some of our most exciting events, in this wheelchair-accessible venue. Book signings will take place here, and Smith and Gertrude will have a pop-up cafe/bar all day on Friday and Saturday.