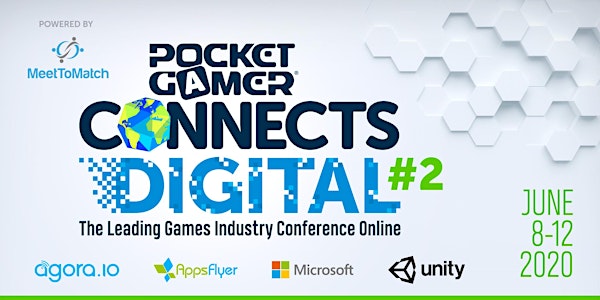 Sales Have Ended
Ticket sales have ended
Thanks for registering for PG Connects Digital! We're looking forward to hosting you in this online event for the global games industry. If you have any questions or queries please contact the team at support@pgconnects.com Please click here to visit the PG Connects website: http://www.pgconnects.com/
A new virtual conference for the games industry, from the makers of PG Connects! Talks, meetings and pitch events, accessible to all.
About this event

PG Connects Digital #2
The Global Games Industry Conference ONLINE!
Monday, June 8 - Friday, June 12, 2020
Following a fantastic first event in April, Pocket Gamer Connects is returning once more in digital form.
PLEASE NOTE: the meeting system (which will be Meet To Match) has just gone live! So once you're registered, please look out for email confirmation in due course.
Whilst we all hope that IRL games industry networking events will be able to return in some form soon (and as it stands we believe that PGC Helsinki, PGC Jordan and PGC Seattle will go ahead at some point in the future), the need to connect and do business remains as strong as ever, despite many of us being isolated at home.
In our continuing mission to serve the games industry, we have established a steady stream of both free and premium digital events that will sit alongside our media to provide regular touch points. April saw us run our first ever PG Connects Digital and we were so overwhelmed by the industry support and engagement ( over 1,000 delegates from 60 countries coming on board) that we immediately greenlit PG Connects Digital #2. Again it could be just the second in a short-run series or become a regular thing - regardless we will continue our ongoing mission to connect, support and celebrate this incredible industry.
And in that mission we can assure you that we will continue to work incredibly hard to distil as much of the content and spirit as we can from the traditional PG Connects events you have come to know and love over the last seven years and hone the format so it can be as genuinely useful as possible. That means expert talks, panels and round-tables, an improved digital meeting system (it will be Meet To Match, with links to your choice of audio/video conferencing platform), digital versions of Big Indie Pitches and fringe events like Publisher SpeedMatch, and more surprises too. All carried out to fit around your schedule and from the comfort of your office computer, wherever you are in the world.
As one of an expected 1,000+ delegates, you will have access to an innovative online platform for five days in June.
You'll be able to select from a programme of great live video content full of insight and practical advice across ten themed conference tracks. You can watch the tracks live or catch up on the recorded videos within your own time, and if you're online while the speakers are performing you'll be able to interact with them and the other viewers with questions and comments.
We'll unveil the speakers and schedule progressively on the official site (www.pgconnects.com/digital) and through our media channels.
You can expect the usual inspiring talks from over 220 speakers who will educate and inspire through an agenda of themed tracks set to cover monetisation and growth, global game trends and company culture, development tools and stories and strategies to thrive in the modern gaming market be it mobile, PC, console or XR.
And June's event has an additional theme: The Art Of Publishing. Publishing is a core part of the games industry - but it's not a simple matter. arriers for entry have never been lower when it comes to developing and sharing a game, yet competition in the market is fierce, and simply submitting a game to the app store doesn't guarantee success. Pocket Gamer Connects Digital #2 will highlight the art of publishing and its importance in the industry, by making extra available content ready for developers to learn from publishers, and for top publishers to learn from each other.
24-Hour Networking For All
Aside from the talks, you'll also be able to search and connect with other attendees, to meet, discuss, do deals and make plans using the all-new online meeting system. The system will go live a week or so ahead of the event and we are now using the trusted Meet To Match platform, which you'll know from other games industry events.
Plus we'll also be running online variants of our celebrated Big Indie Pitch, Investor Connector, and Publisher SpeedMatch activities, that will bring together specific groups with specific needs. Please register your interest at the links below and we will send you details...
INVESTOR CONNECTOR (developers, publishers and investors)
PUBLISHER SPEEDMATCH (developers and publishers)
BIG INDIE PITCH (all platforms welcome)
We're also running our first Pocket Gamer Connects Careers Week alongside the other content. We know people are looking for work at the moment, so we're on a mission to connect jobseekers with recruiters. Please register your interest and we will connect you with the relevant people.
CAREERS WEEK (jobseekers and recruiting firms)
We're also partnering with Finland's IGDA to bring a Mentor Café to the virtual experience. If you're an indie developer who could use a little one-on-one support and insight from a games industry veteran, sign up now and on Thursday June 11 games industry leaders will share their knowledge and expertise in short, 15-minute mentoring sessions. After these sessions have finished there'll be a chance to mingle in a relaxed environment for more conversations. Sign up here:
IGDA MENTOR CAFÉ (developers)
The event is called Connects because that's what we help you do; connect with the whole gaming industry, from students and indie studios to the media, international investors and publishers. No other event puts you in touch with the entire mobile gaming industry like our Connects conferences, and this remains true of Digital.
Most of the benefits of an IRL conference!
We're not going to pretend this will have ALL the benefits of a regular conference. There are no free drinks for a start (although you could crack open a bottle at home), no booths to wander or cool freebies to pocket, you obviously don't get the thrill of visiting a foreign city (although we guess you could go on holiday and connect from there if you desired) and generally there'll be less of those incidental catch-ups and spontaneous meetings that often make the whole thing worthwhile.
We're also not going to pretend we'll get everything faultlessly perfect, there's a lot of tech platforms involved and we're evolving our approach all the time, so even though this is version 2, we're going to take our inspiration from google and leave the 'beta' tag on for a little while! But we are able to confirm a number of improvements since 2020's first Digital event.
But we know that you understand all that, you're in the games business, right? Everything is a work in progress, even after its released! We also feel sure that you'll lend us your patience, trust and support to try and pull off something that can genuinely help us all stay connected, doing business and having fun through these challenging times.
Established International Audience
More than 25,000 industry professionals have attended the live Connects international conference series since 2014. Since then, the roadshow has landed in the UK, Canada, USA, Finland, Hong Kong, Jordan and India with a genuinely international client base; on average, delegates from more than 45 countries attend each event. With the advent of the Digital conference, we hope this number will grow!
In 2016, PG Connects became the biggest dedicated mobile games industry conference series in Europe and have stayed on top ever since. Every event has been bigger and better than the last, and since 2017 we've added VR/AR, PC, console and blockchain to the mix. Our first Digital event in April smashed expectations with over 1,100 attendees. Thank you for being part of it!
Previous speakers and delegates from all the key industry players include Supercell, King, Space Ape Games, Niantic, SYBO, Tencent, Mythical Games, Unity, Jam City, Skybound, Apple, Rovio, Disney, Super Evil Megacorp, Wargaming, Kabam, NetEase, NTT Docomo, Ubisoft, Facebook, Google, Square Enix, Microsoft, Electronic Arts, Gameloft, Sega, Capcom, Twitter, Snapchat, Twitch, NaturalMotion, N3TWORK and many, many, many more. If you'd like to speak at PGC Digital, or another of our upcoming events, please sign up using our Speaker Submission form.
And because Steel Media owns and operates the leading media in this space too, including PocketGamer.com, PocketGamer.biz and PCGamesInsider.biz, our events benefit from unrivalled press coverage. A combined website readership of over a million users a month, 300,000 engaged Twitter followers, over 115,000 subscribers on YouTube, all await.