Event Information
Refund policy
Contact the organiser to request a refund.
Eventbrite's fee is nonrefundable.
Meetings, especially remote meetings, can feel like obstacles to real work. They shouldn't. Meetings should be where the magic happens.
About this event
Learn how to make the most of everyone in your meetings
Make your meetings more productive, inventive and enjoyable, so they are the ones that everyone wants to particpate in.
Are you worried about ever-falling engagement, productivity and inventiveness as your people see months of uninspiring meetings - whether remote, in-person or hybrid - ahead?
Have you dared to do the maths on the value of wasted resource of people in meetings where they are not fully participating?
Do you want meetings to be where the magic happens; where your people look forward to really engaging with colleagues and doing things they can only do together?
If so, the best gift you can give your colleagues is to sign up for (or send them to) the Playful Principles® for Productive Meetings workshop.
(If you can't make the currently scheduled dates and are interested in being notified when new dates are added, please sign up for our monthly newsletter)
-----------------------------------------
"Really useful session. Quite excited to try some of the ideas with my teams. Thanks so much- seriously useful morning!" (COO mental health charity)
------------------------------------------
In this experiential Zoom-based workshop packed with breakout activities, purposeful (and giggle-ful) games and short presentations, particpants will:
learn the neuroscience-backed principles for making the most of everyone in meetings, whether remote or in-person
take away simple tools and techniques that can be used immediately to make all of your meetings, well, just better
have a lot of fun
Fun learning. Deeper connections. Addressing one of the biggest current issues for teams that need to collaborate.
-----------------------------------------
"There was an abundance of both thought-provoking and practical stuff to take away and use which will enhance our participants' facilitation generally, and their meeting leadership specifically. I would thoroughly recommend Richard if you need your meetings to be clearer, more engaging and more productive." (Senior leadership programme director)"
"I can highly recommend this workshop. I attended one and it was fabulous. I got so many ideas, felt really connected with the people on the virtual call, which is not always easy and have already used my learnings to improve the engagement and inclusiveness for everyone. I am still learning but tips and knowledge of Richard Gold are fabulous, you won't look back." (Debbie Bird, Community Manager, Association for Project Management)
"I attended the last one of these and got a lot out of it as well as thoroughly enjoying it. " (Kevin Brent, Director, BizSmart)
----------------------------------------

About the workshop
It has never been more important to design and run meetings which build psychological safety and make the most of the time and potential of each participant.
At the best of times, meetings can feel like obstacles to doing good - or even any - work. Dominated by the extroverts or seniors; conversations anchored by the first person to speak; ideas not flowing; a feeling among participants of not being properly heard; a desire to get back to the desk to get some work done. All in all, much of the potential missed. And now, the rapid shift to remote working, Zoom exhaustion, and the technology, location and psychological barriers to online contribution are all making the challenges even greater.
It shouldn't be this way.
Meetings should be where the magic happens...
...where the team becomes more than the sum of its parts. Where relationships are made and ideas shared, built on and progressed. Where everyone in the room feels they have contributed, been heard, learned. And more importantly where the full potential of the resource in the room has been unlocked in service of the meeting's objective.
This interactive and playful workshop explores the powerful, neuroscience-backed collaboration principles that underpin playful methods like LEGO® SERIOUS PLAY® and applied improvisation to give you the skills to design and run engaging, effective and playful meetings whether in a remote or face-to-face setting. (There is no LEGO used in this workshop - what you learn is designed to apply to all meetings where you want to make the most of all the particpants.)
You'll stay with (and get to know) the same small group for all of the breakout activities which are designed to give you experience of the principles in action.
------------------------------
"Facilitation skills are more important now, more than ever. I attended this great session, learned new techniques and met some lovely people. Highly recommend this for you and your organisation."(Robin Mahadeo, Head of Technology, Service and Delivery, Close Brothers Bank)
-------------------------------
Key Learning Outcomes
A strong foundation for designing and delivering productive, inventive, engaging meetings
An easy to remember checklist for preparing and structuring meetings adapted from the world of team coaching, which will ensure well-run meetings
An understanding of the neuroscience-backed Playful Principles developed by Bulbb including tools that you can use immediately to take meetings to the next level
A new take on the idea of playfulness and why it's important in making meetings work
An introduction to the LEGO® SERIOUS PLAY® method from which the principles are largely derived (although no LEGO is used in this workshop)
Confidence to design and run engaging, effective meetings
More feedback on Playful Principles® for Productive Meetings
"A lot of my work involves meetings where there can be a lot of different power and language dynamics, and so the concepts of psychological safety, equal airtime, and thinking with your hands, are really valuable. So thank you very very much for the session – I've been referring back to the resources you shared a lot." (Strategy manager - global charity)
"This training session was a god send. The challenges of managing meetings and workshops remotely was becoming draining and dreaded. Now I have a new vigour from attending this session. They should not be missed. Richard Gold and the training is as they say gold in these times." (Ray Fowler, Partner, The For Partnership)
From the post-workshop survey:
"It was really timely, concrete and feels like something I can put into practice straight away."
"I was surprised how engaged I became after a long day."
"The 'wise wise wise' part was hilarious but also showed how to quickly build connections."
"The way it was so interactive was surprisingly amazing for an online session"
"Most of the tools for supporting participation, allowing time for individual reflection, for everyone to speak, icebreakers to enable people to connect, thinking about the flow of the meeting in advance."
"I enjoyed the breakout sessions which I normally do not."
"Too much to list - almost everything shared was applicable and I will be aiming to incorporate into an upcoming series of meetings"
About Richard Gold
Richard Gold is among the UK's leading certified facilitators in the LEGO® Serious Play®method. After a blue chip career in various consulting disciplines (www.linkedin.com/in/richardgold), he founded Bulbb which uses playful techniques such as LSP and Applied Improvisation to support clients in strategy, change, team development, leadership development and project management. Bulbb's clients have included Novartis, Kier, Mencap, 02, eon, British Council and the MoD, among many others. In a world that is that is changing at an accelerating pace, Richard uses purposeful play to help organisations and teams solve some of their biggest issues.

Audience: this is relevant for anyone who attends or runs meetings and wants to improve on their particpants' experience, productivity, inventiveness and energy.
Format: The session will include breakout room exercises, short presentations and purposeful games (and a break if you're good). Plus Q&A. You will need to join online - not by phone - and with your microphone and, ideally, camera on.
What? No LEGO?: No. No LEGO. This open workshop is designed to give you the ability to use the principles underpin the LSP method in meetings - remote or in-person - where you are not using LEGO - ie: most meetings. The LSP method, facilitated by a good facilitator, integrates the principles seamlessly through the process. Playful Principles gives you an understanding of what those principles are so you can integrate them as appopriate to the needs of all of your meetings.
I WANT LEGO: If you are interested in an in-house version of this training that gives you and your team hands-on experience of using LEGO Serious Play, please get in touch (richard.gold@bulbb.co.uk).
Tickets: If you buy a single ticket, you will be automatically registered for the workshop. If buying multiple tickets, please provide by email the names and email addresses of each particpant, so that they can be registered. Send details to info@bulbb.co.uk with subject line - Playful Principles Participants.
Bespoke in-house session? If you would like to run a Playful Principles session within your organisation (with the added benefit of making deeper connections within your teams), please do get in touch (richard.gold@bulbb.co.uk).
Dial -in details: once you have booked a place, you will be sent a confirmation with the Zoom dial in details shortly before the webinar.
More info and alternative dates: if you have any questions, would like more information or if you can't make the available dates and are interested in being notified when new dates are added or about more events like this, please join our mailing list.
Your Data and Future Communications: When you register for this workshop, you'll be added to Bulbb's mailing list. This will be used only to contact you about this event and to provide useful content from Bulbb including a soon to be launched newsletter with tips and tools to help you keep your meetings fresh. Naturally, you can unsubscribe at any time.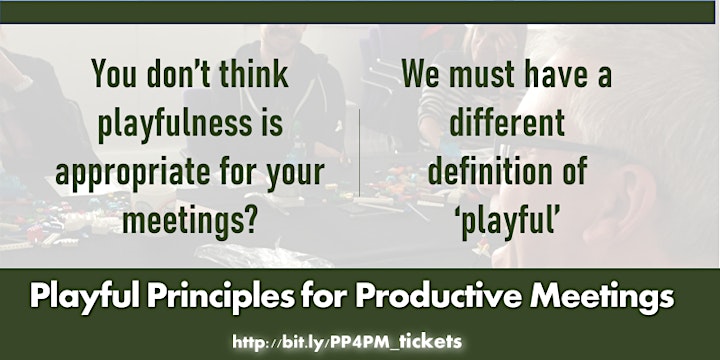 Location
Refund policy
Contact the organiser to request a refund.
Eventbrite's fee is nonrefundable.