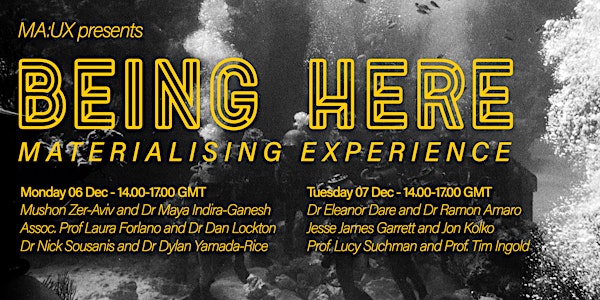 Postgraduate Showcase 2021: Being Here: Materialising Experiences
Presented by MA User Experience Design at LCC, explore insights from leading designers, academics and thinkers.
About this event
Join staff and students from MA User Experience Design as they host a series of online conversations with leading designers, academics and thinkers which discuss the radical design imaginary and its place in a dematerialising digital world. The symposium seeks to engage a range of voices across a variety of subjects. Join us as we explore the nature of design today and how it addresses the embodied, spatial, cognitive and symbolic dimensions of human experience.
The first set of conversations will take place on Monday 6 December, with the second set of conversations taking place on Tuesday 7 December.
Schedule and speakers
Monday 6 December
2pm - 3pm: Mushon Zer-Aviv and Dr Maya Indira-Ganesh
3pm – 4pm: Associate Professor Laura Forlano and Dr Dan Lockton
4pm - 4.50pm: Dr Nick Sousanis and Dr Dylan Yamada-Rice
Tuesday 7 December
2pm – 3pm: Dr Eleanor Dare and Dr Ramon Amaro
3pm – 4pm: Jesse James Garrett and Jon Kolko
4pm – 5pm: Professor Lucy Suchman and Professor Tim Ingold
-
About MA User Experience Design
Taught at London College of Communication, UAL, MA User Experience Design is a postgraduate course that emphasises design approaches reflecting the entangled nature of human experience and the embodied relation between systems and objects. We're particularly concerned with the fragmented and transitory nature of digital materials, and how designers can organise technical systems towards socially oriented critical ends.
We seek to challenge the prevalence of 'UX theatre' (Snook, 2018) that is currently so widespread in design, with a call for contextual depth, material perception, and collaborative generosity.
-
About Postgraduate Showcase
This event is taking place as part of the London College of Communication Postgraduate Showcase, celebrating some of the most inspiring new work across design, media and screen.
Disclaimer: Live events will be recorded and made public on LCC YouTube channels afterwards. By attending a live event, guests agree to their contributions being captured and used for this purpose. Read our virtual event privacy notice.
#LCCPostgradShows