Description
**POSTPONED**
New date to follow.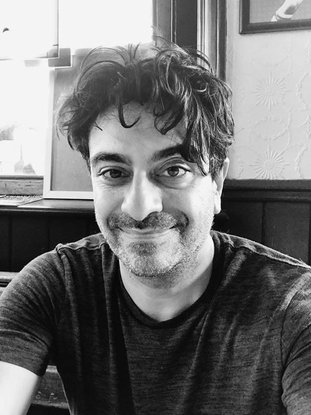 Ash Kotak is an award winning playwright, film maker, poet and curator. His works as a playwright includes Maa (Royal Court), Hijra (Bush Theatre, Theatre Royal Plymouth, West Yorkshire Playhouse, Theatre Du Nord, Lille (in French), New Conservatory Theatre, San Francisco, USA, winner Bay Award), No Gain, No Pain (The Other Place, Stratford-Upon-Avon). He is working on a new play entitled The AIDS Missionary. He has written articles for the Guardian, the Independent, Open Democracy, Openly Thompson Reuters Foundation and others. His latest film work includes: The Joneses (Producer, USA, 10 mins, 2009); The Joneses (Exec Producer, USA, 90 mins, 2017); Punched By a Homosexualist (Exec Producer, Russia, 55 mins, 2018). He set up an arts curating collective, Aesthesia, in 2014 which works with dehumanised, marginalised and disempowered communities to amplify individual voices through creative art projects such as: Palestinian Arts Festival, AIDS Memory UK Campaign, Youth After Grenfell and #BritainWeExist at the Saatchi Gallery.
For the second Soho Poly LGBTQ+ Drama Club, Ash will be in conversation with Dr Kate M. Graham (Senior Lecturer in English Literarture (Theatre)).
This event is part of our LGBTQ+ Drama Club, a series of free lunchtime events designed to help you disrupt your day by getting a little bit of LGBTQ+ culture at lunchtimes! To find out more about the Soho Poly Project at the University of Westminster click here.