Location
fabric London
77A Charterhouse Street
London
EC1M 6HJ
United Kingdom
3 day NFT festival featuring art, music and fashion
About this event
VerticalCrypto Art presents 'Proof of People', London's first immersive 3-day festival showcasing art, fashion and music through the lens of metaverse culture and NFT-backed technology.
Powered by Tezos Foundation and staged in the iconic Fabric, this event will showcase works by over 50 artists, a digital fashion showroom, and live music performances by cutting edge DJs.
Creating experiences collective at the intersection of culture & blockchain.
Entry strictly 18+
(More info and schedule below the video)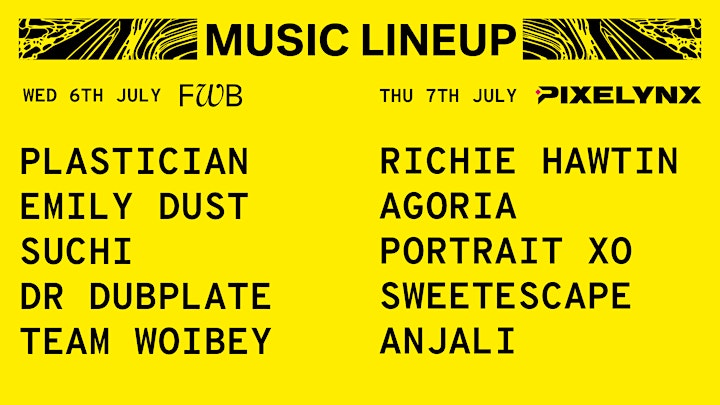 PRELIMINARY SCHEDULE
DAY 1: PROOF OF PEOPLE OPENING (1pm-12am)
- Opening by Arthur Breitman (co-founder of Tezos)
- Mario Klingemann Keynote & AI Interactive NFT installation & NFT minting
- AR installation & gaming experience with Sutu
- Generative Art Live Minting with FX hash
- Friend with Benefits DAO music takeover night
DAY 2: ART & CULTURE ON THE BLOCKCHAIN (12pm-12am)
- Aritificial Intelligence generated poetry on the blockchain with theVERSEVERSE
- Augmented Reality installation with Cadie Desbiens
- DRESSX digital fashion try-on showcase
- Operator Privacy Collection performance
- Music night curated by Pixelynx
- Artist Panel Talks
DAY 3: COMMUNITY & CULTURE ON THE BLOCKCHAIN (12pm-5pm)
- Opening speech by Misan Harriman (chair of Southbank Centre)
- DAOs explained
- Web3 & NFT educational workshops
- Meet the artists
VIP TICKETS
Access to private VIP lounge, 3 x fx hash live mint pass, drinks tokens and other perks
(there is a very limited amount of VIP tickets available)
More info, full schedule, artist line up and partners at https://proofofpeople.verticalcrypto.art/
Follow https://twitter.com/verticalcrypto & https://twitter.com/prooofofpeople for updates.