Description
Wales Gene Park invites you to:
A FREE, UNIQUE PUBLIC SCREENING OF THE FILM GATTACA AT THE SAVOY THEATRE, MONMOUTH
GATTACA presents a future in which children are genetically designed to ensure that they possess the best hereditary traits of their parents. But, what about the science behind this?
To find out more, join us for a screening of the film GATTACA, followed by a short talk about some of the issues raised in the film.
Attendance is FREE. Registration required via Eventbrite.
Spaces allocated on a first come, first served basis.
For more information email: walesgenepark@cardiff.ac.uk or phone: 02920 746940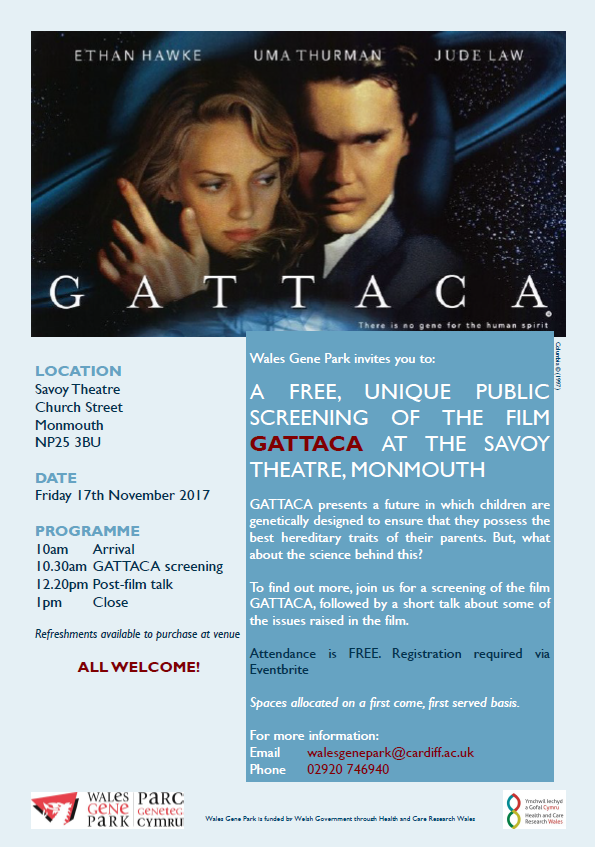 Organiser of Public screening of GATTACA & genetics talk
Our mission is to promote and facilitate medical genetic research and to educate and inform the public, health professionals, and young people alike about the the issues and opportunities raised by genetics.
We bring together expertise and experience in genetics within Wales, provide state-of-the-art technologies to researchers in Wales and provide innovative initiatives to educate and engage health professionals and the public in Wales and beyond.