An online, community-driven conference dedicated to the Crystal Programming Language. 100% Live, 100% Free
About this Event
Raw Crystal 2020 is the last opportunity of the year to connect, share experiences and learn about the Crystal Programming Language.
We organised the conference with the following objectives in mind.
Build a sense of community: many of us across the world choose Crystal for their studies, experimentation, side projects and production system. Raw Crystal should give these people the opportunity to connect and build a trusted network.
Build a collection of knowledge: by recording and sharing the conference talks, we hope to leave a trail of knowledge that others can pick up and build upon in the future.
Share knowledge and spark ideas: we hope that the talks and conversations you'll have at the conference will make you want to start something new, or simply just tackle an old problem in a novel way.
Speakers
Brian Cardiff (@bcardiff) will be our keynote speaker. Brian is a long-standing member of the core team, an advocate for the language and a great knowledge sharer, so we're really excited about this one!
Featured speakers
Kirk Haines (@wyhaines) is a long-time contributor of the Ruby language and Crystal enthusiast. He will be giving a talk on "Building an Observability Platform in Crystal".
Jeremy Woertink (@jeremywoertink) will be giving us an introduction to Lucky, a popular web framework which offers great performance and many of the features loved by Ruby on Rails developers.
Massimiliano Bertinetti (@maxbertinetti) will brief us on the state of the Crystal tooling ecosystem, touching on its past, its present and inspiring us to get involved in its future.
The complete speaker line-up will be announced in early December.
Call for speakers
The call for speakers is currently open. You can submit your talk here.

Deadlines. The call for speakers closes on Sunday, 22 November at 2:00 pm PST (10:00 pm GMT). We'll let you know whether your talk was selected by Saturday, 28 November.
Talk duration. You should plan to speak for around 20 minutes. There will be time for some Q&A afterwards.
Topic. Anything Crystal related! If it's about Crystal and you're excited about it, then we'd love to hear it.
Public speaking experience. Our team will be very happy to support you in delivering an effective talk, no matter how experienced you are with public speaking. If you are a first-time speaker and would like to give Raw Crystal a shot, we'd be delighted to support you in this.
Recording. We plan to record and share all the talks over social media, but we will withdraw your talk at any time - before or after it is published - may you ask us to do so.
Speakers events. As a speaker, you'll be invited to special events to connect and exchange tips with other speakers - attendance to these will be 100% optional.
Compensation. Raw Crystal 2020 was designed to be money-free and not-for-profit, hence speakers will not be compensated in any way
Attendees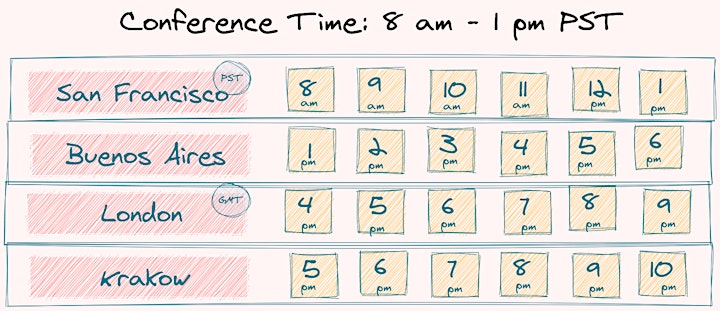 Registration. Registrations are open. The registration is 100% free. Once you're registered, you'll receive updates on the speakers and the schedule.
Capacity. The capacity of the event is set to ~100 spots for both technical and organisational reasons. So you should make sure you book your ticket early, and ensure you return the ticket, if you later find out you cannot make the event, so that people on the waiting list can join.
Waiting list. So the day of the event has come and you are still on the waiting list. Despair not! We will still make it possible to follow the event live on YouTube and we will be monitoring the chat to make the experience as interactive as possible.
Time. The conference will take place on Friday, 11 December 2020, from 8 am to 1 pm PST. This corresponds to 4 pm to 9 pm GMT.
Speakers. Speakers will be announced throughout November.
Attending. A link to join the conference video call will be shared with you a few days before the event - both via email and via this website.
Donations. Raw Crystal 2020 is an independent event designed to be money-free and not-for-profit. If you'd like to show your support, then please consider donating to the Crystal Language project, instead.
Code of Conduct
Purpose
At Raw Crystal 2020, we aim to be inclusive to the largest number of participants, with the most varied and diverse backgrounds possible. As such, we are committed to providing a friendly, safe and welcoming environment for all, regardless of gender, sexual orientation, ability, ethnicity, socioeconomic status, and religion (or lack thereof).
We invite all those who participate in Raw Crystal 2020 to help us create safe and positive experiences for everyone.
Expected behaviour
Intentional, positive action is essential to avoid replicating within our conference community the many forms of inequality that exist in greater society. For this reason, we outline in this Code of Conduct expected behaviour as well as prohibited behaviour.
The following behaviours are expected and requested of all participants.
Participate in an authentic and active way. In doing so, you contribute to the health and longevity of this conference community.
Exercise consideration and respect in your speech and actions.
Attempt collaboration before conflict.
Refrain from demeaning, discriminatory, or harassing behaviour and speech.
Be mindful of your fellow participants.
Unacceptable behaviour
The following behaviours are considered harassment and are unacceptable within our conference community:
Violence, threats of violence and incitement of violence towards any individual.
Derogatory comments related to gender, gender identity and expression, sexual orientation, disability, mental illness, neuro(a)typicality, physical appearance, body size, race, religion, or socio-economic status.
Gratuitous or off-topic sexual images or behaviour, sexualised comments or jokes.
Posting or threatening to post other people's personally identifying information ("doxing").
Deliberate misgendering or use of "dead" or rejected names.
Inappropriate photography or recording.
Deliberate intimidation or stalking.
Sustained disruption of talks and presentations.
Advocating for, or encouraging, any of the above behaviour.
Consequences of unacceptable behaviour
Unacceptable behaviour from any conference attendees, including speakers, will not be tolerated.
Anyone asked to stop unacceptable behaviour is expected to comply immediately.
If a conference attendee or speaker engages in unacceptable behaviour, the conference organisers may take any action they deem appropriate, up to and including a temporary ban or permanent expulsion from the conference without warning.
Reporting guidelines
If you are subject to or witness unacceptable behaviour, or have any other concerns, please notify the organiser as soon as possible by messaging @lbarasti in private on Twitter.
If you feel you have been falsely or unfairly accused of violating this Code of Conduct, you should notify the organiser as soon as possible by messaging @lbarasti in private on Twitter with a concise description of your grievance.
Scope
We expect all conference participants to abide by this Code of Conduct in all conference online venues, e.g. chat, breakout rooms, as well as in all one-on-one communications pertaining to the Raw Crystal 2020 conference.
Attribution
This Code of Conduct was adapted from the #causeascene CoC.