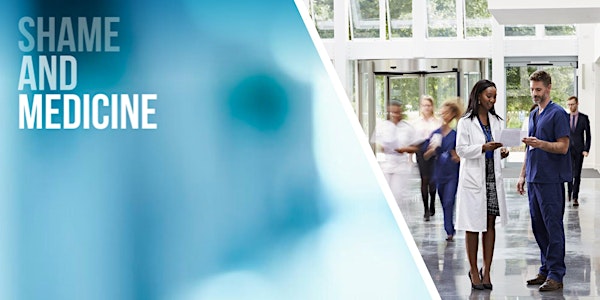 "Respect and Shame in Healthcare and Bioethics" Workshop Series
"Respect and Shame in Healthcare and Bioethics" Workshop Series
About this event
Barry Lyons, Children's Health, Ireland – "Stigma and the Mental Health of Healthcare Workers."
+ ECR presentation from Nataliya Shok , Privolzhsky Research Medical University – "Medical Error as a Stigma: The Moral Code in Healthcare Practice and Bioethics in Russia."
Stigma and the Mental Health of Healthcare Workers (Barry Lyons).
It has been estimated that when compared with the general population healthcare professionals (HCPs) experience increased levels of emotional and psychological distress, mental illness, and possibly higher rates of completed suicide. It is also proposed that some personality characteristics such as perfectionism and obsessionality, that are frequently associated with positive characteristics (e.g. being hard-working and conscientious), may predispose HCPs to emotional perturbations or mental ill-health, and impact upon their use of mental health services.
Stigma has been considered "the most formidable obstacle to future progress in the area of mental illness and health", and for HCPs may play a significant role in exacerbating their difficulties. Self- or perceived societal stigma can result in deferred or non-disclosure of vulnerabilities or problems, and ultimately in avoidance of help-seeking.
For the purposes of this seminar stigma refers to a collection of four socio-cognitive processes - cues, stereotypes, prejudice, and discrimination. Within healthcare institutions it becomes manifest in language, disrespect in interpersonal and interprofessional relationships, and in the behaviours of fellow professionals. It is also (in)visible in constructs such as "grit" or "resilience", promulgated by healthcare organisations to deflect responsibility for 'mental survival', or wellbeing, onto the individual HCP.
This seminar presents a discussion about stigma, and highlights some of constructs that can be employed to evaluate the role of mental health stigma within the "caring" professions.
Barry Lyons graduated in medicine from University College Dublin in 1989, has a BA in philosophy & history (2007), and a PhD in Bioethics & Medical Jurisprudence (University of Manchester, 2011). He practices in the Dept. of Anaesthesia and Critical Care Medicine at Children's Health Ireland, Crumlin, where he is also Clinical Lead in Patient Safety, and Chair of the hospital's Ethics Committee. He is Director of Patient Safety at the College of Anaesthesiologists of Ireland. His research interests relate to the role of negative emotions in medicine, and the interface between law, regulation and medicine. He is a collaborator on the Shame and Medicine Project.
Medical Error as a Stigma: The Moral Code in Healthcare Practice and Bioethics in Russia (Nataliya Shok).
Countries with developed health systems are regularly working to improve the quality of medical services. Well-addressed bioethics is a crucial instrument for the variety of issues starting from patient-doctor interactions towards public health policy. Some of the practices adopted in different countries vary. Russia, for example, has adopted bioethics as a concept in late 1980s, which might lead one to assume that clinical and healthcare practices are informed by bioethical research. But this is not the case. Everybody knows about the collapse of the USSR, but few realize that a dogmatic Soviet mentality still has significant implications for medicine in Russia. For example, there is a huge tension in the field of medicine connected with the status of medical error which leads to the stigmatization of medical practice and distortion of doctors-patient interactions. In Russia the medical error is considered as a part of the Criminal Code.
I have identified two major reasons for negative stigmatization of medical error. First, we do not have a concept of bioethics that is widely accepted by the public or by physicians. Second, we do not have a culture of medical error disclosure. Russian physicians' awareness of error and the potential for harm is well understood, but their attitude to reporting and disclosure are framed with the culture of non-disclosure and ethics of silence where errors are never to be acknowledged. These aspects lead to the stigmatization of medical error instead of considering it as a part of professional risks.
This presentation will propose cases for observing cultural and social domestic commitments while applying international shared guidelines. We cannot simply replicate the experience of foreign countries that have successful medical error disclosure practice and bioethics. We need to identify pathways that respond to our history and culture to overcome the culture of non-disclosure
Nataliya Shok is a professor at the Privolzhsky research medical university (Nizhny Novgorod, Russia). She is focused on research of ethical issues in health, health care and the life sciences with particular attention to interdisciplinary methodology amidst social sciences, history of medicine and bioethics.
She holds two PhD degrees - history of medicine and political science, an MA in Philosophy from Sofia University of St. Clement Ohridski (Bulgaria). In 2019 she completed the fellowship at the Center for Bioethics, Health and Society, Global Wake Forest International Visiting Scholar Program, Wake Forest University (NC, USA). Currently, she is the only Russian member of the American Association for bioethics and humanities (ASBH).
A bioethicist, historian of medicine and social science researcher who conducts both normative and empirical ethics research, her own scholarship is focused on interdisciplinary approach for medical humanities, the ethics of organ transplantation, research ethics, clinical implications of bioethics with the particular emphasis on medical error disclosure with respect to the Russian history and culture of post-Soviet intellectual and political terrain.
Since 2018 she has been serving as a PI in a research group (5-year grant project) aimed at scrutinizing contemporary bioethics in Russia and its interconnections with the global trends and Soviet social history of medicine funded by Russian Scientific Foundation (RSF).
Since 2020 she has been a team leader at the Russian Scientific Foundation working group concentrating on ethical guidelines for the use of animals in research. Currently, her cross-disciplinary experience has brought her to the field of global public health policy and its cross-cultural dimension in ethics focused on COVID-19 pandemic.
Schedule
1:00- 1:40 PM GMT: Stigma and the Mental Health of Healthcare Workers (Barry Lyons)
1:40- 2:00 PM GMT: Open discussion
Break (2:00- 2:10 PM GMT)
2:10- 3:00 PM GMT: Medical Error as a Stigma: The Moral Code in Healthcare Practice and Bioethics in Russia (Nataliya Shok)
3:00- 3:20 PM GMT: Feedback from Barry Lyons
3:20- 3:50 PM GMT: Open discussion
Accessing our online event
The email address you supply when you register for your free place will be used to invite you to the online seminar closer to the event. This email will also contain instructions on how to join the online seminar.
The event will be recorded, so by agreeing to participate you agree to be recorded. To maintain privacy, you are welcome to join the meeting with video turned off.