Location
Centrala
158 Fazeley Street
Birmingham
B5 5RT
United Kingdom
Immersive exhibition which reimagines the city through a green lens, constructing a future utopia that explores environmentalism & wellbeing
About this event
Our city centres were once filled with trees, green spaces, and nature - what if that never went away?
Reworlding reimagines the city through a green lens. Constructing a future utopia which centres community, wellbeing, and harmony with nature.
Combining photography, sound, sculpture and projection, visitors can escape into an unknown landscape and immerse their senses, allowing them to reconnect with the world around us.
Reworlding is inspired by themes of solar punk and environmentalism. Birmingham-based artists Jacob Carter and Hayley Salter have collaborated to create an immersive environment which allows visitors to explore the past, reflect on the present and consider possible futures of our urban and natural spaces.
Launch Night: Thurs 4th Aug, 6:30pm - 9pm
This is your chance to experience a new Utopia & be the first to see Reworlding, when doors open at 6:30pm.
You will also get the chance to:
Hear from Reworlding's artists Hayley Salter & Jacob Carter, as they answer your questions and discuss what 'Utopia' means to them.
Receive a complimentary free 'Reworlding' drink (non-alcoholic option available)
Agenda:
6:30pm: Doors Open
7:30pm: Discussion with Hayley Salter & Jacob Carter (Artists), Brad Morrison (Producer) alongisde Haseebah Ali (Host)
8pm: Guest performances including Elle Chante
9pm: Finish
Digbeth First Friday: Friday 5th Aug, 7pm - Late
Digbeth comes alive on the first Friday of each month.
Doors will open at 7pm, drop by and check out the exhibition at any time until late into the evening.
There will also be a DJ playing throughout the night.
Final Chance: Saturday 6th Aug, 12 - 6pm
Drop by at any point between 12 - 6pm and explore Reworlding for its final day at Centrala.
Accessibility: The ground floor has step-free access but there is no step-free access to the first floor, main exhibition.
Reworlding is one of 8 brand new Gallery37 art commissions, created by two emerging artists that were hand-picked from 70+ artists that took part in a 2-week intensive Residency during 2021. Be prepared to be in awe of the whole Gallery37 2022 programme, as we celebrate Birmingham's Creative Future with eight major pieces of work, across Birmingham from August - October 2022.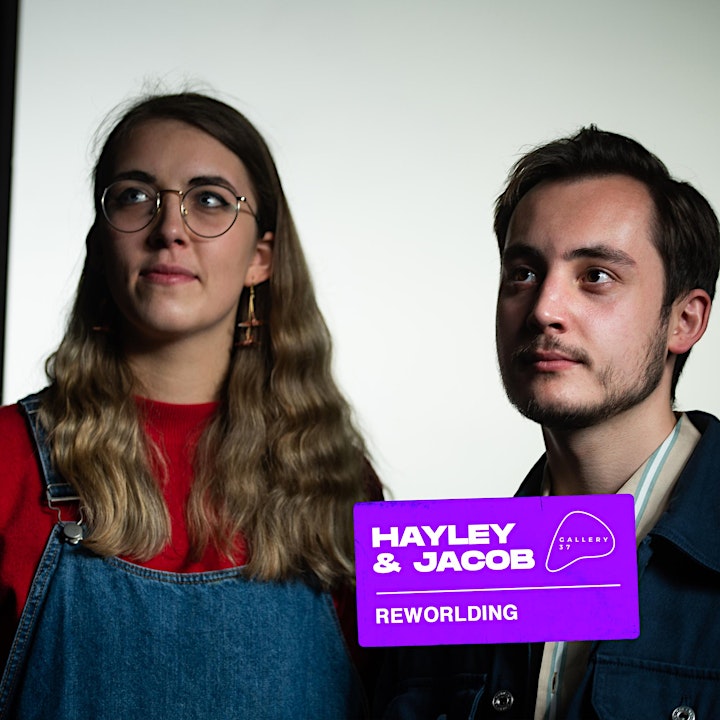 About the Artists
Hayley Salter
Hayley Salter is a Birmingham-based photographer with a special interest in portraiture, nature and street photography. She uses photography as a way to feel more grounded, more mindful, and connect with the world around her. Preserving small details and moments of beauty from the every day, capturing the energy of a moment.
Her work is inspired by themes of connection and emotion, and the people and places she encounters. Hayley has a documentary element to her work, using her camera to amplify the stories of those making a positive impact on the world. Hayley's artistic practice runs alongside the commercial side of her photography business, which focuses primarily on the arts, theatre and events.
Jacob Carter
Jacob Carter is a Birmingham-based artist whose work investigates materiality and the agency of objects. He works through a process of collecting, arranging and archiving, actively playing with modes of display.
Jacob Carter contrasts raw functional materials alongside technology, aiming to challenge the viewer's understanding of materials and question the functionality of his sculptures. His recent process-driven work has made heavy use of concrete due to its utilitarianism and the relationship with the urban environment in which he lives as well as its ability for transformative architecture.