Description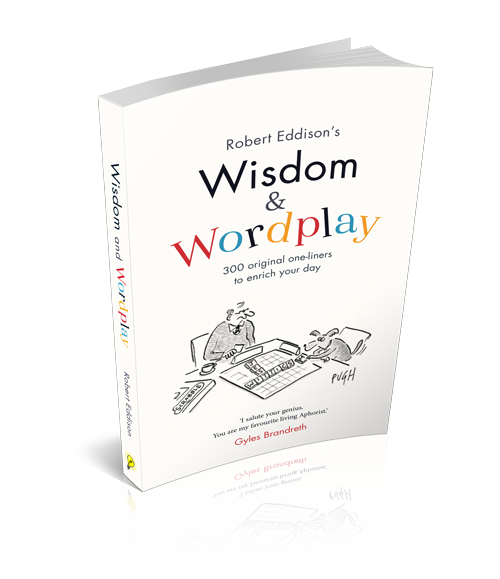 STOP PRESS: Stanley Johnson will be interviewing Robert Eddison on stage at 18.30
Timetable
18:00 – Meet & greet

18:15 – Welcome from the publisher, Chris Day

18:25 – The author's opening remarks

18.30 – Stanley Johnson interviews the author, Robert Eddison

19:00 – Q&A

19:20 – Robert to sign your copies of Wisdom & Wordplay
A golden ticket will go to the person buying most copies of the book
19:45 – Bar opens

20:45 – Bar closes

21:00 – Carriages
Free wine-flow will make this a convivial, and faintly bibulous, evening, but you won't be so deep in your cups that you fail to register this author's intriguing answers to questions, to be posed by a high-profile mystery interviewer. This private event's hundred ticket-only guests will ensure that enough come from the press and publishing worlds to offer a rich networking opportunity to those who like to work the net. For, to misquote John Betjeman, this is, after all, at the Institute of Directors!
For extra durability, Robert Eddison promises - at no extra charge – to sign away his books with his own trademark black felt pen. For those first in the queue, there will be added value attached. But woe betide anyone seeking to get a free copy of the book by posing as a member of the press. After being denounced by a world-class psychic, an ambulance will be on hand to take you away…
Gyles Brandreth says of Robert Eddison:
Condensing a philosophical or witty concept into a single line calls for great skill and mastery of language. As editor of The Oxford Book of Humourous Quotations, President of the Oscar Wilde Society and a lifelong lover of aphorisms, I know this to be true.
Apart from this author, I know of no aphorist, living or dead, who has originated so many high-quality aphorisms on such an awesome variety of (150) different subjects. Although this is just a small taster from Robert Eddison's "thought diaries," Wisdom & Wordplay is a dazzling combination of incisive wit, profundity and wordplay of the highest order.
I am a devotee of the works of Oscar Wilde, have appeared as Lady Bracknell in The Importance of Being Earnest and I have written a series of Victorian murder mysteries, featuring Wilde as my detective. For me, Oscar Wilde has always been the master aphorist, having reigned supreme for 130 years. Rare, indeed, is the man (or woman) of letters who could consistently match such classic one-liners as:
'We know the price of everything and the value of nothing or
'Philosophy teaches us to bear with equanimity the misfortunes of others'
But, although not all gods reign for eternity, it never once occurred to me that this particular one could ever be dethroned - until now. Could it just be that, in the author of this remarkable book, Wilde has finally met his match?
I am proud to introduce you to Robert Eddison. How should I describe him? While reading Modern Languages and Law at Cambridge, he won a European scholarship, which was followed by a university lectureship and a Foreign Office consultancy. But it's his lifelong fascination for the written and spoken word that has dictated Robert's two main hobbies – coining mint-fresh aphorisms and public speaking, which led to some freelance broadcasting for the BBC
and to a lecture tour of America. He is a raconteur and wordsmith of high repute.
And it was Robert's Puckish love of words and wordplay that finally drew him to a career in mainstream journalism, writing periodic features for the broadsheets and tabloids. As a lifelong member of Mensa, he also chairs some of its popular discussion dinners and was recently appointed to a directorship of the newly-formed international charity for high ability (IAFHA), which seeks to identify and nurture gifted children.
Robert's love of words is, of course, widely shared by other journalists and public figures, who, like me, are constantly on the lookout for new material to add a spot of sparkle to our speeches and lectures. This treasure-house of highly individual quotes offers a rich source of ideas, be it for us, the best man at a wedding or the conference delegate.
This book also offers the ideal year-round gift for every lover of words. It's a book to live with and savour, like a good liqueur, line by glorious line. You'll need three copies, though – one as a gift, one for your travelling bag and one for the loo.
For me, Robert is 'the Aphoristic' - a wise, witty and deeply thoughtful observer of our times. He isn't Wilde. He is Eddison. And quite wonderful. You have his book in your hands and you will soon have his aphorisms in your head.
Enjoy them. They are the best.
Gyles Brandreth.
"