Sales Have Ended
Registrations are closed
Thank you for registering. We look forward to welcoming you on 30th September.
Sales Have Ended
Registrations are closed
Thank you for registering. We look forward to welcoming you on 30th September.
Free Networking event for Colombian Nationals living in the UK.
About this event
FREE NETWORKING EVENT FOR COLOMBIAN NATIONALS LIVING IN THE UK // EVENTO DE NETWORKING GRATIS PARA COLOMBIANOS EN REINO UNIDO
The Rebel Business School is a Queen's Award winning business school based in the UK with a mission to change how starting a business is taught around the world, making it possible for anyone and everyone.
Rebel Business School es un emprendimiento con sede en Reino Unido que es el ganador del "Premio de la Reina para la igualdad y la inclusión en 2021". Rebel tiene la misión de cambiar la forma en que se enseña el emprendimiento alrededor del mundo de manera que sea accesible para todos.
In November 2020 we launched in Bogota to begin helping Colombians to start and build successful small businesses without debt.
En Noviembre de 2020 realizamos nuestro primer evento en Bogotá para apoyar a los colombianos que quisieran lanzar y construir negocios rentables libres de deuda.
As part of our partnership we are excited to be working with the Colombian Consulate to help Colombian citizens living in the UK with their ideas and goals.
Como parte de nuestra alianza, nos emociona trabajar con el Consulado General de Colombia en Londres para ayudar a los ciudadanos colombianos viviendo en Reino Unido a cumplir sus metas y objetivos.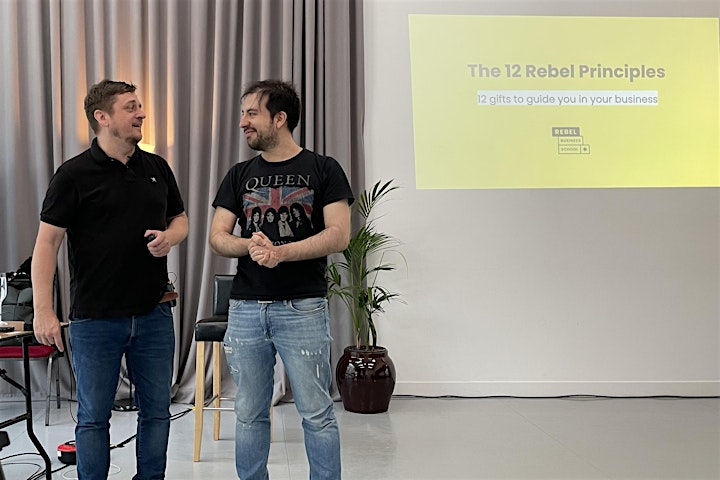 Running a Business in the UK // Construir un emprendimiento en UK
How to start a business for free
How to grow your business
How to rebuild from the pandemic
Cómo empezar un negocio gratis
Cómo hacer crecer tu negocio
Reconstruir y reinventarse en la post-pandemia
With an introduction from the Consulate General and presentation from Simon Paine, CEO & Co-founder of the Rebel Business School and Fabián Andrés Cardozo from Rebel School Colombia.
Contaremos con la introducción del Cónsul General de Colombia en Londres y una presentación de Simon Paine, el Co-Fundador y CEO de Rebel Business School junto con Fabián Andrés Cardozo de Rebel Business School Colombia.
When: Thursday 30th September?5pm – 7pm
Where: Colombian Consulate, Ground and 3rd Floor, Westcott House, 35 Portland Place, London W1B 1AE
Contact fabian@therebelschool.com if you have any further questions.
Organiser of Running a Business in the UK - Colombian Networking Event
Our mission is to make starting a business achievable for anyone and everyone, no matter their starting point or background.
Our FREE business courses show a new way of thinking and practical ways to get your business idea off the ground and how to sustain and thrive as a business. Whether you are at the beginning of your start-up journey, or you are an already established business, our course will give you the information, inspiration, and practical advice to teach you how to build and evolve your business.