Location
Arundel House
Arundel Street
Temple
London
WC2R 3DX
United Kingdom
Helping you to Scale Up and then sell your business for the highest value and the least amount of drama
About this event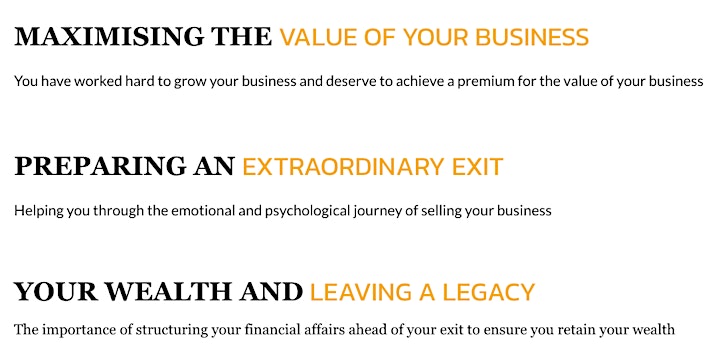 For many successful entrepreneurs, the single biggest financial event of their careers will be the sale of their company. If executed effectively, the sale can eclipse all the years of income in the business.
The challenge is that, with the rise of private equity firms, venture capital and strategic brokers, the sophistication level of buyers has risen exponentially. For the entrepreneur, it might be the first (or second) deal they have ever been a part of, while the buyer may have closed dozens or hundreds of deals this year!
We understand the challenges that owners and founders of companies go through as they approach their sale. We are determined to ensure that not only do we make the whole of this experience as stress free as possible, but more importantly ensure that they not only maximise the valuation of their company, but also ensure through the right planning and preparation they get to retain as much of the sale proceeds as possible.

To help you fully plan and prepare for an extraordinary exit we have combine the experts who will help you successful Scale up and maximise the value of your organisation ( Scaling Up Coaching), experts who will help you to achieve the best deal outcomes (STS Capital), and experts who will help you discover your Magic Number while also helping you to keep the most net value with tax and estate planning ( Rhodes Wealth Management )
You will also be hearing from a number of owners and CEOs who have exited their businesses over the past couple of years on their experiences and their advice to anyone preparing to sell their companies.
There is no investment to attend the event, but we are asking all attendees to make a donation when they reserve their ticket. All proceeds will be donated to the Ukrainian Humanitarian Crisis through the Disasters Emergency Committee.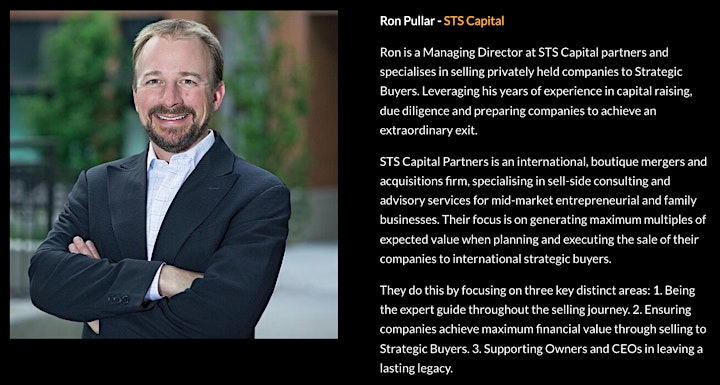 Owners, Founders and CEOs of companies with revenues over £5 million who are looking to exit their business over the next 5 years and who are seeking to maximise the valuation of their company.

12.00pm - Reception and Buffet Lunch
1.00pm - Welcome Neale Lewis
1.10pm - 4 keys to maximising valuation Neale Lewis
1.30pm - Scaling Up your business to maximise the value of your company Verne Harnish
2:00pm - Preparing your company for Exit John Ratliff
3:00pm - Break
3:15 pm - Tax, Estate planning and what's your Magic Number? Adam Rhodes
4:00 pm - Selling your company to a Strategic Buyer Ron Pullar
5:00pm - Entrepreneurs Experience
5:30pm - Q&A session
6:00pm - Drinks reception: Wine and Cheese
8:00pm - Event Closes

Whether you plan to sell your business today or in 5+ years time, now is the time to get a great team around you that will help you maximise that future sale, so you have no regrets.