Description
Self-care is everywhere. You've told your NHS that it matters to you. So, join us in Bradford city centre for one day with lots of ideas and events to get you thinking about your health and wellbeing.
The event covers a huge range of topics, including:
- mental health and wellbeing,
- body confidence, to help you think #iamperfectasme
- feeling good, including dance and yoga sessions,
- new ways of looking after yourself,
- and much more!
Self-care is all about giving you the knowledge and skills to look after your health and wellbeing so you can make the most out of life.
Take a look at the full agenda here.
Event map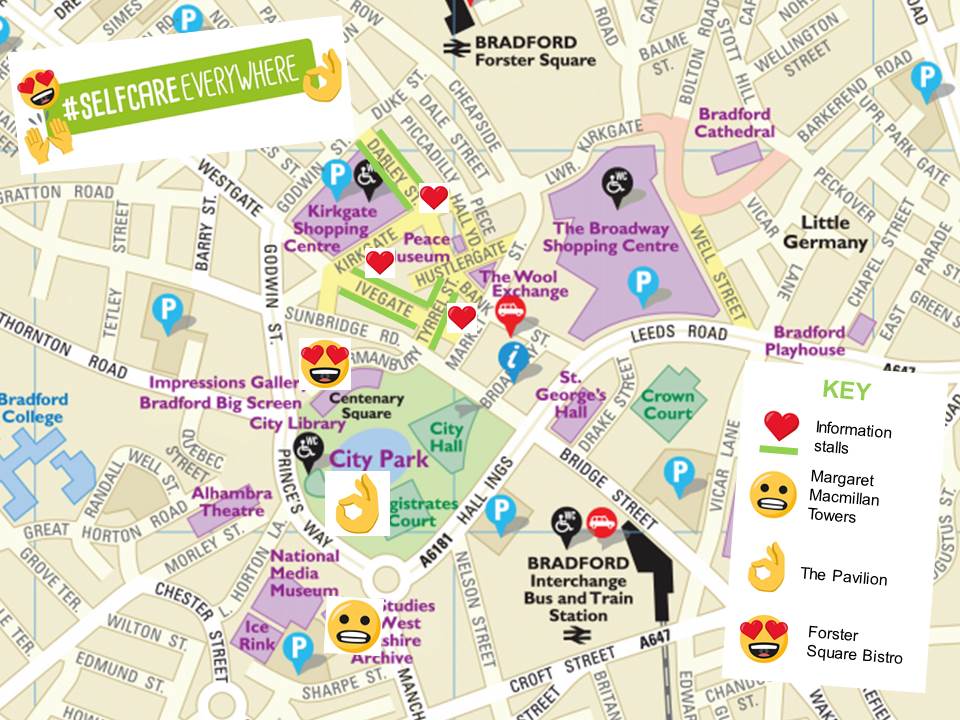 Worth knowing
The Bradford Literature Festival is also running in Bradford City Centre at the same time as #selfcareeverywhere. That means there are lots of activities going on in the city on the 8 July for parents and carers to enjoy should they wish to come along.
FAQs
What if I need support during the event?
If you would like any support or a buddy during the event, please email engage@bradford.nhs.uk once you have registered for the event. Please try and specify what type of support you may need on the day - it could be anything from finding your way from the train station, having a person to talk to over lunch or help with accessing venues.
What are my transport options for getting to and from the event?
The main venue for the event is Margaret Macmillan Towers (also known as the Old Library). The building is located a 3 minute walk away from Bradford Interchange bus and train station. It is a 10 minute walk from Bradford Forster Square train station.
Please note that you are responsible for getting to and from the event, unless you let the event organisers know that you need support during the day.
What age groups can attend?
The event is suitable for 14-25 years.
How can I contact the organiser with any questions?
If you have any questions about the event, please email engage@bradford.nhs.uk