Description
**This event is now fully booked**. To be added to the waiting list please click on the 'Tickets' button.
Heffers and Cambridge University Scientific Society are delighted to present an evening with Randall Munroe - the man behind the wildly popular webcomic xkcd and the million-selling What If? and Thing Explainer - as he talks about his new book How To: Absurd Scientific Advice For Common Real-World Problems.
For any task you might want to do, there's a right way, a wrong way, and a way so monumentally bad that no one would ever try it. How To is a guide to the third kind of approach. It's full of highly impractical advice for everything from landing a plane to digging a hole. Bestselling author and cartoonist Randall Munroe explains how to predict the weather by analyzing the pixels of your Facebook photos. He teaches you how to tell if you're a baby boomer or a millennial by measuring the radioactivity of your teeth. He offers tips for taking a selfie with a telescope, crossing a river by boiling it, and getting to your appointments on time by destroying the moon.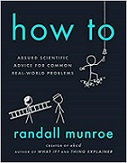 There will be time for audience Q&A and signed books will be available.
There are two different ticket options for this event:
TICKET WTH BOOK INCLUDED - £20 in advance - to be booked through this page.
TICKET ONLY - £10 in advance - click here to book.
You can also call 01223 463200 or book in person at Heffers, 20 Trinity Street, Cambridge. Please note that tickets are transferable but non-refundable.
Like this? See a full list of our forthcoming events by clicking here.