Spaceflight Analogs: Exploring the Solar System on Planet Earth
Dr Stanley Love (NASA Astronaut) on Spaceflight Analogs: Exploring the Solar System on Planet Earth
About this event
Spaceflight analogs--simulated space missions in extreme terrestrial environments--cost only a tiny fraction as much as real space missions, but they can nevertheless provide challenging proving grounds for equipment, vehicles, and operational techniques that may someday be used in space. In this talk, NASA astronaut and planetary scientist Dr. Stan Love will describe spaceflight analog missions in the Arizona desert, underwater in a Canadian mountain lake, beneath the sea off the coast of Florida, among the craters and fumaroles of Kilauea Volcano in Hawaii, and on the polar icecap of Antarctica. These and other analogs have already helped to inform communication protocols, geological tools, vehicle designs, concepts for increased crew autonomy, and the integration of science and operations for future space exploration missions.
This is a public talk hosted by AstrobiologyOU, STFC, and the Astrobiology Society of Great Britain as part of "Introductory Astrobiology".
About the Speaker
Dr. Stanley G. Love was selected as a NASA astronaut in 1998. He has Master of Science and Doctorate of Philosophy degrees in Astronomy from the University of Washington in Seattle. In 2008, Dr. Love flew aboard STS-122 to deliver and install the European Space Agency's Columbus module to the station. While onboard, Dr. Love performed two spacewalks to prepare for the installation, add two science payloads, and carry a failed ISS gyroscope to the shuttle for return to Earth. He currently works as the Deputy Chief of the Astronaut Office's Rapid Prototyping Laboratory, developing cockpit displays and controls for Orion and forthcoming spacecraft.
Need Help?
Email: astrobiology@open.ac.uk
CLICK THE "REGISTER" BUTTON TO REGISTER NOW.
This event is organised by AstrobiologyOU and the Astrobiology Society of Britain and funded by UKRI STFC.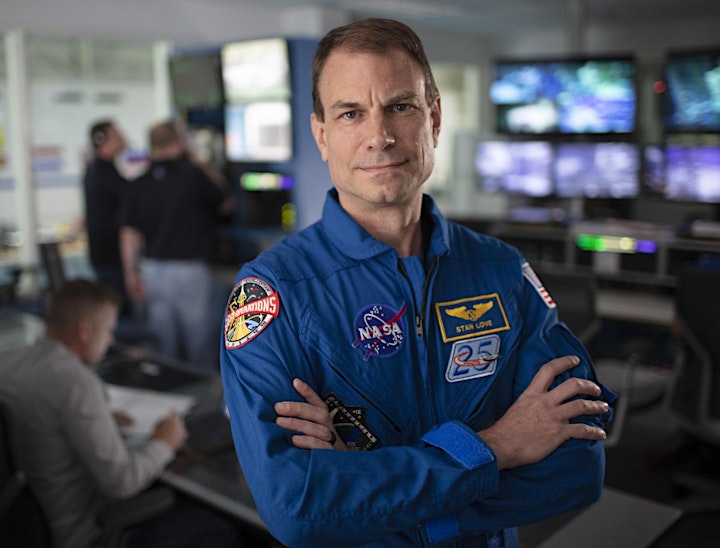 Organiser of Spaceflight Analogs: Exploring the Solar System on Planet Earth
We aim to be as inclusive as possible for all our public-facing events. However, there may be times when an event is for students only, or is aimed at a certain age group- please read the individual event descriptions to find out if it is right for you. We always like to encourage engagement during our events; if you are watching via a social media platform, please use the chat function to share your comments and questions. If you are experiencing technical issues, please email us through Eventbrite- but note, we are a small team and will try our best to respond to queries during a live event.
Please note that while we aim to begin all of our events on time, there might be a slight delay, so stay patient and the event will start shortly. If you are still experiencing issues, try refreshing your browser. Nearly all of our events are recorded and available to watch after- whichever social platform you choose to watch on will also host a recording of the session.