Location
Berners Tavern
10 Berners Street
London
W1T 3NP
United Kingdom
Description
Welcome to Spark
Extraordinary networking to ignite your inspiration
Spark is a monthly evening networking event that brings the capital's top entrepreneurs and career professionals together to connect, collaborate and get inspired.
Held in the heart of the most exciting city in the world, Spark will help you grow your business, expand your network and ignite your business through people and speakers at the top of their game.
Free fizz on entry, an informal introduction with your hosts Karen and Carole Ann and an extensive list of attendees to spark with (that will be sent out before each gathering).
We are thrilled to welcome our three speakers for the May gathering: Deborah Mitchell, Marina Gask and Daniele Fiandaca in partnership with
DEBORAH MITCHELL
Deborah is an award-winning celebrity beauty guru.
Deborah began her career in a small treatment room in a health club, and is now one of the most recognised beauty gurus. With worldwide acclaim and awards in both beauty and business, Deborah Mitchell's products, Heaven By Deborah Mitchell, are used by royalty, celebrities and well-known business people.
Deborah became more famous for her Bee Venom invention, ABEETOXIN. With many copycats in the market place trying to emulate her success, Rodial, Dr Manuka and many more, she has won litigation against for their blatant use of her reputation. Although it should be said it can be taken as a compliment, the real Heaven Skincare is the brand on everyone's lips as the most successful niche market brand.
With more than 25 years of experience as an esthetician, Deborah has developed a completely unique approach to looking after the skin using extensive knowledge of ancient herbal remedies. This has enabled Deborah to create a unique way of thinking about beautiful skin and optimisation for perfection.
Deborah will be sharing with her amazing experience and why we should Ask For What We Want.
---
MARINA GASK
Marina Gask is a journalist with more than 20 years' experience and a former women's magazine editor and is a specialist in media relations.
She has been editor of Top Sante, More, Sugar and John Lewis Edition, and taught journalism at Goldsmiths and London Metropolitan universities.
She is also a copywriter for SMEs, and writes for a variety of consumer magazines, including Red and Marie-Claire, business titles such as Director Magazine, plus Daily Telegraph and Huffington Post. A guest speaker who coaches entrepreneurs on blogging and raising their media profile, Marina's contact details are at www.marinagask.com.
Marina will be presenting: 10 Tips For Communicating Your Business Message from writing a must-read press release or home page to crafting a blog or newsletter that your clients can't wait to read.
---
DANIELE FIANDACA
Daniele Fiandaca is co-founder of Utopia, a business change consultancy that re-wires business for the Age of Creativity. Utopia's purpose is to inspire business to think creatively, train staff to behave differently and fundamentally provide consultancy services to rewire the organisation from the inside out.
Alongside Utopia, he co-founded and nurtures a number of communities, which include Brand Social, Creative Social and Innovation Social, which are all focused on accelerating creative and innovative thinking.
Daniele is also a leader in the diversity space – he co-founded Token Man, an initiative to get men into the gender equality discussion as well as The Great British Diversity Experiment, the first ever diversity initiative designed for and by the communications industry that provides specific and practical insight into why diversity works and ​how to leverage it. He is also on the Advisory Board of Creative Equals and is a mentor on the BAME2020 initiative.
Daniele is a Hyper Island Masterclass Speaker and a visiting professor at the European Business school (ESCP). He has won Gold at Cannes, co-edited and co-authored a number of books, including Creative Superpowers which is due to be released in 2018, and is the only qualified accountant to have judged on D&AD.
---
Our aim is to Spark your business, your career and your networking life and to fire up your future success – we can't wait to welcome you.
Carole Ann Rice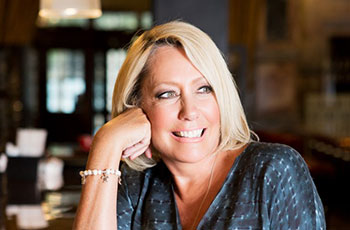 Karen Campbell