About this Event
👋 Hello there! This is the first of an evening series of interesting discussions and chatter around Speckle, the open source data platform for AEC.
Join if you want to hear more about what we've been up to, shape up the roadmap, interact with the community, or simply find out what Speckle actually is - this is your chance: 6pm-9pm, 27th of November @Arup London.
We've got a limited amount of space. Tickets will go on a first-come-first-serve basis.
Join us @ Arup for an evening of:
📣Latests Speckle Features & Roadmap
💥Showcases*
🗝Tips and Tricks*
🎩Networking
🍷Free drinks & refreshments 🍸
🐛Bug Reporting & Wishlist 💫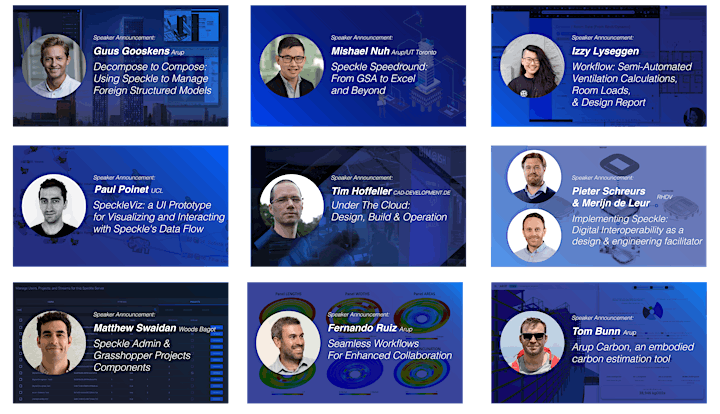 🗓 Schedule:
Some nine amazing persons stepped up to give a talk at the meetup - big thanks! Here's the schedule below:
5.30 - 6.00 Arrivals and Networking 🍸
6.00 - 6.15 Opening Talk (Mike Beaven & Rob Greig, Arup)
6.15 - 6.30 Introduction (Dimitrie & Matteo)
6.30 - 6.45 Arup Carbon: an Embodied Carbon Estimation Tool (Tom Bunn, Arup)
6.45 - 7.00 Decompose to Compose: Using Speckle to Manage Foreign Structured Models (Guus Gooskens, Arup NL)
7.00 - 7.15 Seamless Workflows (Fernando Ruiz, Arup UK)
7.15 - 7.30 Under The Cloud: Design, Build & Operation (Tim Hoffeler, CAD-Development)
7.30 - 7.45 Break 🍸
7.45 - 8.00 Speckle Admin & Grasshopper Projects (Matthew Swaidan, Woods Bagot)
8.00 - 8.15 Workflow: Semi-Automated Ventilation Calculations, Room Loads, & Design Report (Izzy Lyseggen, Edinburgh)
8.15 - 8.30 Speckle Speedround: From GSA to Excel and Beyond (Mishael Nuh, UToronto)
8.30 - 8.45 Speckle Viz: a UI Prototype for Visualising and Interacting with Speckle's Data Flow (Paul Poinet, UCL)
8.45 - 9.00 Implementing Speckle: Digital Interoperability as a design & engineering facilitator (Pieter Schreurs & Merijn de Leur, RHDV)
9.00 - 9.45 Closing Talk, Drinks, Food & Networking 🍸
9.45 - 11.00 Pub of Choice 🍻