Sales Have Ended
Registrations are closed
Thank you. See you at the #RiseStemettesHack!
Sales Have Ended
Registrations are closed
Thank you. See you at the #RiseStemettesHack!
Description

Would you like to make an app (or game) for your mobile phone?
Are you interested in computers?
Come to the Stemettes Hack in partnership with Rise London!
No previous coding experience necessary.

Done some coding before? Our experts will teach you how to create complex apps using HTML, CSS and JS.

Win prizes!

Food and Laptops provided - just bring yourself!
Completely FREE, thanks to our wonderful supporter, Rise created by Barclays.
What is a hackathon?
Hackathons aren't about breaking into things! They're about bringing people together to create amazing things using computers. We think it's really sad that some people have never been to a hackathon or had proper fun with computer science, so we want to give you guys the opportunity to explore and play about in the creative, exciting world of technology.
Rise is the Home of FinTech ('financial technology') in London and over the two day hack we'll be building to the theme: 'Using your money for good with the help of technology'.
Who
Girls aged 5-22 (22+ not in full time employment)

Parents/Guardians. If you're under 16, you'll need to have an 18+ adult with you. On the plus side, we'd love it if they helped out with making your app!

Women (and Men) with a STEM background and are interested in inspiring the next generation (see below for more details).
When
Wednesday 22nd August 10am - 5:00pm
Thursday 23rd August 10am - 5:00pm

Where
We'll be at Rise London, 41 Luke St, London, EC2A 4DP
What you need to bring
Yourself and any great ideas you have.

If you have access to an Android mobile phone, bring it along with you.

We will provide everything else.
Wednesday
10:00 - Guests arrive. Preback forms handed out.
10:30 - Welcome and ice breaker. Event introduction from Head Stemette Anne-Marie and Rise
11:00 - Brief given, 'teaches', begin mini-projects
1:30 - Lunch
2:15 - Return to projects
3:30 - Afternoon break
4:15 - Continue projects
5:00 - Wrap up and power down. End of the day.
Thursday
10:00 - Ice breaker and daily brief session. Event introduction from Head Stemette Anne-Marie and Rise
10:30 - Back to projects
1:00 - Break for lunch
1:45 - Resume projects
2:45 - Break
3:00 - Finish projects
3:15 - Presentations, demo day begins
4:15 - Prizes
5:00 - Feedback forms handed out. End of day
*This Hackathon is a CREST Discovery Award project, contact #TeamStemette for more information.
Are you interested in helping children learn to code and discover mobile making?
We are looking for adults who have a STEM background to help the girls learn to code, use the AppShed, AppInventor and Thimble webmaker tools and show them the range of possible careers you can do after studying STEM subjects.
All you need to do is provide inspiration and help the girls with their projects when they get stuck.
We will provide food and reasonable transport costs to helpers.
Register as a Stemette Supporter.
Tools we will be using:
AppShed - Online drag and drop tool for mobile app prototyping
MIT App Inventor - Online tool with visual programming element for creating Android apps
Ratchet - Ready made HTML, CSS, JS framework for responsive site prototyping
Brought to you by: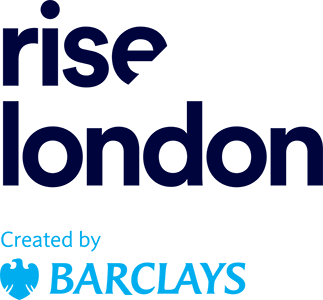 Rise, created by Barclays, is a global community of the world's top innovators working together to create the future of financial services.
To join our community and keep in touch with the latest Rise news, go to bit.ly/risesubscribe.