Description
Suffolk Super Con has landed! Join us for our inaugural event in the heart of Suffolk for a Comic Convention experience that promises to be a great day out for all the family!
As a celebration of all things geeky, from video games to comic books and pop art to cult movies, this action-packed event will feature Guest Signers, Artists, Fan Merchandise, Cosplay, Photo Opportunities and more…


Our Special Guest Signers, covering franchises such as Star Wars, Marvel, Assassin's Creed and Dr Who, will be signing autographs on the day for a fee and may offer photographs / selfies for an additional charge. They will be happy to share their on-screen experiences and answer any questions you may have!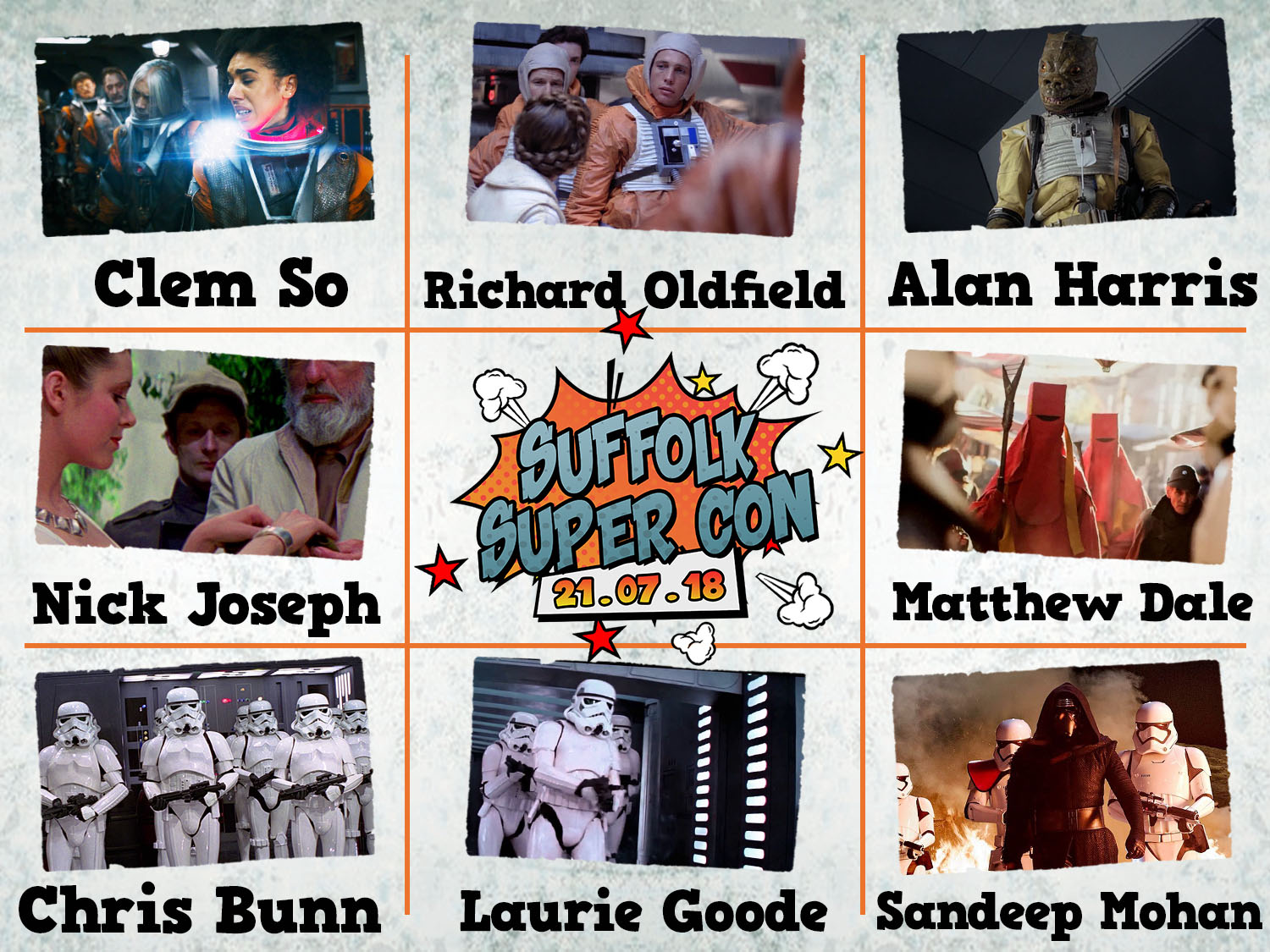 Clem So (Dr Who, Star Wars, Spectre, Guardians Of The Galaxy, Assassin's Creed) - £15

Richard Oldfield (Derek "Hobbie" Klivian - Star Wars) - £20

Alan Harris (Bossk The Bounty Hunter - Star Wars) - £TBC

Nick Joseph (Major Arhul Hextrophon - Star Wars) - £15

Sandeep Mohan (First Order Stormtrooper Officer - Star Wars, Scarif Trooper - Rogue One) - £15

Matthew Dale (Jedha Priest - Rogue One, John Little - Dr Who) - £15

Chris Bunn (Stormtrooper - Star Wars, Willow) - £15

Laurie Goode (Stormtrooper - Star Wars, Dr Who, Eastenders, American Werewolf In London) - £15
IMPORTANT: All Special Guest appearances are subject to family and work commitments and may change at any time. Suffolk Super Con has no control over this and cannot accept liability for these cancellations. All Special Guest cancellations will be announced as soon as possible via our Facebook Page.

Artists and Traders, the backbone of any great Comic Convention, will be gathering from across the country to bring you highly sought after, rare, exclusive, custom and handmade merchandise from around the country to Suffolk Super Con 2018, including Jewellery, T-Shirts, Autographs, Toys, Gifts, Collectables & More!

Everyone can Cosplay on the day. There's even a Cosplay Competition, proudly sponsored by Planet Laser, with 3 different categories running throughout the day. There are prizes to be won too! Just remember to sign up on the day.
Here is the running order for the categories: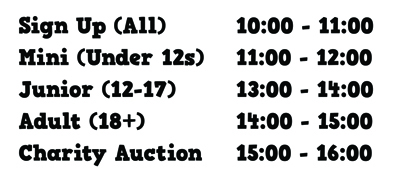 IMPORTANT: We would like to remind everyone that Cosplay is not Consent. If you would like to take a picture with or of another Suffolk Super Con fan, ALWAYS ask first and respect that person's right to say no.
IMPORTANT: To access the Sign Up (10:00 - 11:00) , you require the Early Entry Tickets which allow event admission from 09:30. General Admission only allows event admission from 11:30 at this time.

We are proud to be running a Charity Auction on the day, starting at 15:00. We will be raising money for the "Priory Friendship Club" whose local work help support vulnerable adults in the community and help with such important issues such as mental health, learning disabilities and social isolation. It's a fantastic opportunity for us to give back to the community who will help make Suffolk Super Con 2018 a success. So, if you are after your own personal Negan or a full photoshoot package, this is the place to be on the day.

Throughout the venue, you will be able to find an array of exciting Exhibits and interactions, proudly displayed by enthusiasts, prop makers and collectors. These provide brilliant Photo Opportunities as you find them!
IMPORTANT: We kindly ask everyone to watch for notices around the venue not to touch or cross certain markers when looking or taking photos. This is for everyone's safety and to maintain the excellent condition of the displays and exhibits.

Enter the world of HD Simulation Motorsport Racing; Put your skills to the test as you push cars to the limit and compete to win prizes! Experience Virtual Reality gaming with an amazing set-up hosted by GAME Bury St. Edmunds.

Ticket Types:

Early Access Tickets:
Availibility: SOLD OUT
Event Admission: 09:30
General Admission Tickets:
Missed out on Early Entry Tickets? General Admission gets you FULL access to all of Suffolk Super Con 2018.
Availibility: Limited
Event Admission: 11:30
Pay At The Door:
Want to pay at the door? We cannot guarantee these will be available on the day. We strongly recommend booking online to secure your space at what is going to be a very popular event.
Availibility: Not Guaranteed
Event Admission: TBC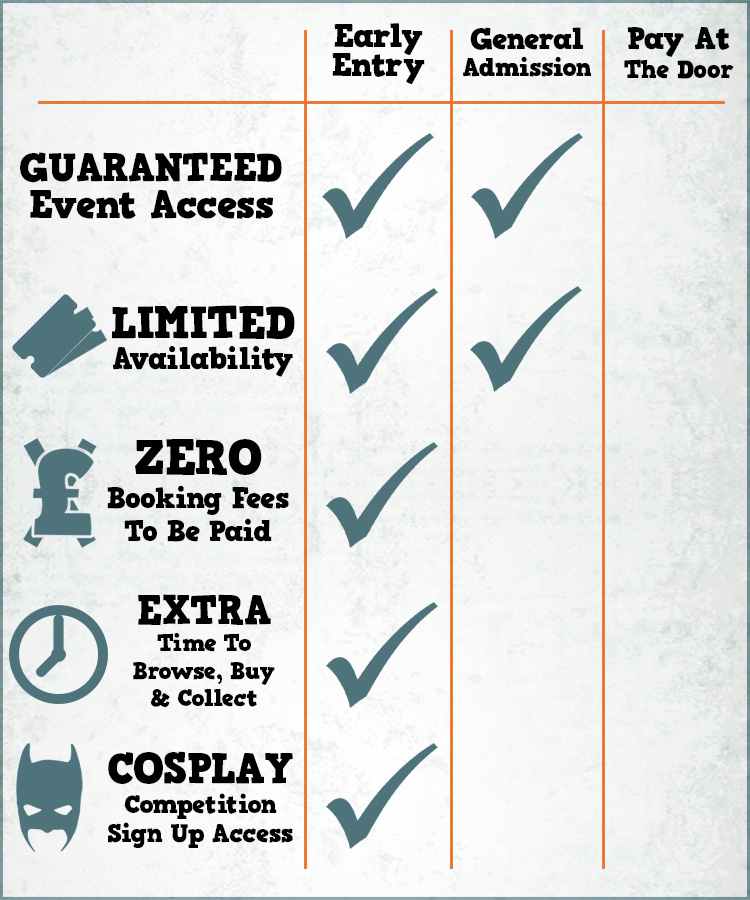 Remember to follow us on Social Media for all the newest announcements about this event.
If you are looking to book trader tables, please view our Exhibitor & Traders Bookings Page.
If you have any questions about Exhibitor & Trader bookings, please email us directly at SuffolkSuperCon@outlook.com and one of our event organisers will get back to you as soon as possible.