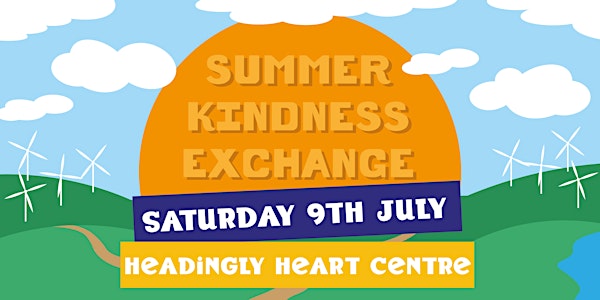 Location
Heart Centre
Bennett Road
Headingley
LS6 3HN
United Kingdom
Refund policy
Contact the organiser to request a refund.
Eventbrite's fee is nonrefundable.
Full day event with speakers , workshops, activities, and a market, all centred around Kindness, Compassion and Wellbeing.
About this event
The Summer Kindness Exchange is a Kinder Leeds and Plexus Wellbeing event, linked to the Leeds Festival of Kindness Compassion and Wellbeing.
Only £3.50 (plus Eventbrite booking fee) for the day for all talks, workshops and activities. 'Market only' access is free to attend.
This is a non-profit event with all costs covering the cost of putting on the event. There are a limited number of free tickets reserved for those who can't afford the fee but would like to attend talks and workshops, please contact us for more information on this.
We will be bringing out a program with times and specifics, but for now here's a taster:
Speakers:
Marvina Eseoghene Newton - Nigerian born community leader, activist, feminist, and Mother of two, Founder and CEO of Angel of Youths. A charity that aims to lift up young people from disadvantaged backgrounds to help challenge inequality. She inspires community development projects, which are imaginative, inclusive and productive. Championing the continuing heritage of achievement in the passions of young people from marginalized communities, while promoting the potential of service providers across Leeds Metropolitan Regional District.
Fra Panella -
Talk: Home We have all heard it: "your home is the base from which you build your life" and while having a roof on our head with four walls is a fundamental need, there might be other ways to Feel at Home Anywhere In The World. What does Home mean for YOU?
This talk will lead to the workshop: How To Feel At Home Anywhere in the World – you can attend either or both as they stand alone and yet are linked.
Workshop : Feel At Home Anywhere In the WorldAs a Belonging Coach, I'm on a mission to create spaces where we can Feel at Home no matter the land we live on, the colour of our skin or the accent in our words. What would be possible if instead we broke out of isolation came together and met each other in kindness and compassion and crossed the bridges of cultural differences? What if we could embrace our multifaceted personalities with authenticity?Imagine a world where we felt a rooted sense of self and we were connected to the our community, our land, our body and ourselves
Join us and discover ways to:- Easily access your inner compass & make decisions more easily. - Find, connect and be included by 'our people'.- Deepen your sense of rooted self
David Midgley -
Talk - How Compassion can Change the World
We all know that compassion is important, but it's a fairly new idea that it can be a conscious force to really change the direction our society is going in a positive way. The growing worldwide movement around compassion training has big ambitions! Could it succeed where more 'hard-nosed' approaches to change-making have so far failed to make the difference that is needed?
Workshop - Staying Positive in Challenging Times
If you are finding it hard to access any kind of optimism or positive energy in the face of a stream of distressing news that seems to be never-ending, the increasing uncertainty of life and the stressful nature of modern work environments, you are not alone! Yet if we buy into despair, we become part of the problem. The key to genuine hope lies within our own hearts and in opening to our connection to each other – it is a great gift that we can offer to an ailing world.
Ansa E Ahmed - The founder of Hope Support Services and is a CEO, Consultant, Counsellor, Supervisor, Trainer, Facilitator, Public Speaker, Businesswoman, and Mother. Passionate about prioritising being Human beings first! Proud to be a board member for Compassionate Unlimited CIC and in working towards an inclusive approach to supporting communities to care more for one another.
Climate Action Leeds - Climate Action Leeds provides a platform for people, organisations and communities to come together to take action on climate change, in Leeds and beyond. Our collective purpose is to help shape a Leeds which is zero carbon, nature friendly and socially just by the 2030s.
Market Stalls:
Mindfull Market - A curated marketplace that ensures you can shop more mindfully, consciously, and responsibly. We're here to combat the negative impact that consumerism has on our planet, wellbeing, and the fight for diversity and inclusion by helping you vote for the greater good with your money.
Other stalls:
Concord - Concord is one of the oldest interfaith groups in the UK, founded over 40 years ago. It exists to foster friendship, trust, tolerance, understanding and co-operation among members of the faith communities of multi-cultural Leeds.
Refugee Council - providing support and advice to asylum seekers and refugees themselves as well as to other organisations, undertaking research and policy work, and campaigning on behalf of refugees and asylum seekers.
HOPE bereavement services - HOPE offers therapeutic support and a counselling service for individuals and families. HOPE Bereavement Support specialises in support for all types of bereavement, including child loss, stillbirth and miscarriage. HOPE also offers emotional and mental health counselling, support groups as well as resilience workshops for mental health, emotional wellbeing and self-care.
Workshops and Activities:
Mother Serpentine - I'll be sharing tarot readings that all help guide those who come for them, in seizing their own personal power, making the best choices for them, and giving hope through hard times. The root of all readings is self compassion and self leadership.
Be Well Leeds - Will be offering Pay-as-you-feel massage through the day. 'We believe is affordable access to holistic treatments for all'
Meditation - Led by different faith groups through the day.
We also have: Yoga, Aerial Arts, art, and more!
Please be aware the talks / workshops / activities will all have different capacities. We recommend attending early so you can sign up for any events you wants to attend through the day.