Event Information
Location
Fitzrovia
At a Garden in a Hotel
London
United Kingdom
Description

S U M M E R R E L E A S E



Visit the event on Facebook

As we take a break from our regular productions, we invite you to join The Secret Experience for a summer party, inspired by the vibes of Tulum and sounds of the Saharan deserts, at a zen garden in the middle of the concrete jungle.

A fusion of mystical nomadic house music under the sun, with the sound of the drums and allure of the dance floor. Whilst yoga rejuvenation will be taking place
side by side and to the same music.


What does each ticket include?
To get you arriving early and into the mood, every ticket will include bottomless complimentary cocktails until 1pm.
Brunch & Yoga Booster
If you wish to enjoy the Full experience, then ADD a "Brunch & Yoga Booster" to your ticket at check-out. Each booster offers a complimentary detox dish of your choice (see menu below) and participation in a Yoga class.
Please note, we have a very limited availability of boosters


L O C A T I O N
A secret open air garden, inside a boutique 5 star hotel in Fitzrovia W1, Central London,
packed with greenery and it's own little pond.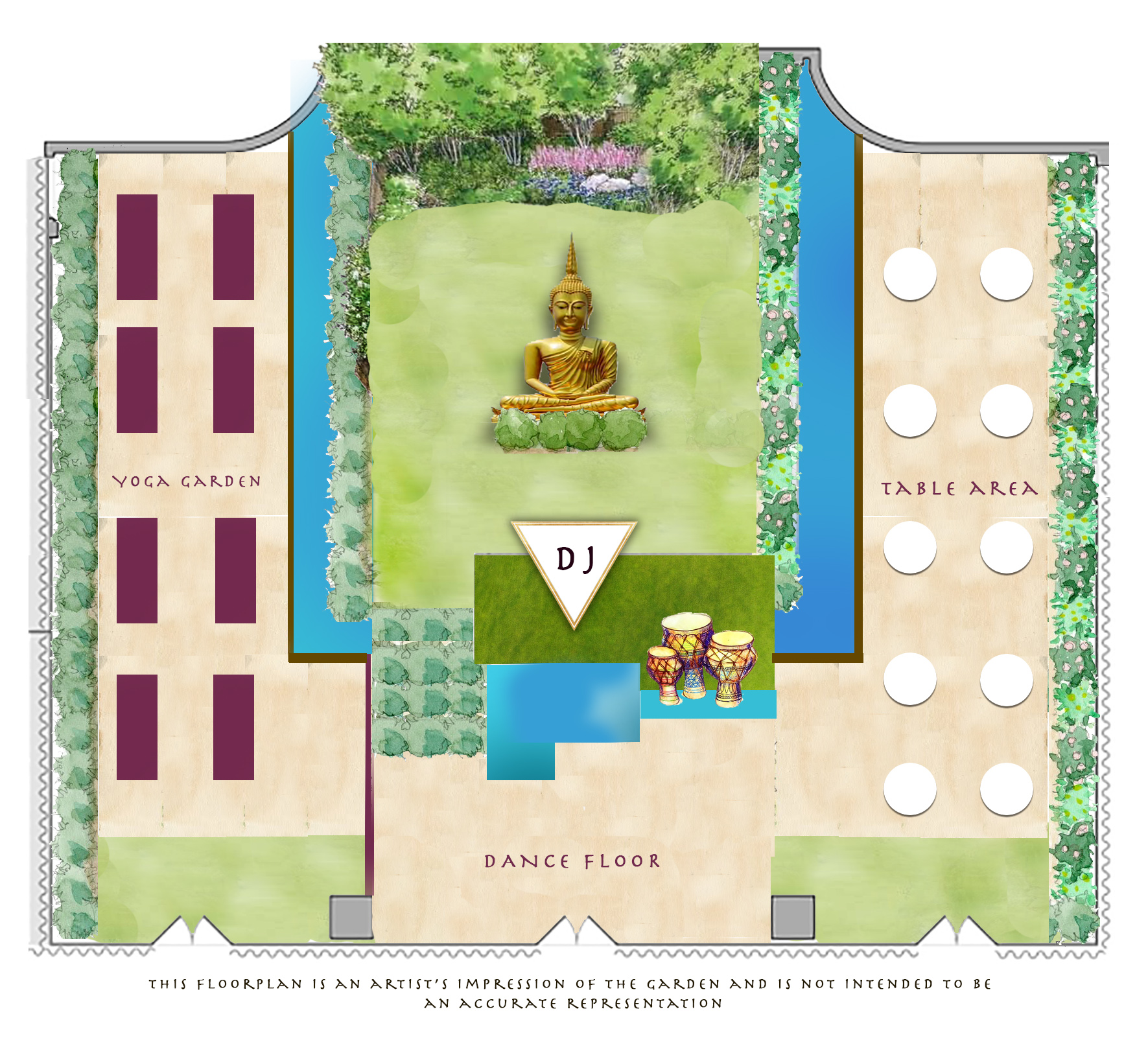 M U S I C
The vibe we will try to create is that of a mystical garden in Tulum,
with a fusion of shamanic South American and Saharan Desert sounds,
taking you on an uplifting and somewhat spiritual journey.


Y O G A
Ever wondered what it would be like to do Yoga outdoors to the sounds of the DJ, and with the backdrop of people dancing? Well give this eperimental journey a go at our sectioned off Yoga garden overlooking the dancefloor. The sessions will be conducted by none other than Frenchy Yogini, the founder and chief yogi in charge of Yogi2Me. Each session will last 45 mins.

NOTE: To take part, you must purchase a 'YOGA & BRUNCH Booster' at checkout.


B R U N C H
A carefully crafted clean Detox menu, prepared by the Hotel's chef,
will be available to purchase from throughout the day.
If your plan however is to retox, then there will also be a choice of juicy options to dive into. Those partaking in Yoga will also receive one complimentary dish from the Detox menu below.

DETOX MENU
ACAI BOWL | coconut yoghurt | cocoa nibs | banana chips | berries
QUINOA PORRIDGE | almond milk | maple syrup | toasted seeds | goji berries
CHIA & QUINOA WRAP | wild rice | mixed beans | avocado
SMASHED AVOCADO | toasted sourdough | chilli | spring onions | coriander | tomatoes



T A B L E S
If you are coming in a group, then treat yourself to your own permanent
seated area on the dance-floor. You have two options to choose from:
LARGE TABLE - accommodates 10 people and includes 2 x Complimentary bottles of Veuve Clicquot (this tier carries a minimum spend of £500 on the day)
SMALL TABLE - accommodates 5 people and includes 1 x Complimentary bottles of Veuve Clicquot
(this tier carries a minimum spend of £250 on the day)


D R E S S - C O D E
Think Nomad, think Desert, think Bohemian, think Native Latin.
Flowy outfits that let you freely dance, yoga, drink and eat (in no particular order).

For more inspiration please visit:
www.pinterest.com/secret_brunch
* Secret theme and itinerary will be emailed on the week of the event. The Secret Location will be revealed on the day of the event, to only the ticket holders, via email. All tickets are non-refundable & non-transferable. This event is open to all and we look forward to welcoming both members and non-members. The Secret Experience events are governed by Secret Brunch. Therefore all attendees are expected to adhere to the relevant House Rules outlined in our website. Secret Brunch refuses to work with any promoters or promotional companies, as it aims to keep each event private, and its crowd 'natural'. Promoting any external products or events is strictly prohibited at Secret Brunch. If the information provided when purchasing a ticket is deemed inaccurate or misleading, then Secret Brunch reserves the right to refuse entry, cancel a purchase, or if applicable retract a membership. The service and payment mechanisms used at this event are supplied by the venue. Although Secret Brunch will ensure that it's high standards are maintained, it cannot take responsibility for payment, service or customer property at the event. Secret Brunch expects all guests to drink responsibly and reserves the right to refuse service at it's sole discretion or to remove any attendee from the premises. Secret Brunch has a zero tolerance drugs policy. Any attendee found in possession of drugs will be immediately removed from the premises, reported to the police and banned from any future events. Minimum age of all Secret Brunch & Secret Experience events are 21. By purchasing a ticket you give consent to Secret Brunch to hold your name, email address and phone number on file, in order to inform you about future events. For more information please visit our Privacy Policy.
Date and time
Location
Fitzrovia
At a Garden in a Hotel
London
United Kingdom
Refund policy