Sales Have Ended
Ticket sales have ended
Thank you for joining our exclusive training on supervision for leaders. We are looking forward to seeing you on the day! If you have any queries, contact us via sendleaders@gmail.com See you soon! Maya
Join Jenny Bowers to understand more about how supervision can enhance delivery of provision and staff well being in educational settings.
About this event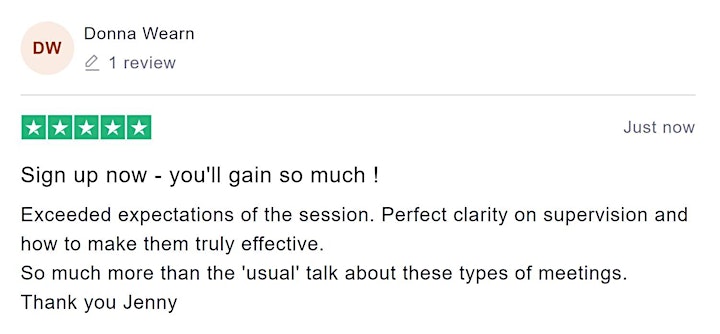 In this 90 minute online session, Jenny will up-skill leaders and line mangers in education with the knowledge of the supervision, how it differs from coaching and mentoring, as well as how to best deliver effective in-house supervision strategies.
An absolute must for anyone in education supporting colleagues.
All attendees will be sent a bonus voucher after the event.
Feedback from leaders in education and the charity sector
Well organised sessions, relatable, listens and responds well to everything throughout
Thank you for being able to reflect back to me what I have said in a way that is thought provoking and enabled me to see a way through
Extremely easy to engage in the session
Jenny, you have an incredible emotional intelligence and experience to draw on. You bring everything back to human connection and values and I always feel safe with you
Engaging, thought provoking, considerate
In terms of Jenny leading on supervision:
This has made me question a lot more and have confidence to say if something is unreasonable request or reasonably challenge a piece of work
Opportunity to offload to someone neutral
To share the load and work through a solution with a professional that understands
Clearer focus - to talk through issues prior to addressing
Through the coaching and supervision, you've given me time to focus on me as a leader, but also share the load that I carry from working on my own.-anon
Provided a step back from the day to day processes and firefighting, and review the positives outcomes and plausible solutions to issues
It's too easy to put off important conversations like these, however as a leader in education having supervision strategies in your toolbox, ensures you operate from a place of prevention and responsiveness.
About Jenny:
Jenny is Director of Purplemoon Supervision and Coaching Services and a Deputy Executive Officer of #TeamADL She is passionate about empowering educators to excel. Jenny believes that a culture built on ensuring excellent well-being, where coaching and supervision is an entitlement for staff, enabling them to work to the very best of their abilities. This means they will have a good work life balance and good mental and physical health. Jenny is very focused on her purpose and from the tender age of 3, she knew she wanted to work in education. After, pursuing a degree that had a year at university in the USA and a gap year to experience work in other sectors, this became a reality, with Jenny training as a 3–11-year-old specialist. Jenny has taught in different areas in England and in addition to teaching has been DSL, SENCO, deputy head and headteacher. In all these roles, staff well-being as been at the heart of Jenny's approach. She continues to serve in this area through coaching and supervision.