Event Information
Location

The Octagon Centre

Sheffield, United Kingdom
Description
Manufacturer Showcase | Modular Meet | Retailers | Q&A Sessions | Seminars & Demos I Films
SynthFest UK has been created by Sound On Sound magazine, in partnership with Sensoria Festival, to give companies of all sizes an opportunity to showcase their synth products in front of the public in what promises to be a great day out for all musicians, whether a pro, semi-pro or hobbyist.
With ever-growing interest in analogue, digital and modular synths, more and more synth gear is now coming onto the market in the form of new products and vintage re-releases from big brand manufacturers and small boutique makers.
SynthFest UK will be running a number of related events throughout the day to appeal to a wide audience. The main floor of the show will host the Manufacturer Showcase Village, and a Modular Meet Camp where enthusiastic musicians and fans of all things 'synth' can show off their personal setups.
There will also be a panel discussion, an area for retailers, various Universities will be on site to chat plus a pop up screening of David Spiers' 'Bright Sparks' and Gary Numan: Android in La La Land.
Price includes SynthFest UK bag for life (pictured below).
There will be a number of related events taking place on 1st & 2nd October. They will be announced on www.sensoria.org.uk over the coming weeks.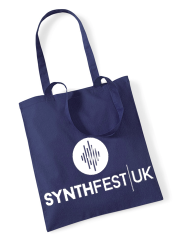 Please note tickets cannot be refunded once a transaction has been completed. 
Date and Time

Location

The Octagon Centre

Sheffield, United Kingdom