Description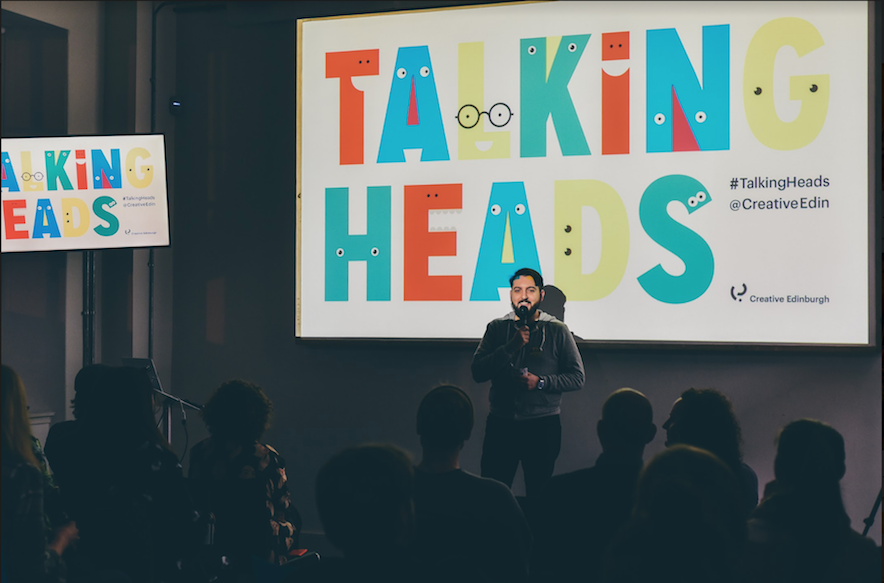 Photography by Ellie Clinch
We are delighted to be hosting Talking Heads, a fast paced evening of lightning talks and informal networking. The event will feature a range of guest speakers including Designers, Makers, illustrators, App Developers and more. Open to industry, as well as students, join us for an evening of inspiring stories, practical tips and leave with new contacts, opportunities and ideas.
For this instalment of Talking Heads, we will be bringing together speakers from a range of backgrounds and expertise, asking them to share stories of reassurance as they delve into tales of revaluation, and how they have come to find new value in the work they do today.
EVENT FORMAT: 
provisional
6.00-6.30pm Registration & drinks
6.30-6.45pm Welcome & hosted by Erik Ravaglia
6.45-7.15pm Talks
7.15 -7.45pm Break, networking & mingling
7.45-8.15pm Talks
8.15-9.00 pm End, networking & mingling
Places are limited, so please do register in advance.
We are delghted to be joined by the following speakers;
Smart Hopewell [ Designer, Musician & Youtuber of Prayer Pixel ]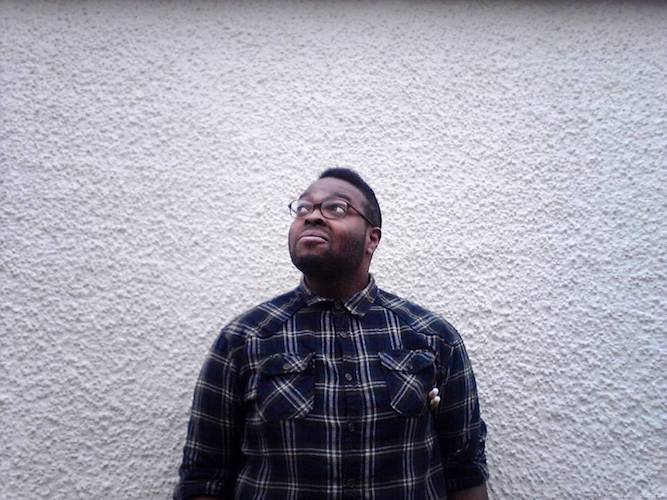 Smart Hopewell is a designer, musician & youtuber of Prayer Pixel, a graphics and web design service & Psalm Lab, a YouTube channel where he brews encouraging, Music, Design & Tech videos based in Edinburgh. You can find him creating and working on exciting projects for brands, companies, creatives & businesses. Smart specialises in creative design experiences with a message of hope. Working with companies and individuals to help make their brand a little more personal. Prinding himself on keeping all design processes friendly and simple to help inspire and encourage people.
You can find Smart Hopewell on Twitter, Instagram and Youtube!
Kate Wimpress [ Director of North Edinburgh Arts ]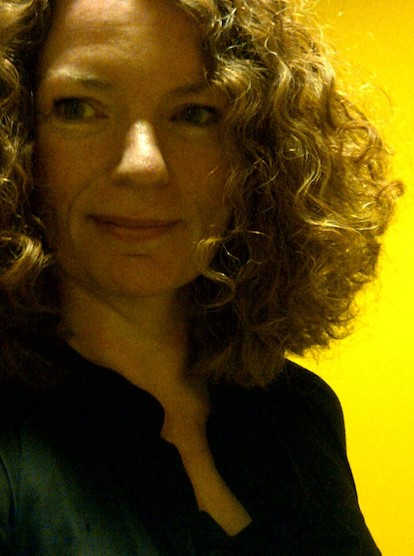 Trained in fine art Kate has worked for arts organisations across Northern Ireland and Scotland since 1990. Currently Director at North Edinburgh Arts Kate previously led Edinburgh's Capital City Partnership Arts for Inclusion programme.
North Edinburgh Arts provides opportunities for individual and community development through contact with the professional arts. The organisation is active in the local regeneration process advocating the role of the artist and creativity as positive forces within the dynamic of a community in flux.
With a PG Dip. in European Cultural Planning Kate's particular area of interest is how art can change the public realm and public imagination, working with artists whose practice takes them beyond the boundaries of the institution, studio or theatre. She was a founder member of the Scottish National Cultural Planning Forum, and currently sits on the boards of Tinderbox Orchestra, North Edinburgh Childcare, and Chairs the Scottish Regeneration Forum.
Geoffrey Baines [ Blogger, Doodler, Futurist and Dreamwhisperer ]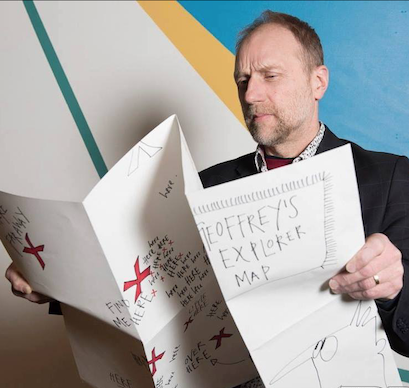 Geoffrey Baines is a blogger, doodler, futurist and dreamwhisperer (his name for the type of coaching and mentoring he's developed to help people identify and develop their talents and dreams). Two days a week, Geoffrey shares all of this with students and staff in the University of Edinburgh; the rest of the time he works as a freelancer, including recently publishing his first book Slow Journeys in the Same Direction, a colouring book with some mindful purpose. It's a title that gives away his curiosity in and enjoyment of exploring slowness as the new fast.
Every day Geoffrey's to be found blogging and doodling at thinsilence.org and trying to make his work accessible to as many as possible - especially those who may think they have run out of possibilities for pursuing their dreams.
Geoffrey is to be found on Facebook, Twitter and, when he remembers, Instagram.
Yasmin Sulaiman [ Director of Creative Edinburgh ]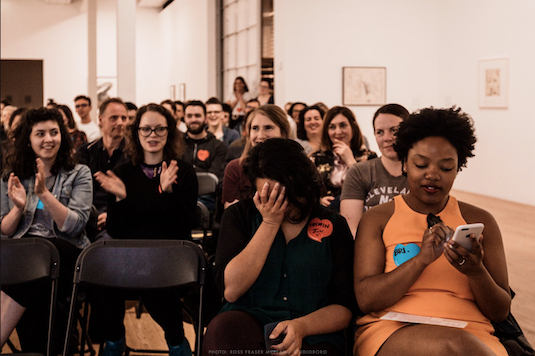 Yasmin Sulaiman is the new Director at Creative Edinburgh. Before that, she was Editor-in-Chief at The List, and in a prior freelance life has worked for the Guardian and the BBC. Once, she met Boy George and he showed her his Leigh Bowery tattoo. She's been reviewing shows at the Edinburgh Festivals for the last 14 years, which is probably what this talk will be about.
You can follow Yasmin on Instagram
Danni Gordon [ Founder of the Chachi Power Project ]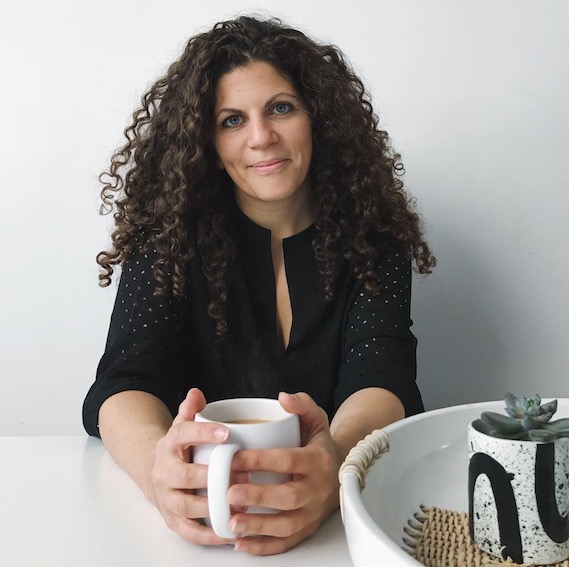 Danni is a passionate and creative Body Positive Advocate who is here to remind every body that they are beautiful.
She created the Chachi Power Project in January 2017 on a mission to improve everyone's body confidence through interactive workshops, talks, events and retreats. Her work concentrates on creating a supportive community to help people feel comfortable to share stories, learn more about and discuss aspects of body image. Tackling issues which can affect individuals as well as society. With her background in the creative industries she is never far from incorporating art and design into her fun and friendly workshops.
She is a major supporter of the Body Positive Movement which encourages everyone to fully respect and accept all body types regardless of age, race, gender, ability, size, shape or health status.
You can find Danni on Instagram, Facebook, Twitter and on follow the Chachi Power Project's journey on her Blo
Karen Fleming [ Co-Founder of DOK Artist Space ]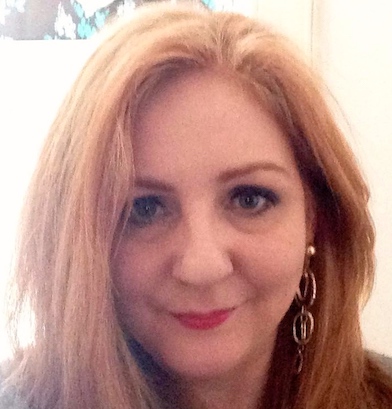 Born and Bred in Edinburgh Karen studied Painting at Edinburgh College of Art and went on to work in a community arts setting.
Karen is co-founder of DOK Artist Space in Leith which is an artist run organisation that supports early career artists as well as offering free mentoring to young people wanting to pursue a career in the creative industries.
As well as an active exhibition programme in their space DOK offers 8 affordable studios to Scottish based artists.
DOK was awarded charity status in 2016.
As well as the day to day running of DOK Karen is a practising Artist and her work has been shown in various galleries and institutions around the country.
David Wheater [ Photographer, Founder of Tours of Edinburgh & Photography Tuition Scotland ]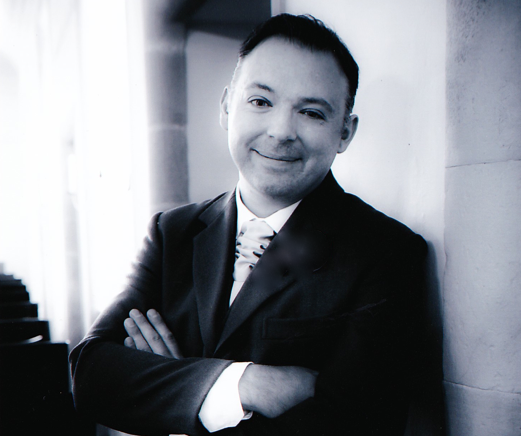 Born in Edinburgh, David Wheater has enjoyed living in and around the Scotlands capital nearly his whole life. Graduating from Aberdeen University and gaining a Diploma in Legal Practice at Edinburgh University, David qualified as a solicitor and went on to work at the Land Register of Scotland for many years.
However, he reached a turning point and decided (quite radically, but after a lot of thought) to change course in 2007 to start a new business and follow his creative interests.
After setting up various different businesses over the years, David has settled on his real passions. As a Freelance Photographer, specialising in photographing all around Scotland and the city of London, he is also the founder of Photography Tuition Scotland, whos aim is to provide encouragement, resources and support to enable new photographers to gain the technical skills they need to start taking more creative images. In addition to this, David is the founding owner of Tours of Edinburgh, an exclusive tours company offering private photography tours and experiences around Edinburgh and the Lothians.
Amongst David's many interests, photography, travel and being a keen fisherman and huge dog lover he is also a company director of an Edinburgh based pet care & home sitting company.
You can also find David on Youtube, Instagram & Linkedin
Solii Brodie [Co-Founder of BeFab Be Creative ]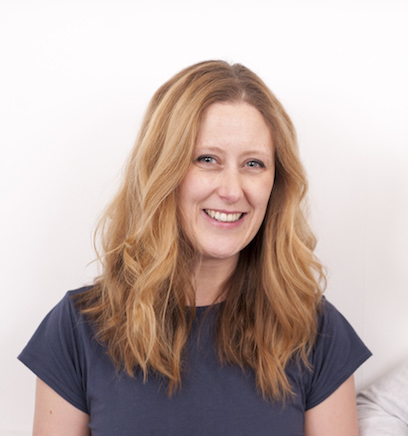 Solii, was lucky enough to grow up in a family where creativity and doing what makes you happy has always been encouraged. A designer by trade she has spent most of her career as a passionate advocate of others creativity, whatever that may be. Primarily working for Habitat between the design teams, manufactures and training to bring the passion she has for good design, made in the UK to staff and customers across the business and more recently as director of BeFab Be Creative a Digital Fabric Printing Studio based in Edinburgh, with the aim of making high end printed textiles accessible to all. In this role she has been able to continued her advocacy for design and creativity in both a curated collection of designer fabrics 'Printed and Co' as well as the sponsorship of Emerging talent within the textile sector, talk to her about that last bit, as this year's application is about to go live!
You can follow Solii and BeFab Be Creative on Twitter, Instagram and Facebook
A big thank you to Whitespace for hosting us!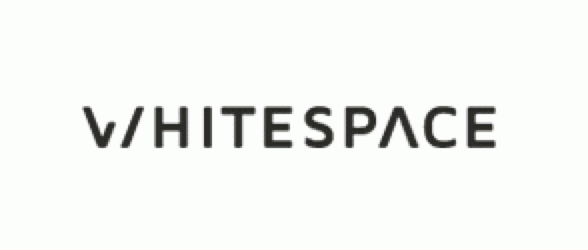 Please note that there will be a Photographer and Filmmaker present on the evening to document the event for use of Creative Edinburgh marketing and your likeness may be catptured. These wil be used for promotion of this and future events on the Creative Edinburgh website and solical media platforms.
If you do not wish to have your likeness captured, please do let one of the Creative Edinburgh team know on arrival.