On Thursday, October 14th at 11 am EDT / 4pm BST, Jamie Macaulay will teach us how to use open bioacoustics analysis toolbox PAMGuard.
About this event
Join us on October 14th at 11 AM ET / 4 PM BST for Tech Tutors with Jamie Macaulay, who will answer the question, "How do I analyze large acoustic datasets using PAMGuard?" In this episode, Jamie will teach us how to use the free and open bioacoustics analysis toolbox PAMGuard, and discuss the importance of keeping humans in the analysis loop when using machine learning algoritihms such as passive acoustic monitoring (PAM).
Register for the event now.
Jamie Macaulay is is currently a postdoctoral researcher at Aarhus university in Denmark and has been working on acoustic monitoring for over a decade. His research focus is developing and using PAM methods to collect complex behavioural or ecological data which has direct conservation implications. Jamie has been involved in many projects from tracking porpoises around tidal turbines in the northern waters of Scotland, to investigating bycatch of toothed whales in gill nets, detecting illegal fish bomb blasts in Tanzania and researching the sound output of porpoises in Denmark. A large portion of his time is also spent developing new algorithms and software for PAM. Jamie is one of the primary developers on the PAMGuard project, and regularly teaches PAMGuard courses and develops new analysis modules and data visualisation tools with the aim of making PAM more accessible to other researchers and community scientists.
We asked Jamie...
What will I learn in this episode?
In the marine environment, light is limited, but sound travels much further and faster than in air. Many marine animals have evolved to use sound as their primary sensory mode and as such, the ocean soundscape is a complex mix of different species, environmental and anthropogenic noise.
Passive acoustic monitoring (PAM) is the process of recording acoustic data and extracting sounds of interest (e.g. from a particular species) and has the potential to provide vital behavioural and ecological metrics for conservation; for example, the abundance of animals in a particular area. The most useful PAM data often comes from studies where data has been collected over large spatial and/or temporal scales. But that brings with it a problem – how do we analyse large acoustic datasets?
In this Tech Tutors session, I'll introduce some concepts for large-scale analysis of acoustic data and argue that, although many of the upcoming machine learning algorithms are very promising, it will be vital that humans stay in the analysis loop for the foreseeable future. Doing this requires software which both provides access to advanced automated analysis algorithms, but also powerful visualisation tools to rapidly check data at different temporal scales.
PAMGuard is a free and open bioacoustics analysis toolbox which provides this functionality, and I'll introduce you to the program and bring you through some example datasets.
How can I learn more about this subject?
You can learn more about PAMGuard at www.pamguard.org and there are some tutorials on GitHub.
If I want to take the next step, where should I start?
The tutorials on GitHub are a good place to get started with PAMGuard. Various companies also offer PAMGuard courses; however, these are often heavily geared towards industrial applications where PAMGuard is used in real time for mitigation.
What advice do you have for a complete beginner in this subject?
Familiarise yourself with bioacoustics in general: how do animals produce sound, why, when, at what frequencies? There are many good books on this such as Principles of Bioacoustics and review articles on PAM e.g. Gibb et al 2019 DOI: 10.1111/2041-210X.13101.
Once you understand the complexity of the ocean and terrestrial soundscapes then you can appreciate the analysis challenges involved in PAM data. Check out some software – PAMGuard, but also Ishmael, Raven, Sonic Visualiser and any others you can find online – you can download lots of marine sounds from http://www.mobysound.org/ to play around with.
After you get more familiar with acoustic analysis and start using automated algorithms to analyse data I would keep a few things in mind:
No piece of software or automated analysis approach "does it all".
No automated algorithm is, or will ever be, perfect.
An analysis algorithm that works well for one dataset may not work for another (because the ocean and terrestrial soundscapes are so complex).
Always check your data e.g., listen to your data and look at a few raw spectrograms every now and then.
Are you ready to learn with Jamie? Register to join Jamie's episode here!
Learn more about our Tech Tutors
Welcome to the third season of WILDLABS Tech Tutors, our series focused on answering the "how do I do that?" questions of conservation tech! Launched with the support of Microsoft AI for Earth, Tech Tutors is made for conservation tech beginners of all knowledge levels (and yes, even experts can still be beginners when it comes to tackling a new aspect of conservation tech or starting a new project!). Our Tech Tutors will give you the bite-sized, easy-to-understand building blocks you'll need to try new conservation technology, enhance your research, DIY a project for the first time, or simply explore the possibilities!
Taking place every Thursday, each Tech Tutor will present a 30 minute tutorial guiding you through an aspect of conservation tech, followed by a 30 minute live Q&A session with the audience.
Can't make it to an episode this season? Don't worry! You can find every tutorial after it airs on our Youtube channel, and you can collaborate and ask questions in each episode's thread on the WILDLABS Tech Tutors forum.
Visit WILDLABS to learn more about the WILDLABS Tech Tutors series and other events.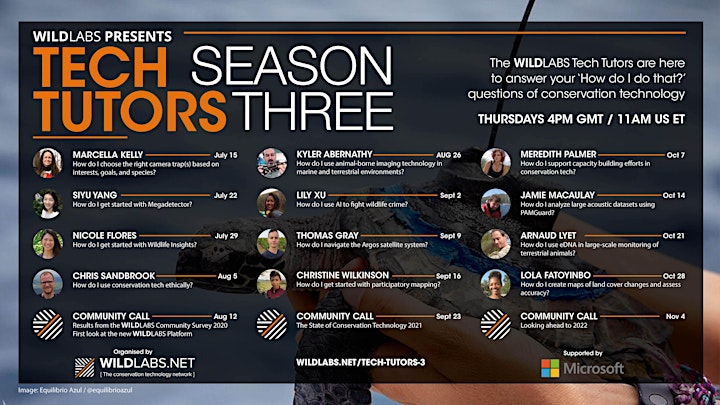 Organiser of Tech Tutors: How do I analyse large acoustic datasets using PAMGuard?
WILDLABS is the first global, open online community dedicated to conservation technology. How are you using #Tech4Wildlife?