Join Siyu Yang to learn: 'How do I get started with Megadetector?'
About this event
We're back with an even bigger third season of WILDLABS Tech Tutors, the virtual series that answers the "how do I do that?" questions of conservation tech. 
Join us for the next Tech Tutors Season Three episode on July 22nd at 11 AM ET/4 PM BST, where Siyu Yang will answer the question, "How do I get started with Megadetector?" In this episode, Siyu will teach us how this tool can speed up the process of labeling camera trap images.
Register now to receive your free ticket to this event.
Siyu is a data scientist on the AI for Earth initiative at Microsoft. She works on applying computer vision techniques to environmentally important data sources and developing open-source tools to help conservation agencies accelerate their workflows.
Major projects include updating and operationalizing the MegaDetector, an animal detection model that generalizes well to a variety of ecosystems, and a project in collaboration with Wildlife Conservation Society Colombia to map land cover change in the Orinoquía region using satellite images.
Previously at Microsoft, she worked on automatic code completion models for Visual Studio to aid developer productivity.
We asked Siyu Yang...
What will I learn in this episode?
Many in the camera trap community have tried or heard about the MegaDetector, a computer vision model that detects animals in camera trap images. In this talk, we will take a behind-the-scene look at how the MegaDetector works and what training data is used to develop the model – so that you know when you can make use of it, and importantly, when to proceed with caution!
We will also discuss various ways to apply the MegaDetector, including processing small batches on your laptop, using it as a part of Zooniverse or Camelot, and batch processing millions of images using an API we provide.
We will draw from the success of a number of conservation organizations around the world, and look at how manual labeling and machine learning-generated labels can work together to save overall labeling time, including loading detection results in the Timelapse software for verification and fine-grained labeling.
How can I learn more about this subject?
Head over to our project home page on GitHub (https://github.com/microsoft/CameraTraps).
You will also want to check out a previous Tech Tutors episode by Sara Beery, the original author of the MegaDetector, on "How do I get started using Machine Learning for my camera traps?"
For a survey on the topic of machine learning for camera traps, see Dan Morris' Camera Trap ML Survey.
If I want to take the next step, where should I start?
Here is the documentation to help you get started using the MegaDetector.
What advice do you have for a complete beginner in this subject?
If you are thinking about incorporating machine learning models into your data processing workflow, start by thinking about the type of information and level of accuracy required for performing downstream analysis (what percentage of your images are empty, are misses tolerable, do you need the count of animals, do all species need to be labeled).
If there are colleagues working in a similar ecosystem, ask them how much success they have had with a given model, while keeping in mind that locations, camera angles and other factors will influence how well models such as the MegaDetector will perform.
Ready to learn with Siyu Yang? Join us by registering for her Tech Tutors episode!
Learn more about our Tech Tutors
Welcome to the third season of WILDLABS Tech Tutors, our series focused on answering the "how do I do that?" questions of conservation tech! Launched with the support of Microsoft AI for Earth, Tech Tutors is made for conservation tech beginners of all knowledge levels (and yes, even experts can still be beginners when it comes to tackling a new aspect of conservation tech or starting a new project!). Our Tech Tutors will give you the bite-sized, easy-to-understand building blocks you'll need to try new conservation technology, enhance your research, DIY a project for the first time, or simply explore the possibilities!
Taking place every Thursday, each Tech Tutor will present a 30 minute tutorial guiding you through an aspect of conservation tech, followed by a 30 minute live Q&A session with the audience.
Can't make it to an episode this season? Don't worry! You can find every tutorial after it airs on our Youtube channel, and you can collaborate and ask questions in each episode's thread on the WILDLABS Tech Tutors forum.
Visit WILDLABS to learn more about the WILDLABS Tech Tutors series and other events.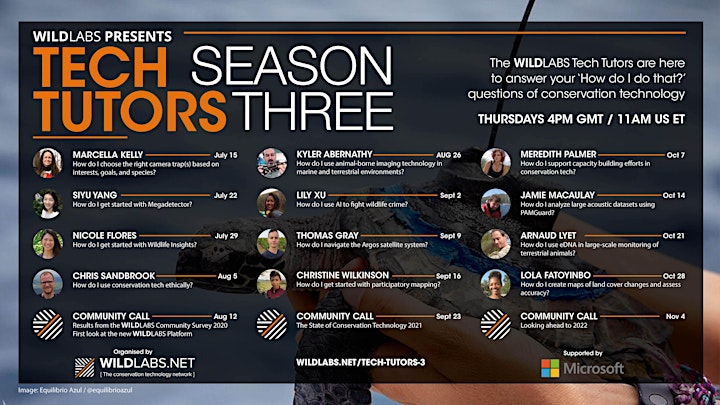 Organiser of Tech Tutors: How do I get started with Megadetector?
WILDLABS is the first global, open online community dedicated to conservation technology. How are you using #Tech4Wildlife?