On Thursday, September 16th at 11 AM ET, Tech Tutor Christine Wilkinson will teach us how to get started with participatory mapping.
About this event
We're back with an even bigger third season of WILDLABS Tech Tutors, the virtual series that answers the "how do I do that?" questions of conservation tech. 
Join us on Thursday, September 16th at 11 AM ET / 4 PM BST for our next Tech Tutors episode with Christine Wilkinson, who will answer the question, How do I get started with participatory mapping? In this episode, Christine will discuss the importance of involving communities in your conservation tech work, incorporating local knowledge into research and management, and factoring ethical and logistical considerations into your projects.
Register for your free ticket now.
Christine Wilkinson is a conservation biologist and postdoctoral scholar in the Department of Environmental Sciences, Policy, and Management at the University of California, Berkeley. Her research interests include human-wildlife conflict, carnivore movement ecology, multidisciplinary mapping, and using participatory methods for more effective and inclusive conservation outcomes.
We asked Christine...
What will I learn in this episode?
You will learn what participatory mapping is, why it's an important tool, the main types and platforms for participatory mapping, and how to get started with using participatory mapping in your work and/or in your community. I will also show an example of how I used participatory mapping in my work on human-carnivore conflict in Nakuru County, Kenya.
How can I learn more about this subject?
Here are some great resources to get started:
If I want to take the next step, where should I start?
Start with consulting with the community you would like to work with, whether it is your own community or another community in which you are conducting research. Make sure that community members are involved from the beginning to the extent possible- especially in the question formulation and giving input on the methodologies. At the same time, do some introspection to assure you are doing this work to elevate the voices.
What advice do you have for a complete beginner in this subject?
Participatory mapping is a great tool for involving communities, elevating their voices, and incorporating community knowledge into research and management. There are many ethical and logistical considerations, so it is a tool best used with as much community consultation and introspection as possible throughout the process. Don't be afraid to revise your process or even your questions to match what the community would like to answer or express! Remember that you are doing research with people, not on people.
Ready to learn with Christine? Register to join this episode now!
Learn more about our Tech Tutors
Welcome to the third season of WILDLABS Tech Tutors, our series focused on answering the "how do I do that?" questions of conservation tech! Launched with the support of Microsoft AI for Earth, Tech Tutors is made for conservation tech beginners of all knowledge levels (and yes, even experts can still be beginners when it comes to tackling a new aspect of conservation tech or starting a new project!). Our Tech Tutors will give you the bite-sized, easy-to-understand building blocks you'll need to try new conservation technology, enhance your research, DIY a project for the first time, or simply explore the possibilities!
Taking place every Thursday, each Tech Tutor will present a 30 minute tutorial guiding you through an aspect of conservation tech, followed by a 30 minute live Q&A session with the audience.
Can't make it to an episode this season? Don't worry! You can find every tutorial after it airs on our Youtube channel, and you can collaborate and ask questions in each episode's thread on the WILDLABS Tech Tutors forum.
Visit WILDLABS to learn more about the WILDLABS Tech Tutors series and other events.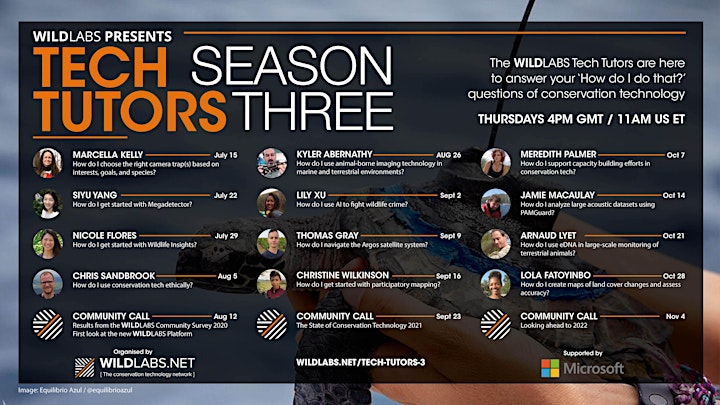 Organiser of Tech Tutors: How do I get started with participatory mapping?
WILDLABS is the first global, open online community dedicated to conservation technology. How are you using #Tech4Wildlife?