The 1st ever Salford Community Orchard Pie Contest and Apple Day Celebratio...
Description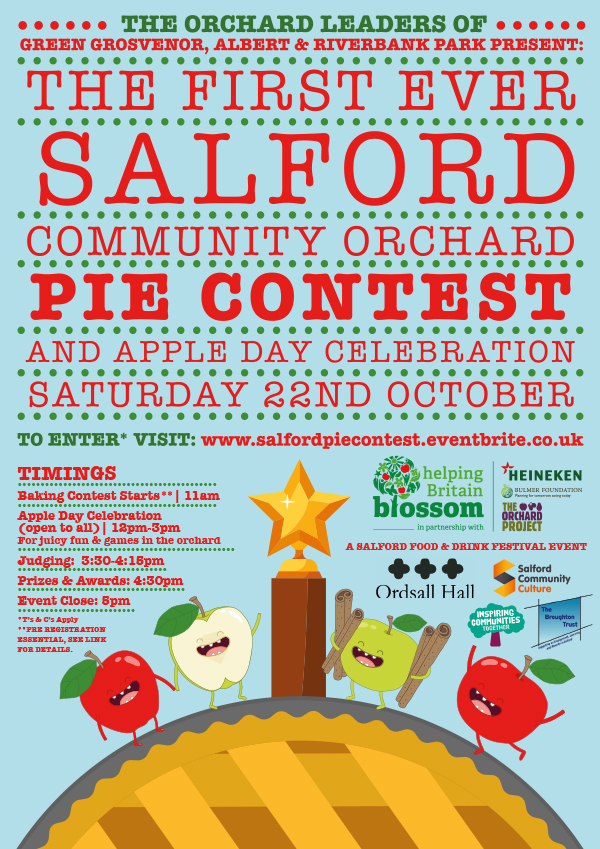 TERMS AND CONDITIONS OF ENTRY
1) Entrants must be 18 or over, under 18's may compete if registering with an adult, please use the adult as the reference. A family unit or group of up to 4 people may enter as one entry. Please nominate a baking leader, they must be over 18.
2) Only one entrant/party per household
3) Entrants must live in the boundary of Salford, proof may be requested.
4) You must be available to meet at Ordsall Hall on 22nd October at 11am. Entrants will need to return with a finished baked pie on or before 3:15pm and be available for judging and prize giving until 5:00pm
5) You must have access to a kitchen space at home or with a neighbour to participate.
6) You will be provided with a bag of basic ingredients. You may add anything to your recipe Please place any additional ingredients on the entrance sheet provided.
7) You bake at home/with a neighbour under your own supervision.
8) On your entrance sheet please give your pie a name. This may be based on your family name, the additional ingredients used or something relating to Salford. There will be a prize for the best named pie.
9) Your finished baked pie must be returned to Ordsall Hall by 3:15 pm. Pies arriving after this time will be disqualified.
10) Judge's decision is final.
11) The Orchard Project reserve the right to change these terms and conditions at short notice.
12) Entrants must be willing to participate in photography/filming on the day and may be required to give quotes for such purposes.
13) You will be added to The Orchard Project mailing lists. This will keep you updated with events and activities that relate to community orchards across Greater Manchester.
14) Any activity that relates to this event which is hosted within the designated venue Hall will be insured by The Orchard Project provided a Helping Britain Blossom Project Manager is present. Therefore activity that happens outside of the venue will not be covered by The Orchard Project insurance. Please make sure that you put measures in place to safeguard your safety and anyone else who is involved in activities within your home and/or any other activities that relate to the event outside of the designated venue.
15) No soggy bottoms. Nobody likes a soggy bottom!