DegreeArt and The Auction Collective bring to you an auction of emerging and established art graduates
About this event
This August DegreeArt + The Auction Collective will present an exhibition and auction of 50 contemporary artworks of graduate and established artists at the Bankside Hotel, 6-9pm pm on Thursday 8th August 2019.
The exhibition will culminate in a live auction with each work under £10,000, presented by The Auction Collective Director, Tom Best, previously Christie's Auctioneer and Contemporary Art Specialist.
Through a series Artists' Residency and Exhibition programmes, Degree Art works hard to bridge the gap between art investment and artist support.
The exhibition runs daily from: 10am - 6pm, 2nd - 8th August 2019 at the Bankside Hotel.
To view the full catalogue of works and place your absentee bids please follow this link: https://theauctioncollective.com/auctions/the-auction-collective-x-degree-art/ 
About the Auction Collective
The Auction Collective was established by former Christie's auctioneer and Specialist Tom Best. It was created to provide a fresh approach to the art market. Tom's idea was to take the best of Britain's auction tradition and bring it up to date by making it more streamlined, more transparent and more affordable. The Auction Collective have a jam packed schedule of exciting exhibitions and auctions across the capital and we're delighted to be working with them.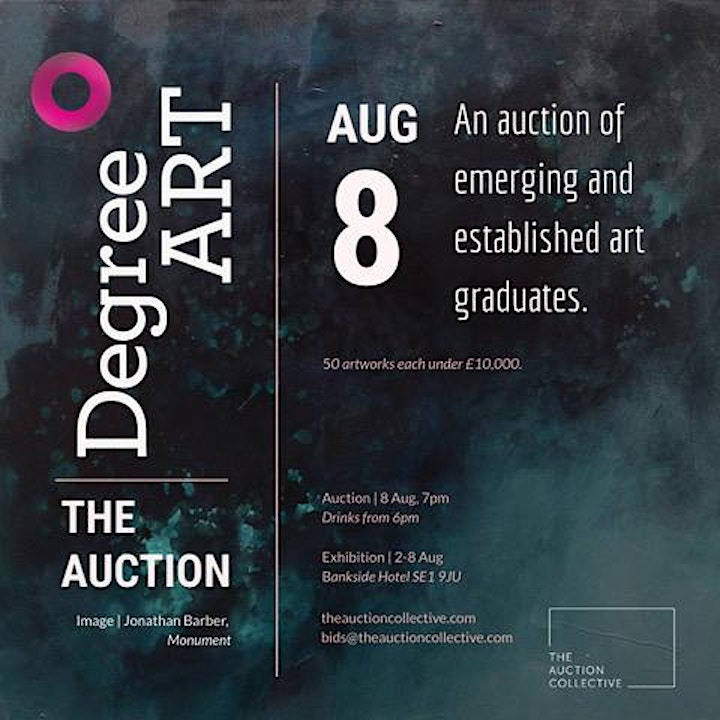 Organiser of The Auction Collective X DegreeArt
One of the UK's first Online Art Galleries, over the past 12 years, DegreeArt.com has established itself as the market leader in UK student & graduate art sales, hand picking & promoting the most promising talent. We are not just an online gallery! As well as selling, commissioning and renting the finest artwork created by the artists emerging from the most prestigious art establishments, DegreeArt.com runs an Artists' Residency and Exhibition program from its gallery and takes part in Art Fairs throughout the year. DegreeArt.com offers clients the opportunity to invest in the artists of the future. We help artists grow their careers