Description
On Friday 15 June The FoodTalk Show celebrates the dreamers, disruptors and crazy geniuses of the food world.
This is the place to be. We're holding our awards ceremony at the prestigious Banking Hall in the centre of London. We've got our lovely partners from Tech London Advocates and London Tech Week. We'll be presenting the coveted FoodTalk Radio Show Awards for 2018, but this won't be like any awards dinner you've been to. Oh no.
How the evening will go
7:00pm
Specially commissioned cocktails in our tasting room will be waiting for you as part of your ticket price. You can sample the innovative food and drink that's made it to the finals and choose your winners - yep that's all part of the ticket price too. Yum. We have negroni cocktails, cold pressed hibiscus gin and tonic, innovative ice tea, amazing brownies, exotic nuts, caramel sauce and banana ketchup (what?) and that's not all of it. You have to vote and tell us who should get the top award for the evening, so concentrate!
From 8:00pm
Three-course seated dinner with red wine and white wine for each person (forgot to mention that's part of the ticket price of course). Not just any dinner, a "playful' dinner. A bit Alice in Wonderland and a new take on old fashioned favourites. There's a lot of it too. We hate when you go to awards dinners and you're still hungry afterwards - not on our watch.
From 8:30pm
Awards ceremony in between courses.
10:00pm to 12:30pm
The after dinner party starts at 10pm. We have a DJ. That's how cool we are (not), but again it's part of the ticket price; a real DJ playing great vibes so you can dance off all that food and excitement, or you can just head to the cash bar instead.
Please note we do not make a profit on this evening's event like other people who organise these things. As part of our social mission we just want our food and drink partners to get the publicity they deserve and have a great time. If our ticket sales mean we break even, we'll be happy.
We can't make it any cheaper - £140 + VAT and booking fees for the tasting market, cocktails, wine, three course playful (filling) menu and a DJ right in the middle of the swanky London banking district. Added to that you're very likely to make great connections or meet buyers for your amazing product. We can't wait.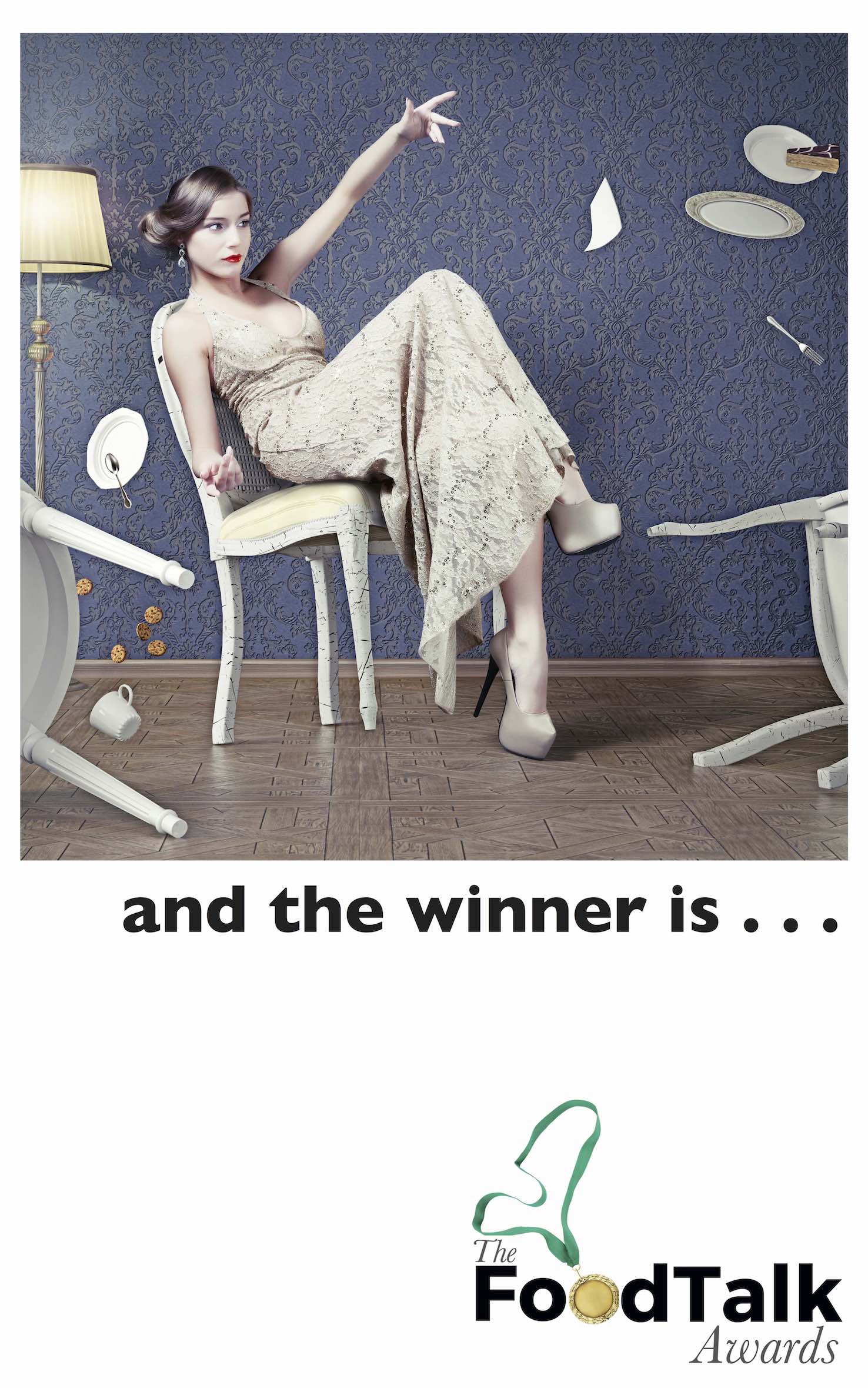 The finalists
With their passion, vision and talent, UK businesses are transforming the future of food and the way we eat forever. Whether they're combining incredible flavours, making creative use of unusual ingredients, cooking up flavoursome free-from fare or giving traditional foods a healthier makeover, these food and drink innovators are really rocking the menu.
We will be honouring the heroes whose products and technology are changing the way we eat, cook and live. Our expert judges have chosen the best of the best, so why not join us for the glamorous awards ceremony in London? Oh, and we'll need some help selecting our 'people's choice' award, so come hungry and ready to do some sensational sampling, because you'll be choosing winners too.
Hosted by the fabulous presenters of The FoodTalk Show, Sue Nelson, Ollie Lloyd and Guy Routledge, it's going to be a lot of fun.

Who should join us?
Food, drink, tech and packaging innovators

Food and drink journalists

Retailers and investors

Start-ups looking for inspiration

Food companies wanting to network with the best

Anyone who loves to eat and drink!

Bloody good value for cocktails, food, wine and an after party event.
Organiser of The FoodTalk Awards 2018 Dinner
The FoodTalk Radio Show showcases food tech, food innovation and promotes artisan producers. Experts discuss the latest trends in everything from distribution and delivery, to taste profiles and tech innovation. Syndicated to radio stations in the USA and across the UK, and available as weekly podcasts, the programme gives 'airtime' and much needed publicity to our food tech heroes.
Find out more about The FoodTalk Show here, part of The Breakthrough Group.