The arts in Wales and beyond: Shifting the balance and co-creating social change
About this event
THE FUTURE IS HERE FESTIVAL
How are artists in Wales and beyond creating social change?
What is co-creation? What does it mean? How do we do it?
Can the arts operate from a place of love?
How can art be made with, by and for the people?
Join us on 15 January 2021 for The Future Is Here Festival, a day long online event exploring how we can use co-created art as a tool for social change.
Expect to hear from artists and practitioners from Wales and beyond who are working in incredible ways, making work with, by and for the people. The future is here!
How do I book?
Tickets are free and can be booked via Eventbrite. Once you've booked, you'll be sent a Zoom link nearer to the event.
We want to make this event as open to as many people as possible, and understand that sometimes taking part requires additional support. If you need any support to attend please email us at info@artesmundi.org . Things we can offer include live captioning, BSL or other language interpretation and financial support towards childcare or WiFi costs.
What can I expect?
The event will take place on Zoom. The day will look like this:
10am - 11am Opening Provocations, followed by a Q&A
Provocations for the day will be given by Sita Thomas (Co-Artistic Director, Maternity Cover, Common Wealth), and Kirtis Clarke (Artist and Producer).
11am - 11:15am Tea break
11:15am - 12:15pm Aurora Trinity Collective (Cardiff)
12:15pm-12:30pm Tea break
12:30pm - 1:30pm Darren Pritchard & Chantal Williams (Rent Party, Cardiff)
1:30pm-2pm Lunchbreak
2pm-3pm Fragments Theatre (Jenin, Palestine)
3pm - 3:15pm Tea break
3:15pm - 4:15pm Albany Park Theater Project (Chicago)
4:15pm - 5:15pm Tea break
5:15pm - 6:15pm Closing Provocation: Binta Ayofemi (California)
Keep scrolling below for speaker and company biographies.
***
GWYL MAE'R DYFODOL YMA
Y celfyddydau yng Nghymru a thu hwnt: Symud y cydbwysedd a chyd-greu newid cymdeithasol
Sut mae artistiaid yng Nghymru a thu hwnt yn galluogi newid cymdeithasol?
Beth yw cyd-greu? Beth mae'n olygu? Sut mae gwneud?
All y celfyddydau weithredu trwy gariad?
Sut mae gwneud celf gyda, gan ac i bobl?
Ymunwch gyda ni 15 Ionawr 2021 ar gyfer Yr Wyl Mae'r Dyfodol Yma, digwyddiad diwrnod ar lein yn archwilio sut y medrwn ni ddefnyddio celf sydd wedi'i gyd-greu fel arf am newid cymdeithasol.
Disgwyliwch glywed wrth artistiaid ac ymarferwyr o Gymru a thu hwnt sy'n gweithio mewn ffyrdd anhygoel, trwy weithio gyda, gan ac i bobl. Mae'r dyfodol yma!
Sut mae archebu?
Mae tocynnau'n rhad ac am ddim a gellir eu harchebu trwy Eventbrite: wedi i chi archebu, byddwch yn derbyn dolen Zoom yn agosach at ddyddiad y digwyddiad.
Rydym am wneud y digwyddiad hwn yn un sy'n agored i gymaint o bobl â phosib, ac yn deall bod cymryd rhan weithiau angen cefnogaeth ychwanegol. Os oes angen cymorth arnoch er mwyn ymuno anfonwch ebost i info@artesmundi.org . Gallwn gynnig capsiynau byw, BSL a chyfieithu ar y pryd a chymorth ariannol tuag at ofal plant neu gostau WiFi.
Beth allaf ei ddisgwyl?
Cynhelir y digwyddiad ar Zoom. Dyma fydd yn digwydd:
10am - 11am Anogaeth Agoriadol, Cwestiwn ac Ateb i ddilyn
Rhoddir anogaeth y dydd gan Sita Thomas (Cyfarwyddwr Cyd-Artistig, Cyfnod Mamolaeth, Common Wealth), a Kirtis Clarke (Artist a Chynhyrchydd).
11am - 11:15am Egwyl
11:15am - 12:15pm Aurora Trinity Collective (Caerdydd)
12:15pm-12:30pm Egwyl
12:30pm - 1:30pm Darren Pritchard & Chantal Williams (Rent Party, Caerdydd)
1:30pm-2pm Cinio
2pm-3pm Fragments Theatre (Jenin, Palesteina)
3pm - 3:15pm Egwyl
3:15pm - 4:15pm Albany Park Theater Project (Chicago)
4:15pm - 5:15pm Egwyl
5:15pm - 6:15pm Anogaeth Glo: Binta Ayofemi (California)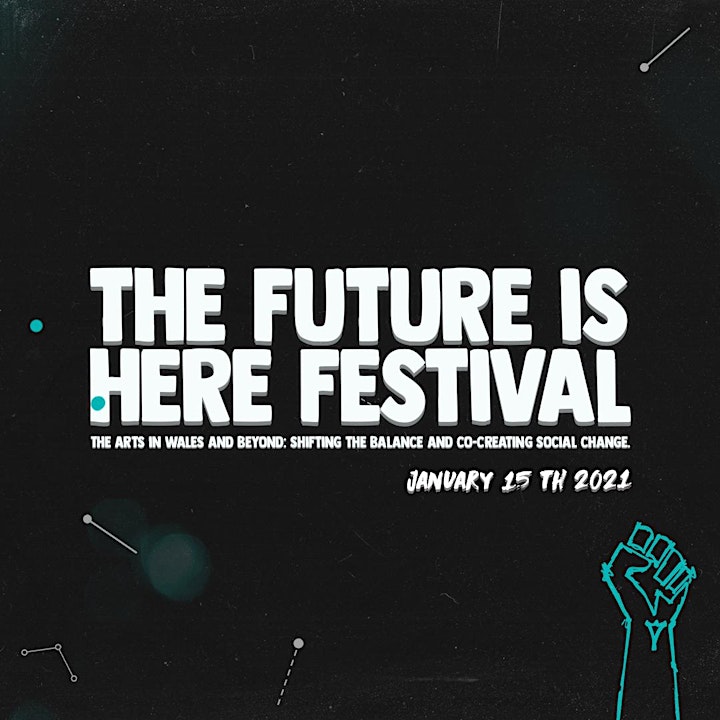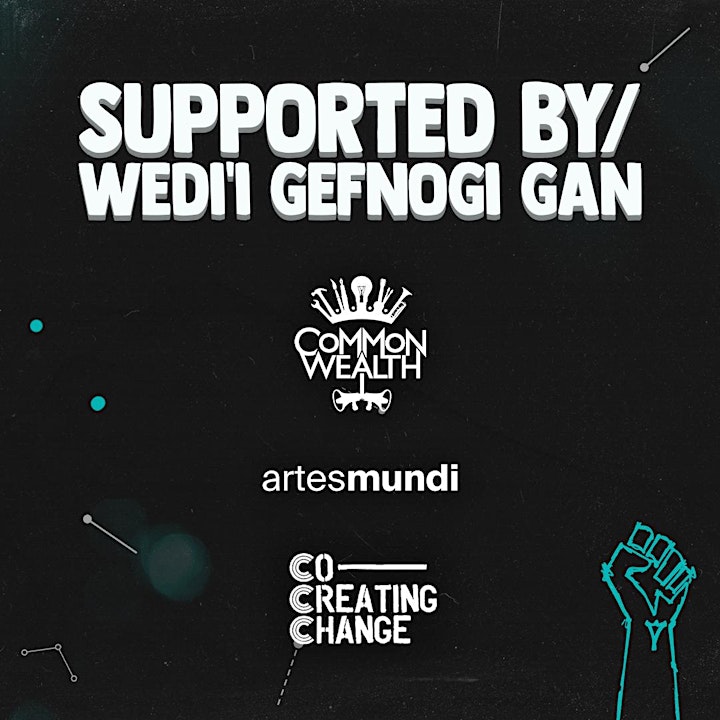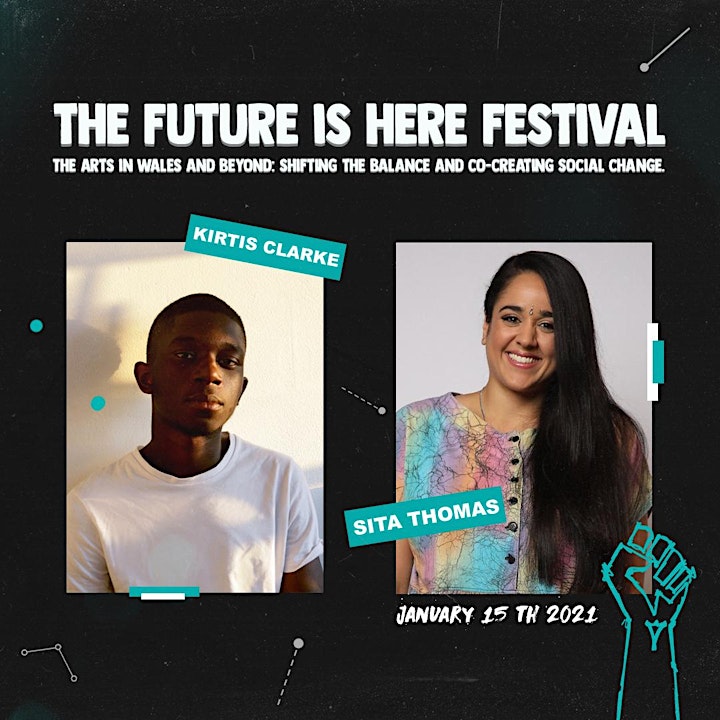 Sita Thomas
Sita is the new Co-Artistic Director (Maternity Cover) for Common Wealth. She is a multi-disciplinary artist working across television, film and theatre, and has a keen interest in increasing representation of marginalised communities. Sita has expertise in audio, digital and site-specific work, and is dedicated to mentoring and skill-sharing with early-career artists.
Directing credits include Under The Mask, a binaural audio drama about the NHS for Tamasha and Oxford Playhouse, We Are Shadows: Brick Lane, a site-specific audio adventure for Tamasha, and The Rose and the Bulbul, an outdoor site-specific promenade production produced by Kadam. Sita leads Tamasha's Directors Programme.
Sita holds a PhD from the University of Warwick and a Masters in Movement Direction from Royal Central School of Speech and Drama. She is also a presenter on Channel 5's milkshake! She is on the Boards of Emergency Exit Arts and Young Vic, and is part of Refugee Week Advisory Group.
***
Sita yw Cyfarwyddwr Cyd-Artistig newydd (Cyfnod Mamolaeth) 'Common Wealth'. Mae'n artist aml-ddisgyblaethol yn gweithio mewn teledu, ffilm a theatr ac â diddordeb mawr mewn gwella cynrychiolaeth gan gymunedau sydd ar y cyrion. Mae gan Sita arbenigedd mewn sain, digidol a gwaith safle-benodol, ac yn ymroddedig i fentora a rhannu sgiliau gydag artistiaid ar ddechrau eu gyrfa.
Mae ei gwaith yn cynnwys cyfarwyddo 'Under The Mask', drama sain deuglust am y GIG ar gyfer 'Tamasha' a 'Oxford Playhouse', 'We Are Shadows: Brick Lane', antur safle-benodol i 'Tamasha', a 'The Rose and the Bulbul', cynhyrchiad promenâd awyr agored safle-benodol a gynhyrchwyd gan 'Kadam'. Mae Sita'n arwain Rhaglen Cyfarwyddwyr 'Tamasha'.
Mae Sita yn meddu ar ddoethuriaeth o Brifysgol Warwick a gradd Meistr mewn 'Movement Direction' o'r 'Royal Central School of Speech and Drama'. Mae hefyd yn gyflwynydd ar 'milkshake!' Sianel 5. Mae'n eistedd ar fyrddau 'Emergency Exit Arts' a 'Young Vic', ac yn rhan o Grwp Ymgynghorol Wythnos Ffoaduriaid.
Kirtis Clarke
Kirtis Clarke is an artist and producer with a visual arts background working across film, sculpture and design. Currently Kirtis is based in the Netherlands and sits as one of the Core members of the Co-Creating Change Network as a freelance artist. He is an advocate for new and existing co-created frameworks that work toward promoting alternative approaches to working with communities and individuals. He regularly engages in the exchange of knowledge around where and how co-creation might exist within the arts sector, and how individual artists might also embed co-creation as part of their working processes.
***
Mae Kirtis Clarke yn artist ac yn gynhyrchydd gyda chefndir mewn celf gweledol ac yn gweithio mewn ffilm, cerflunio a dylunio. Ar hyn o bryd mae Kirtis wedi'i leoli yn yr Iseldrioedd ac yn eistedd fel un o aelodau Craidd y Rhwydwaith Cyd-greu Newid fel artist llawrydd. Mae'n rhywun sy'n hyrwyddo fframweithiau cyd-greu newydd a rhai sydd eisoes yn bodoli ac yn gweithio tuag at hyrwyddo dulliau amgen o weithio gyda chymunedau ac unigolion. Mae'n ymwneud yn rheolaidd â chyfnewid gwybodaeth am lle a sut mae cyd-greu yn bodoli oddi fewn i'r sector celfyddydol, a sut all artistiaid hefyd gynnwys cyd-greu fel rhan o'u prosesau gwaith.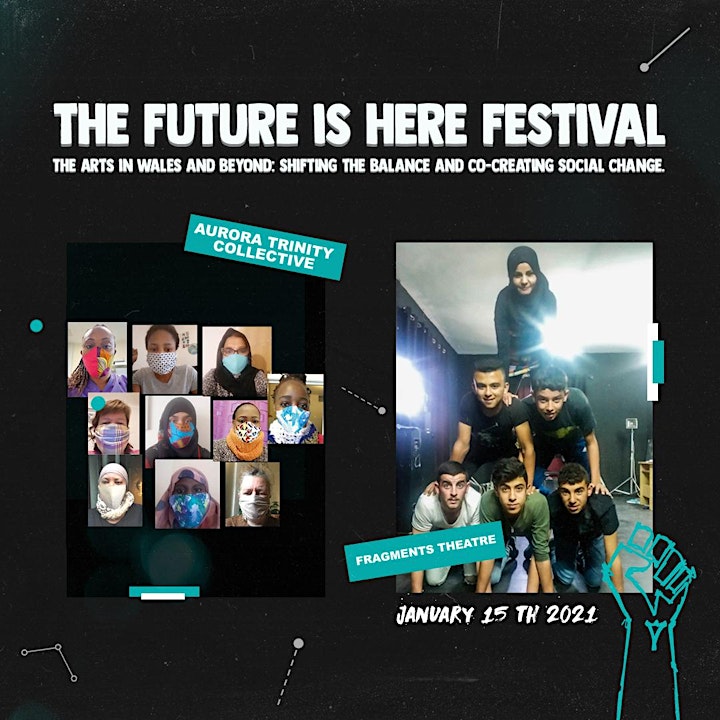 Aurora Trinity Collective
Aurora Trinity Collective is an artist led group committed to creating a culture of inclusivity and creativity who value the importance of kindness and care, sharing textile and art-based practice in a safe and positive space
In this session, the collective will share their experience of working together to build an inclusive, positive and creative space, with some activities and actions around self-care.
***
Mae Aurora Trinity Collective yn grwp o artistiaid sy'n ymroddedig i greu diwylliant o gynhwysiant a chreadigrwydd sy'n gweld gwerth ym mhwysigrwydd caredigrwydd a gofal, yn rhannu ymarfer tecstiliau ac ymarfer seiliedig ar gelf mewn gofod diogel a chadarnhaol.
Yn y sesiwn hwn, bydd y grwp yn rhannu eu profiadau o gweithio gyda'i gilydd er mwyn adeiladu gofod cynhwysol, cadarnhaol a chreadigol, gyda rhai gweithgareddau a gweithredoedd yn ymwneud â hunan ofal.
Fragments Theatre
Fragments Theatre is a cultural organisation, founded in Jenin in Palestine by a group of actors, filmmakers, and technicians who were inspired by Juliano Mer-Khamis, a theatre director who was assassinated in Jenin 2011.
"Fragments represents our feelings of disconnectedness. We seek unity by connecting artists amongst each other, with the local community, with other scenes in Palestine and with the rest of the world by using media and art."
***
Mae 'Fragments Theatre' yn fudiad diwylliannol, a sefydlwyd yn Jenin ym Mhalesteina gan grwp o actorion, gwneuthurwyr ffilm, a technegwyr a ysbrydolwyd gan Juliano Mer-Khamis, cyfarwyddwr theatr a lofruddiwyd yn Jenin yn 2011.
"Mae Fragments yn cynrychioli ein teimladau o fod hollol ar wahân. Rydym yn chwilio am undod trwy gysylltu artistiaid gyda'i gilydd, gyda'r gymuned leol, gyda golygfeydd eraill ym Mhalesteina a gyda gweddill y byd trwy ddefnyddio'r cyfryngau a chelf."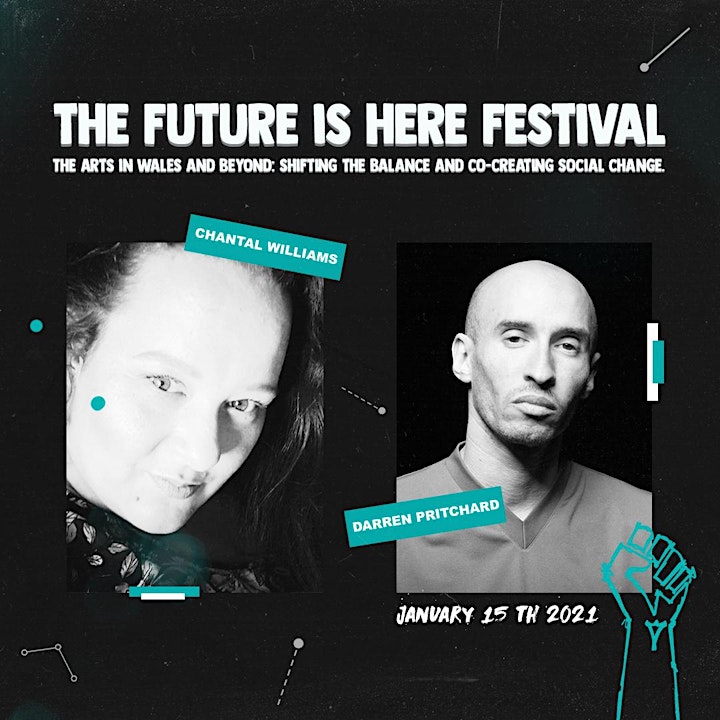 Darren Pritchard & Chantal Williams (Rent Party)
A native Mancunian, Darren is a director, producer, choreographer, and vogue house mother. Darren has 20 years of experience in the fashion, theatre, television and performing arts industries. In addition to his leadership in the infamous House of Ghetto and pioneering efforts in Black Pride MCR, Darren is also the co-artistic director for the Manchester-based arts organisation Black Gold Arts.
Darren will be chatting to Chantal Williams from Common Wealth about Rent Party, a co-created show coming to Cardiff in spring 2021. The session will explore co-creation and how you can create a touring model whilst responding to a new city and new performers. How do you take a show made in Manchester, reimagine it to represent Wales in 2021?
Common Wealth are a site-specific theatre company based in Cardiff and Bradford. The work is political and contemporary – based in the present day – the here and now. Common Wealth make work that is relevant and addresses concerns of our times.
Chantal's roots lie in Hip Hop - from beginnings as a choreographer, developing and heading a national organisation to becoming the Welsh International Dance Organisation's first president before moving into theatre.
Through 2019-20 Chantal produced 4 located residences as part of a NTW program and worked alongside The Agency. Chantal believes in the value that communities have and as community producer for Common Wealth revels in holding the relationships between organisations and communities.
***
Yn wreiddiol o Fanceinion, mae Darren yn gyfarwyddwr, cynhyrchydd, coreograffydd, ac yn fam i dy 'vouge'. Mae gan Darren 20 mlynedd o brofiad yn y diwydiannau ffasiwn, theatr, teledu a'r celfyddydau perfformio. Yn ogystal â'i arweiniad yn yr enwog 'House of Ghetto' a'r ymdrechion arloesol gyda 'Black Pride MCR', mae Darren hefyd yn gyfarwyddwr cyd-artistig i fudiad celfyddydol 'Gold Arts' a leolir ym Manceinion.
Bydd Darren yn sgwrsio gyda Chantal Williams o Common Wealth am Rent Party, sioe a gyd-gynhyrchwyd sy'n dod i Gaerdydd yng ngwanwyn 2021. Bydd y sesiwn yn edrych ar sut i gyd-greu a sut y medrir creu model i fynd ar daith tra'n ymateb i ddinas newydd a pherfformwyr newydd. Sut mae mynd â sioe a grëwyd ym Manceinion, a'i hail ddychmygu i gynrychioli Cymru yn 2021?
Mae 'Common Wealth' yn gwmni theatr safle-benodol a leolir yng Nghaerdydd a Bradford. Mae'r gwaith yn wleidyddol a chyfoes – yn seiliedig ar y presennol – yn yr yma a nawr. Mae 'Common Wealth' yn creu gwaith sy'n berthnasol ac yn mynd i'r afael â phryderon ein cyfnod.
Mae gwreiddiau Chantal ym maes Hip Hop - ar ôl dechrau fel coreograffydd, aeth ymlaen i ddatblygu ac arwain sefydliad cenedlaethol, hi oedd llywydd cyntaf Sefydliad Dawns Rhyngwladol Cymru, ac yna symudodd ymlaen i'r theatr.
Yn ystod 2019-20, cynhyrchodd Chantal 4 o breswylfeydd wedi'u lleoli fel rhan o raglen NTW gan weithio ochr yn ochr â The Agency. Mae Chantal yn credu yng ngwerth y gymuned, ac fel cynhyrchydd cymunedol ar gyfer Common Wealth, mae hi wrth ei bodd yn cynnal y berthynas rhwng sefydliadau a chymunedau.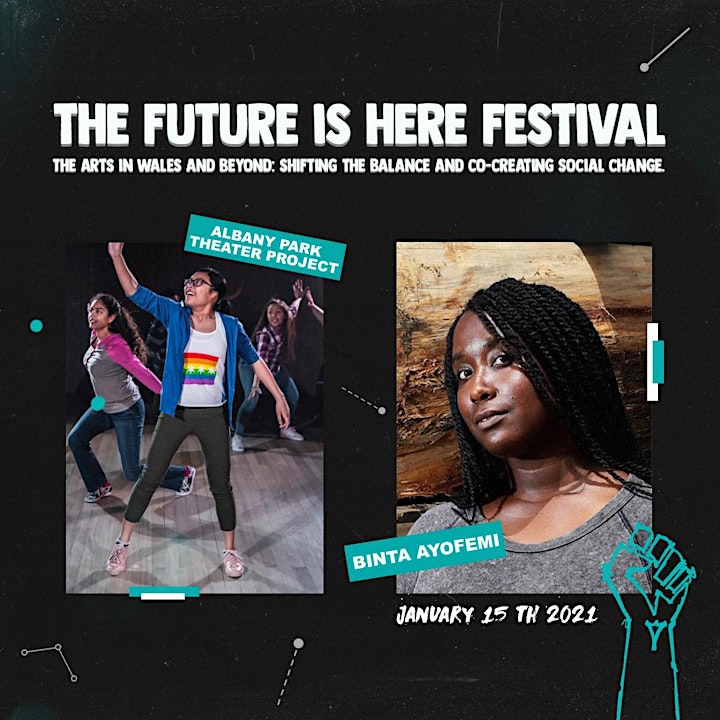 Albany Park Theater Project
Founded in 1997 in one of the most culturally diverse immigrant neighbourhoods in the United States, Albany Park Theater Project creates transformative experiences that forge an inclusive community of youth artists, adult artists and audiences to envision and build a more just, equitable and joyful world. Their teen ensemble and adult artistic team collaborate to devise world-class original theatre that amplifies and illuminates the voices and experiences of our immigrant and first-generation community.
This workshop will be a whirlwind immersion in Albany Park Theater Project's process for devising multidisciplinary performance inspired by real-life stories. Working with stories shared by workshop participants, it will explore a range of ways to combine text, movement and sound to devise performance that's truthful, visceral, surprising, joyful and hopeful. Participants will learn some of the approaches that APTP uses to build ensemble and community and will summon the courage to play outside their comfort zones.
***
Sefydlwyd ym 1997 yn un o gymodogaethau mewnfudwyr mwyaf amrywiol yn ddiwylliannol yn yr Unol Daleithiau, mae prosiect Theatr 'Albany Park' yn creu profiadau trawsnewidiol sy'n ffurfio cymuned gynhwysol o artistiaid ifanc, artistiaid sy'n oedolion a chynulleidfaoedd i geisio rhagweld ac adeiladu byd mwy cyfiawn, cyfartal a llawen. Mae artistiaid ifanc a hÿn yn gweithio ynghyd i greu theatr gwreiddiol o safon sy'n rhoi llais ac yn tynnu sylw i leisiau a phrofiadau ein mewnfudwyr a'n cymuned cenhedlaeth gyntaf o fewnfudwyr.
Bydd y gweithdy yn drochiad cyflym yn y broses mae prosiect theatr 'Alabny Park' yn ei ddefnyddio i greu perfformiad aml-ddisgyblaethol a ysbrydolir gan straeon o fywyd go iawn. Trwy weithio gyda straeon a rennir gan gyfranogwyr y gweithdy, bydd yn archwilio ffyrdd o gyfuno testun, symudiad a sain i greu perfformiad sy'n gywir, dwfn, yn syndod, llawen a gobeithiol. Bydd cyfranogwyr yn dysgu am rai o'r dulliau y mae APTP yn eu defnyddio i adeiladu ensemble a chymuned a bydd gofyn am ddewrder i chwarae y tu allan i'r hyn sy'n gyfforddus.
Binta Ayofemi
California-based visual artist Binta Ayofemi shapes new urban forms and urban materials. Ayofemi's uses vacant sites, from an urban meadow to a reimagined corner shop, to suggest a state of transformation. Ayofemi's first buildings as artwork, COMMONS, GUILD, and YARD open in Spring 2021.
Ayofemi's closing provocation will address how her work shifts accepted narratives around urban voids, seemingly abandoned structures, and economic displacement, while exploring notions of fugitivity, freedom, duration, and Black radical imagination.
Mae Binta Ayofemi yn artist gweledol a leolir yn California ac yn llunio ffurfiau trefol newydd o ddeunyddiau trefol. Mae Ayofemi'n defnyddio safleoedd segur, o gae trefol i siop gornel a ail-grëwyd, er mwyn awgrymu stâd o drawsnewid. Agorwyd gwaith celf adeiladau Ayofemi, COMMONS, GUILD, a YARD yng Ngwanwyn 2021.
Bydd anogaeth glo Ayofemi yn mynd i'r afael gyda sut mae ei gwaith yn newid y naratif am lefydd gwag trefol, strwythurau sy'n ymddangos fel eu bod wedi'u gadael, a dadleoli economaidd, tra'n archwilio syniadau yn ymwneud â ffoi, rhyddid, parhad a dychymyg Du radical.