Description
---
---
Join artist Gavin Turk on a tour of selected public artworks around in the city of Cambridge. Working with Adam Dant's specially commissioned 'Metaphysical Cyclist' map, the artist will be bringing historical context, poetic imagination and a dash of humour to the hidden sculptures of this ancient centre of learning.
.........
The 'Metaphysical Cyclist' is a series of bicycle rides led by Gavin Turk, the first event of a partnership with the CB1 estate and developer, Brookgate, which includes a commission for a new sculpture for Station Square.
Gavin has designed a fleet of colourful, striped bicycles inspired by his work around mobile art, and has outlined a route taking in a selection of the city's public sculptures. Cambridge-born artist, Adam Dant, has drawn a map of the route. This will be available to download so that anyone with a bicycle can follow the route in their own time after the three artist-led rides.
The rides are aimed at the local community and encourage locals to see the public art that surrounds them in the city with fresh eyes. By joining the ride, you will participating in an art event.
Please let the organiser know if you require a male or female bike large or small, and they will do their best to accommodate.
---
---
If you are unable to attend, but would like a copy of the map to explore Cambridge on your own, you can download it HERE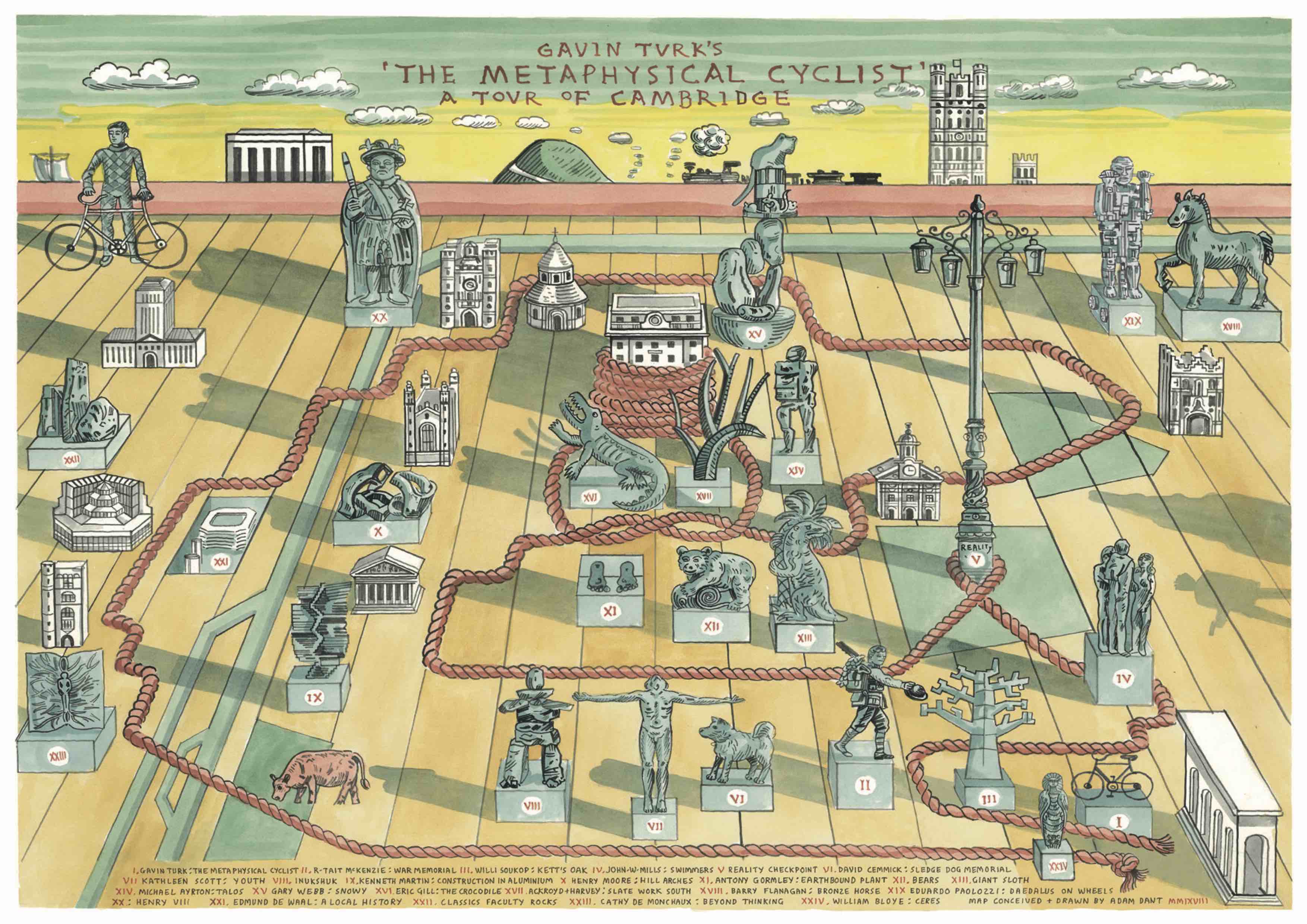 ---
---
FAQs

Are there ID or minimum age requirements to enter the event?
This is a strictly +18 event.

How can I contact the organiser with any questions?
metaphysicalcyclist@gmail.com
+44 7956 280242
---
---
FOLLOW US ON INSTAGRAM:
www.instagram.com/thisisnotgavinturk/
LIKE US ON FACEBOOK:

Organiser of The Metaphysical Cyclist