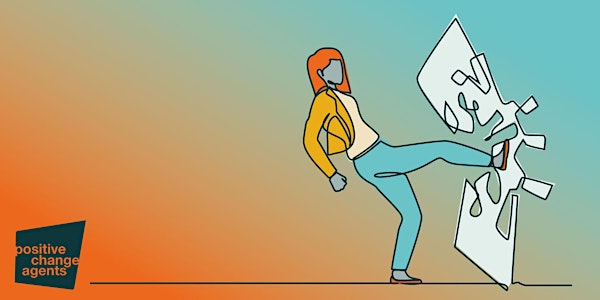 The Positive Change Sessions: Learning from Change
A session to reflect on what the last few years have taught us about change. To connect, exchange, make sense, grow and build resilience…
About this event
What have the last few years taught us about change?
Join us for an interactive 'Positive Change Session', to reflect, exchange and learn around the theme of experiencing and going through change. To connect, to make sense, to learn resilience strategies and grow…
Change is an inevitable part of life. We want to open up discussion around all the different types of change we have experienced as individuals and collectively through the last few years. Our focus is not only on positive change, but change that has been challenging or difficult.
We want to share stories, witness each other's experience, find common ground, notice differences, explore perspectives and build understanding around change. We hope to explore approaches to accepting and working with change, to understand that change is a part of life. We will conclude the session with exploring resilience and strategies around change.
The goals for the session are:
To create a safe and brave space for all participants to explore, reflect and share their stories of change in the last few years.
To share, to connect, to create temporal teams, to find common ground, to network and build understanding around change.
To reflect, to learn from the past and become more resilient and open to change as we look to the future.
Who is this session for?
We all experience change. This session is for anyone who wants to make sense of the change they have experienced in their lives and work.
Wherever we live and whatever stage in our lives and careers we are at, we all have been through change in the past few years. Perhaps we categorise change as positive or negative, or maybe we frame it differently as something that just happens. We have all been impacted by it; maybe we learnt how to ride the waves of change, or perhaps we feel we are still healing from it or fighting against it. Maybe we have discovered a silver lining or opportunities within change. Perhaps people close to us and around us have also been impacted by change.
We believe diverse thinking and experiences are part of understanding change and growth. We actively welcome diverse participants to the Positive Change Sessions to bring a richness of discussion and learning around change.
Our aim is to inspire sharing, create connections and bring growth to individuals and teams. Our belief is that we all have the potential to take an active part in change, whether we are the ones who bring it or it is happening to us because of external changes and factors.
We welcome you to participate whether you have something to share, or want to connect with others. We welcome those who are seeking to grow their understanding around change and resilience.
You are welcome wherever you are based in the world (time zone permitting). Whether you are currently going through change, you want to make sense of previous change in your life or you are curious to learn strategies that can help you in future changes...
This positive change session is for you!
Who are we?
The Positive Change Sessions are facilitated by The Positive Change Agents: Raksha Bhalsod, Christos Papaioannou and Tanya Paget, the co-founders of the collective of the same name. Out organisation is focused on supporting positive change in other organisations and leaders through powerful conversations.
We have shared backgrounds in leadership roles and a vision to work on delivering programmes, grounded in the principles of coaching that are part of sparking and enabling really great leadership. We are intrigued by everyone's potential for positive change and show up as both learners and catalysts.
Why are we offering the Positive Change Sessions for free?
We launched the Positive Change Sessions series in May 2022 and we aim to explore different themes in the coming period. We do it for free because:
- We have an endless curiosity about positive change and want to open up ongoing dialogue and exchange around it.
- The sessions provide us with the space to test new approaches in facilitation and group work - along with those that we have worked with and used for years; you are in good hands.
- The sessions can be a form of authentic marketing, through connection and demonstration. We don't intend to sell anything - if you participated in a session and you are interested in the services that Positive Change Agents can provide to your organisation we are happy to have a further discussion.
- We are hardwired as collaborators. We genuinely like working with diverse groups, connecting and learning.
Other Information to note:
We ask all participants to commit to being fully present during the session; this includes attending from a space that allows you to have your camera on and be connected to audio to contribute to the discussions. The session will not be recorded, but we welcome you to take notes during it. This is an interactive and participatory session, there will be a range of opportunities to contribute, including in small groups, larger groups and via the chat function. The session is delivered in English via Zoom.
Contact details:
hello@thepositivechangeagents.com