THE RENO AT THE WHITWORTH: EXHIBITION REVAMP AND BOOK LAUNCH
About this event
THE RENO AT THE WHITWORTH
EXHIBITION REVAMP
BOOK LAUNCH
Thursday 21 November 2019, 6-9pm
Free, please book as places for the book launch are limited
EXCAVATING THE RENO IN PRINT
LIMITED TO 500 COPIES. EVER.
DJ SET FROM PERSIAN (THE ORIGINAL RENO DJ)
COME. DRINK. DANCE.
The Reno, simply put, was a legendary, rocking, funk and soul, 1970s, cellar club in Moss Side, Manchester. Deemed notorious or a rite of passage. To us 'half caste' born into 1940s/50s no blacks, no Irish, no dogs it was home.
2016 we collected Reno memoirs
2017 we excavated the Reno
2018 we were finalist in 8 national awards
2019 we are resident in the Whitworth
A living sculpture, evolving our exhibition, and journey's narrative, editing, honing, the vast amount of material we'd gathered. Right back to the Reno 12's first official meetings in the Whitworth October 2018, 6 months before we took up our residency, fed by the conversations we've had with each other; the comments Excavating The Reno FB Group post; comments on www.thereno.live; and the in depth conversations with our exhibition visitors.
"You, all of you, have helped us feel and understand what was important. I hope, I know, you are gonna love our revamped exhibition, and our journey printed in photographs. Without you it sure as hell wasn't possible. Thank you. Come and celebrate what we have achieved together.
Bring your purse. There will only ever be 500 copies. Limited edition. It won't be cheap."
Linda Brogan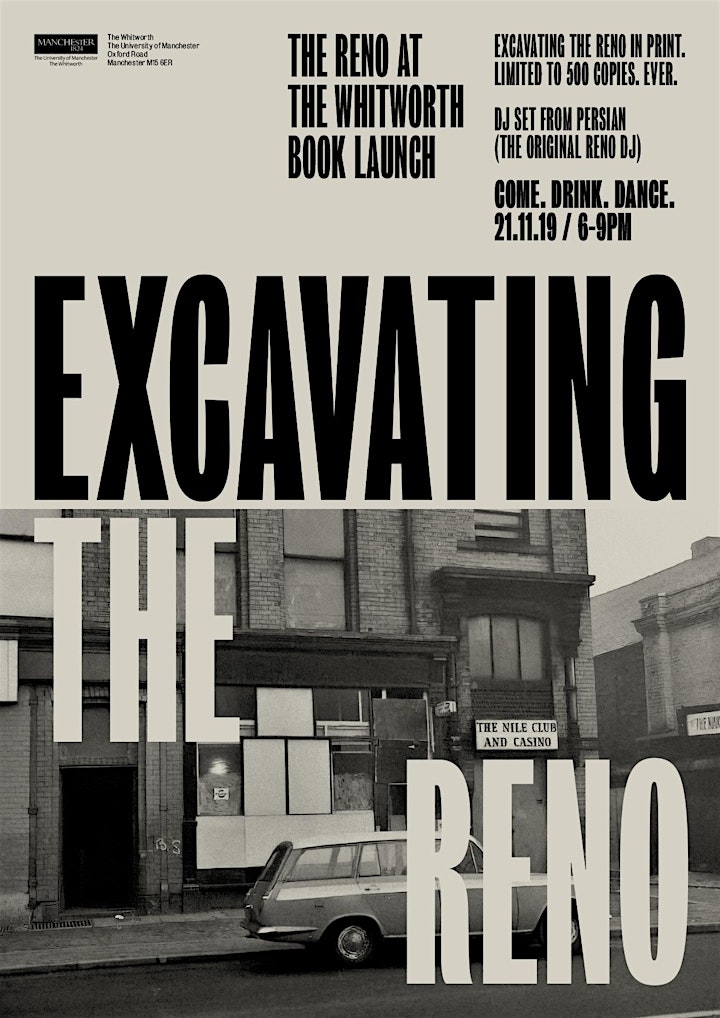 Organiser of The Reno at the Whitworth: Book Launch