Description
The 2018 Scottish Microscopy Group Symposium will be held on Wednesday 5th of December at the Chester Hotel in Aberdeen. This one day event will include talks (invited and submitted) and poster sessions. The programme is available for viewing on the SMG website scottishmicroscopygroup.org.uk
The event will showcase some of the fantastic microscopy work going on in Scotland and further afield, bringing together biologists and physicists using and developing cutting edge microscopy and image analysis techniques.
We have three fabulous keynote speakers attending this year, covering a wide range of topics, they are Maddy Parsons (King's College London), Brian Metscher (University of Vienna) and Stefania Spano (University of Aberdeen).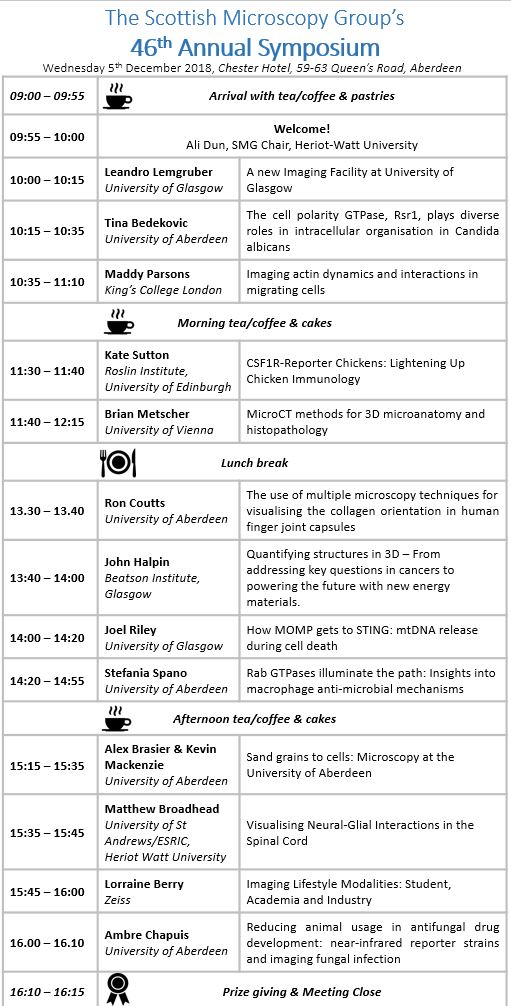 It is a tradition at the SMG symposium to ensure delegates get a chance to present their research through poster sessions and short talks. We particularly welcome submissions from PhD students and postdocs.
We are running an Imaging Competition this year. Any microscopy image, video or animation, using any technique, is eligible to be entered. The details are available on the SMG website.

Get your work ready for submission!
---
****Important registration and abstract submission information****
If you would like to be considered for an oral presentation please email your abstract to scottishmicroscopygroup@outlook.com before the 9th November 2018.
We will accept abstracts for posters up to the 16th November 2018.
Online registration for the symposium will close on 28th November 2018 att 11pm.
Abstracts are required for both posters and oral presentations, they must be emailed to

scottishmicroscopygroup@outlook.com



Abstracts should have no more than 300 words. They should have a clear title. Underline the name of the person presenting the work and give all other authors and their affiliations.
Abstracts of work presented elsewhere are allowed, as long as the work has not been published or presented at the SMG before.
Please advise us of any dietary requirements you may have as soon as possible, thank you!
We look forward to seeing you on the 5th of December in Aberdeen!
Organiser of The Scottish Microscopy Group's 46th Annual Symposium