#TheSurvivalTour Bike Ride, happening 3rd - 18th October
About this event
We are excited to announce an amazing #WeMakeEvents charity event, being organised by the team at Loud Sound and Proper Productions, with support by Crossland Bussing. 100% of donations will go to our chosen charity - Visit our Giving page.
What is it and when?
The Survival Tour is an industry cycle ride from Newcastle to London, via over 50 UK venues and festival sites, from Saturday 3 October to Sunday 18 October, to symbolise what would have been the start of the touring season.
The cyclists will set off from Newcastle on 3 October and will be followed by a tour bus (kindly supplied by Crosslands) which the team will sleep in each night. Media will be arranged to be present at many of the venues we visit to provide maximum exposure.
Where?
A carefully planned route from Newcastle to London, via over 50 venues and festival sites. Totalling over 1500km, it's further than Land's End to John O'Groats!
How can I get involved?
The route is split up into daily stages ranging from 40 to 85 miles per day, with industry professionals invited to get on their bike to join the cyclists for a day of cycling. View the list of legs you can join below - note that it isn't just a journey from A to B, each day the route will stop at local venues and festival sites.
To ensure the safety of the event pre-registration is mandatory via this page. Registration closes 24 hours before the beginning of each leg of the bike ride.
Each cyclist must register separately so we can collect track and trace information. You must abide by government guidelines and only attend with up to five other people.
Detail on each route is in our Strava Club. You will be sent a link, along with more information, in your Eventbrite confirmation email (Please check your junk folder if you cannot see it in your inbox and scroll through the whole email)
3rd October: Newcastle > Northallerton
4th October: Northallerton > Leeds
5th October: Leeds > Manchester
6th October: Manchester > Warrington VIA Liverpool
7th October: Warrington > Sheffield
8th October: Sheffield > Nottingham
9th October: Nottingham > Coalville VIA Liverpool
10th October: Coalville > Birmingham
11th October: Birmingham > Oxford
12th October: Oxford > Bristol
13th October: Bristol > Glastonbury
14th October: Glastonbury > Bournemouth
15th October: Bournemouth > Portsmouth
16th October: Portsmouth > Brighton
17th October: Brighton > London *
18th October: London (travelling between landmarks) *
* Due to high demand we have now split the London part of the tour into five separate legs. You can sign-up to one or more legs, or the whole route.
17th October: meet at Brockwell Park at 15:30
18th October: meet at Excel Centre at 08:00
18th October: meet at Victoria Park at 09:15
18th October: meet at Finsbury Park at 10:15
18th October: meet at Eventim Apollo at 15:00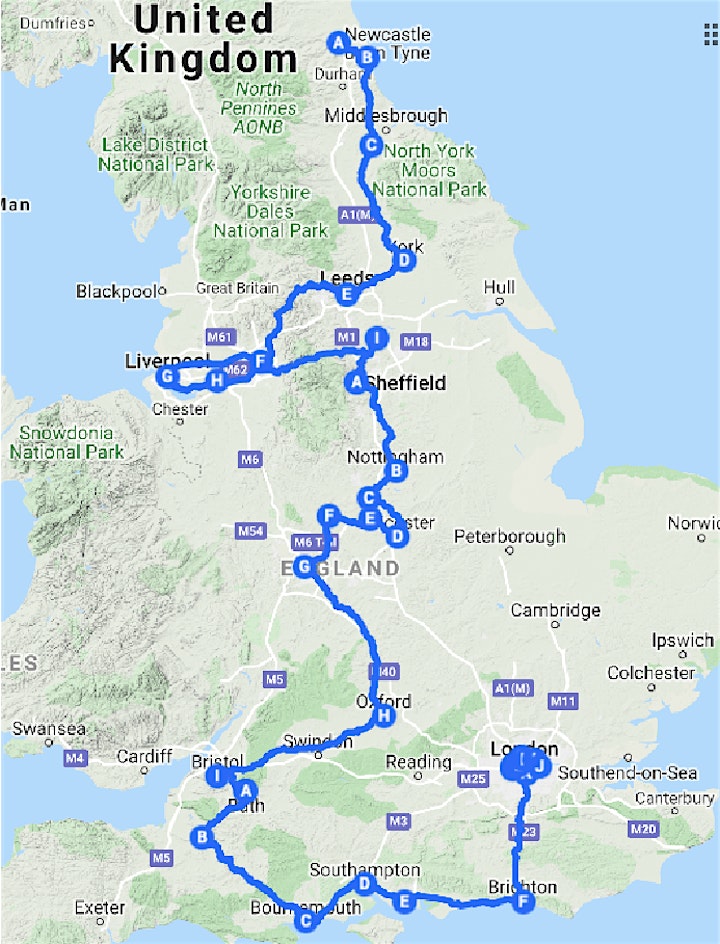 This is physically challenging and you should have the necessary level of fitness and undertake an appropriate training regime ahead of the ride.
Please wear a helmet, check the weather and wear appropriate clothing. We recommend you carry hand sanitiser, and bring enough food and water.
How can I support from home?
If you prefer to get involved at home, you can donate by visiting our Giving page and follow the cyclists on the #WeMakeEvents social media channels: Facebook & Instagram.
Covid-19 statement
The event hosts have taken all the necessary precautions and worked with authorities to ensure the safe running of the event and that social distancing will be complied with.
Do not attend if you, or anyone you have been in contact with, in the last 10 days has had any Covid-19 symptoms.
Please adhere to social distancing and try to keep no less than 1 metre away from anyone who is not from your household or in your bubble
Cancellations policy
We will update you by email should government Covid-19 rules change meaning the event will need to be cancelled. The organisers of the event take no responsibility of the cancellation of the event. Travel and other costs will not be reimbursed.
We will confirm further details regarding the meeting points nearer to the event.
For more information please visit www.wemakeevents.com/the-survival-tour/
Contact us at info@wemakeevents.com