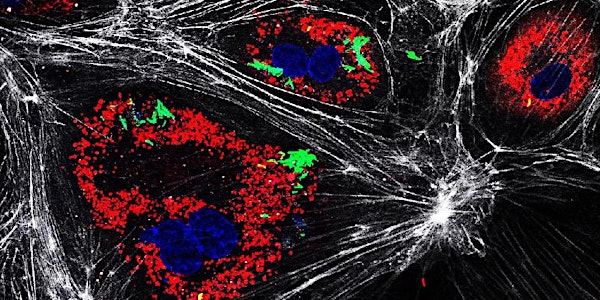 The UK Cellular Microbiology Network:Exploring the host-bacterial interface
Location
Francis Crick Institute
1 Midland Road
London
NW1 1AT
United Kingdom
Description
We are pleased to announce an exciting one-day conference, which will be a must-attend for anyone working on bacterial host/pathogen interactions. With an emphasis on interactions at or within the host cell, we will focus specifically on how pathogens subvert host cellular processes and how the cell responds. While attendees from any country are most welcome, this meeting is intended to bring together the disparate host/pathogen interaction community in the UK and to provide a network to foster collaboration and interchange across the various pathogens under study.
We have two great keynote speakers, Carmen Buchreiser and Thierry Soldati, but the majority of the talks (15 mins) will be delivered by early-career researchers. We will also have a vibrant poster session and flash talks (2 mins) selected from the posters.

The conference will run from 08:30-17:30 followed by a social drinks reception.
The registration deadline is 1 February 2019. Spaces are limited, and we expect to sell out. Register early to avoid disappointment!
Keynote speakers:
Carmen Buchrieser - Institute Pasteur, Paris, France
Thierry Soldati - University of Geneva, Geneva, Switzerland
Abstract submission
Please submit your abstracts to cellmicronet@gmail.com by 17 December 2018.
Abstracts should be no more than 500 words including the title, authors and institution information in Arial 10. The presenter for short talks and flash talks must be an early-career researcher (PhD student or Postdoc), and must have registered their attendence to the conference by 17 December 2018. Please ensure the presenter's name is underlined on your submission.
Short talks, posters and flash talks will be confirmed via email by 20 December 2018.


Programme
8:30 Registration
9:15 Welcome by the organisers
Session 1: Virulence and Pathogenesis
09:30 Plenary speaker: Carmen Buchrieser, Institut Pasteur, France
Biology of the intracellular pathogen Legionella.
Sponsored by the Microbiology Society
10:15 Angela Ibler (University of Cambridge, Cambridge)
Typhoid toxin causes replication stress and transmissible senescence in host cells
10:35 Daniel Fisch (The Francis Crick Institute, London)
Defining host-pathogen interactions employing an artificial intelligence workflow
10:50 Flask talks I: Werner, Petris, Selkrig, Johnston, Carreno
11:05 Refreshments break (sponsored by Perkin Elmer)
11:35 Kate Watkins (University of Warwick, Coventry)
Manipulating the macrophage: a role for the staphylococcal type VII secretion system
11:55 Joe Wanford (University of Leicester)
Intracellular replication of pneumococcus in ex vivo-perfused human spleens
12:15 Flash talks-II: Wanford, Prajsnar, Szkuta, Barry, Taylor
12:35 Lunch break with posters
Session II Host responses to pathogens
14:00 Tiaan Heunis (University of Newcastle, Newcastle)
Ubiquitylation influences phagosome function and pro-inflammatory signalling during bacterial infection
14:20 Virtu Solano-Collado (University of Aberdeen, Aberdeen)
The RAB32/BLOC-3 trafficking pathway is active as an antimicrobial pathway in human macrophages
14:40 Olivier Cunrath (University of Basel, Switzerland)
NRAMP1 restricts Salmonella growth through magnesium deprivation
15:00 Michal Wandel (University of Cambridge, Cambridge)
Interferon-induced GTPases convert cytosolic bacteria into Caspase-4 signalling platforms
15:20 Refreshments break (sponsored by Perkin Elmer)
16:00 Eik Hoffman (Institut Pasteur de Lille, France)
Immunometabolic host response of the IRG1-itaconate axis to Mycobacterium tuberculosis
16:20 Susanne Herbst (The Francis Crick Institute, London)
LRRK2 regulates phagosome maturation and inflammatory response
16:40 Plenary Speaker: Thierry Soldati, University of Geneva, Switzerland
Understanding mycobacterial-host interactions
Sponsored by Cellular Microbiology
17:25 Drinks reception and prize giving (sponsored by Zeiss)


Sponsors
Microbiological Society, Biochemical Society, British Society for Cell Biology, Cellular Microbiology, Journal of Cell Science, Perkin Elmer and Zeiss.
Organisers
Jennifer Rohn - University College London
Max Gutierrez - The Francis Crick Institute
Serge Mostowy - The London School of Hygiene and Tropical Medicine
Jason King - University of Sheffield
Meera Unnikrishnan - University of Warwick
If you have any questions or queries about the event, please email cellmicronet@gmail.com
For any food allergies or dietary requirements please email events@crick.ac.uk