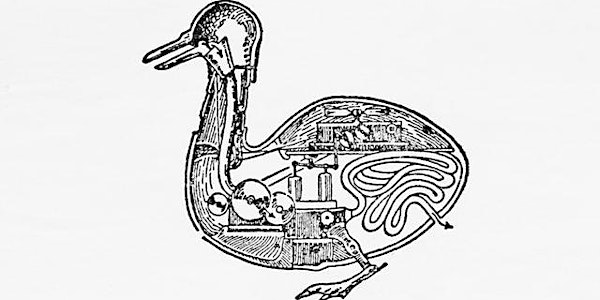 Thinking (about) automata in Descartes, Shaftesbury, and Diderot
Description
This event is part of Birkbeck Arts Week 2019 - see the full programme here. Please contact the organiser if you have any additional access requirements.
Before booking your ticket please review the information below regarding your data.
In the period 1620-1780, discussions of the soul, the mind, and living things, involved thinking about automata, and whether they might think. This talk critiques the contrasting positions of three major writers (Descartes, Shaftesbury, and Diderot) concerning what divides animals from humans, and living creatures from elaborate machines. The lecture and discussion is given by Dr James Fowler (University of Kent) and chaired by Ann Lewis (Birkbeck).
Important Information: Eventbrite is a privately run platform for event booking. By booking via Eventbrite you will become an Eventbrite user, and your data will be processed by them as described in their privacy policy. In addition please note that data regarding your booking and attendance at this event will be passed from Eventbrite to Birkbeck and processed in line with this privacy notice.
Organiser of Thinking (about) automata in Descartes, Shaftesbury, and Diderot
Arts week 2019 will include lectures, readings, concerts, film screenings, performances, walks and panel discussions and is our annual showcase of the varied enterprises of Birkbeck academics, on topics both public and scholarly.
Birkbeck welcomes everyone with an interest in the Arts to participate in this week-long celebration.