Event Information
Location
Etc.Venues (London & Manchester)
London May 16th - Bonhill House, 1-3 Bonhill Street, London, EC2A 4BX
Manchester May 17th - 11 Portland Street, Manchester, M1 3HU
United Kingdom
Refund Policy
Refunds up to 7 days before event
Description
The essential One Day Workshop from Mastering Multi Units
Inspired by the best selling book by Lee Cockerell, retired Executive VP Operations, Walt Disney World ® Resort
---
Time is the most precious thing we never seem to have enough of – so how we use it is one of the most fundamental choices we all have to make.
People who know what to do with time, seem to get more time available to them, whether it's at work or at home. It must be magic since we all have the same amount of time available, right? So, what's the secret?

It's not about the hours you put in, it's about what you put into your hours.

Just think about it. Is there something in your life you want to be different? A promotion? Find a job you love? More time with your family?

Or is it simply to lie down in bed each night not feeling like you were hung out on a laundry line and whipped by the wind all day!

If you want something different, you have to do something different. Here's how … Time Management Magic
What is it and how does it work?
It's based on the system developed by Lee Cockerell during his career. Lee strongly believes that the principles contained within the system explain so much of his personal and professional success. He has personally taught the content to hundreds of colleagues, whilst working at Marriott and Walt Disney World, to help others to master their own time.
Mastering Multi-Units has distilled the essence of Lee's book 'Time Management Magic' into the Time Management Magic One Day Workshop that will help you achieve your goals – both personal and professional – by giving you the tools and techniques to focus on the things that truly matter to you, at work and in your personal life.
These 'things' can be goals, projects or tasks that you need to be achieved at work or more personal priorities that might otherwise get lost amongst everything else going on your life.
Who's it for?
We believe Time Management Magic is relevant to everyone who wants to take back control of their time – whether a Sole Trader, Multi-Unit Manager, C-Suite Executive or anyone with a demanding schedule from any walk of life.
As a result of attending the Time Management Magic One Day Workshop you will:
leave knowing that there is something you can do to dramatically improve your efficiency and effectiveness

identify specific activities that you can do to make progress on your most important goals and objectives

be ready to implement a system for planning and achieving what matters most to you

learn how to become a master of details and follow-up to get things done
Specifically, during this programme you'll learn the Productivity Spells which sit at the heart of Time Management Magic:
The Clarity Spell - getting clear on what matters most amongst the busy whirlwind of our daily lives. What are the 'hard choices' that we often put off until it's too late?
The Planning Spell - clarity will only get you so far; you need a plan to get you started and on track to achieving your most important goals. We explore the difference between goals and objectives and share the secret ingredient that's critical to delivering on your most important objectives.
The Technology Spell - today's tools should make it easier than ever to be productive in our personal and professional lives. And yet…these same tools can drain our productivity levels. We share best practices to help you take control by learning when and how to best utilise these tools.
The Meeting Spell - next to rampant technology, unproductive and ineffective meetings must rank as the most serious productivity drags. We explore how to be the one to prepare for, to facilitate and to follow-up on meetings that make a difference to you and others.
The Delegation Spell - nothing boosts long-term productivity more than developing others to take ownership for tasks, activities and projects. You get time back and they get to grow too but how do you ensure that you delegate effectively and with the right level of autonomy?
Time Management Magic is not about creating a to-do list.
It's about shifting your focus to the things that really matters. Once you know the right things to work on, you can use focus and the Time Management Magic system to get the work done.
Just think about it. Walt Disney, Theodore Roosevelt, and Steve Jobs all had exactly the same number of minutes in a day – 1,440 – as you do. So how did they get so much done?
They knew what to do with their time. They controlled the day. Every hour. Every minute. They controlled time by what they put into each hour.
Now, you can control your day, too.

Take the first step and book a programme now!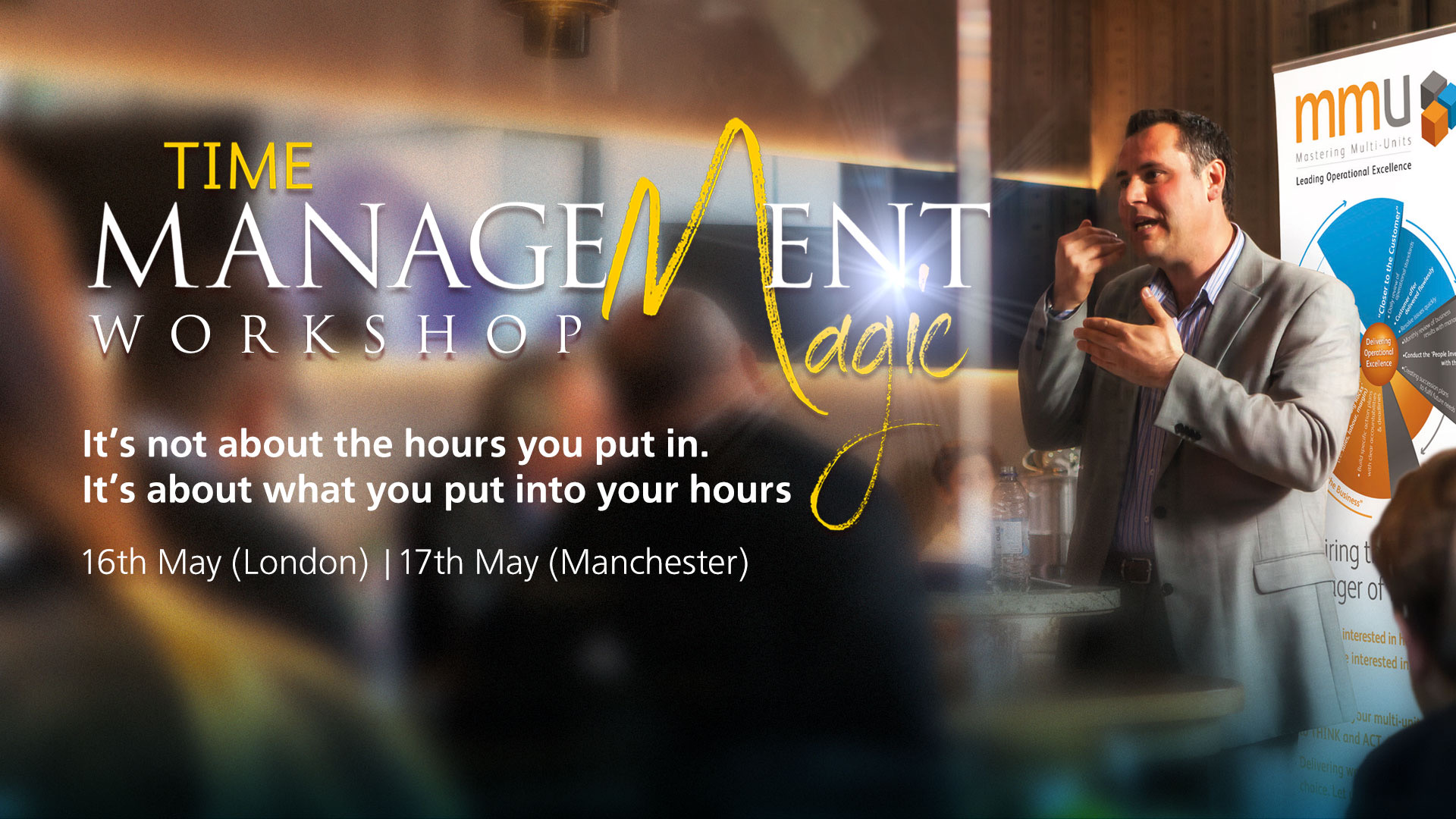 ---
FAQs
I am interested in having this programme run in-house for my team. Can this be done?
Yes, please contact MMU directly using the details below and we can discuss how a programme can be set up specifically for you and members of your organisation.
Please email us - contactus@masteringmultiunits.com
Please call us - 07841 724 421
Is there pre-work that needs to be completed prior to attending the programme?
Yes, each participant will be sent a pre-work email which contains fetails of the activities that you need to complete and bring with you to the programme.
Is my registration fee or ticket transferrable?
Yes, within 4 days of the programme taking place a purchased ticket can be transfered to another person. We would ask that you contact us detailing their details (name and email address) so that we can forward the pre-work to them in advance of the session.
When will I know the venue for the programme?
Venue details are confirned no later than 21 days from the date of the programme. The venues are always located in the advertised cities, as near to major public transport links as possible.
How can I contact the organiser with any questions?
Please email us - contactus@masteringmultiunits.com
Please call us - 07841 724 421
Location
Etc.Venues (London & Manchester)
London May 16th - Bonhill House, 1-3 Bonhill Street, London, EC2A 4BX
Manchester May 17th - 11 Portland Street, Manchester, M1 3HU
United Kingdom
Refund Policy
Refunds up to 7 days before event