The Digital Florentine Codex (launching in 2023) reflects Getty's dedication to digital scholarship and access to cultural heritage.
About this event
The Florentine Codex Initiative:
Indigenous and Global Book Histories Converging in Sixteenth-Century Mexico
Kim Richter, Getty Research Institute
Alicia Maria Houtrouw, Getty Research Institute
Alanna Radlo-Dzur, Getty Research Institute
The Florentine Codex is a sixteenth-century Mexican manuscript produced collaboratively by Franciscan friar Bernardino de Sahagún and a team of Nahua authors and artists. Its twelve books contain three distinctive narratives: a primary Nahuatl text (an Indigenous language of central Mexico), a Spanish interpretation of the Nahuatl text by Sahagún, and over two thousand images painted by Nahua artists. Modeled after ancient Roman natural histories, the codex is renowned as a critical source on central Mexican culture and for its history of the conquest of Mexico. The Florentine Codex was completed in the midst of a devastating epidemic of 1575; almost 500 years later, we tackle a digital initiative on the codex during a global pandemic with the aim of giving comprehensive access to this treasure of cultural heritage.
The collaborative Florentine Codex initiative, initiated at the Getty Research Institute in 2016, leverages Getty's expertise in digital scholarship and vocabulary standards to produce:
the Digital Florentine Codex (DFC), a digital critical edition giving full online access to the newly digitized manuscript and its transcriptions and translations;
a scholarly digital publication on the codex's Mexica perspective of the conquest of Mexico;
4,000 entries contributed to the Getty Vocabularies (in English, Spanish, Classical Nahuatl, and contemporary Eastern Huasteca Nahuatl) drawn from the codex's unique linguistic content; and
educational lesson plans on the conquest contrasting Indigenous and European perspectives.
The Digital Florentine Codex, expected to launch in 2023, reflects Getty's dedication to digital scholarship and access to cultural heritage. Going beyond simply digitizing the manu­script, the DFC will be built with enhanced features and inter­national standards (including International Image Interoperability Framework, or IIIF) to give researchers deeper access than would be possible in a printed book. Users will be able to view images of folios and their associated digitized texts together. All texts and images will be searchable. This focus on images and their related texts will bring the visual culture and history of ancient and colonial Mexico to a broad digital audience.
#digitalhumanities #indigeneity #Nahuatl #mexico #bookhistory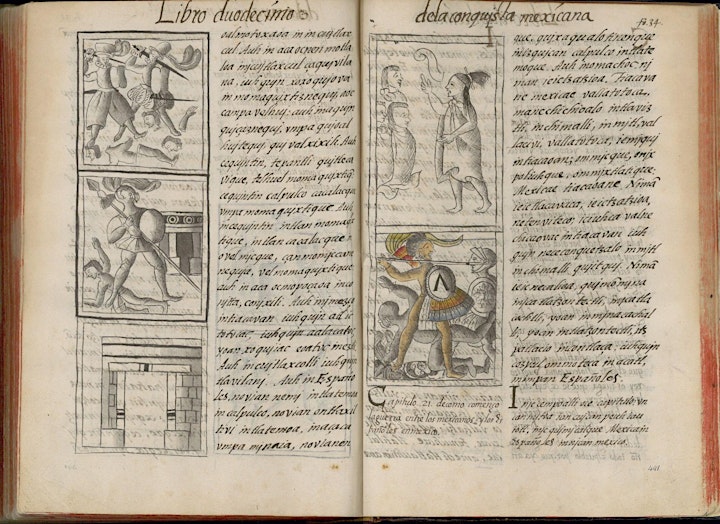 Biographies
Dr. Kim N. Richter is senior research specialist in the Director's Office at the Getty Research Institute. She received her Ph.D. in art history at the University of California, Los Angeles, specializing in Pre-Columbian art and archaeology. She is author of numerous articles on Huastec art, co-editor of The Huasteca: Culture, History, and Interregional Exchange (2015), co-curator of Golden Kingdoms: Luxury and Legacy in the Ancient Americas (2017), and co-editor of the award-winning accompanying Golden Kingdoms catalogue. Her current collaborative digital initiative focuses on the Florentine Codex, an encyclopedic manuscript about Mexica life and culture created in sixteenth-century Mexico.
Alicia Maria Houtrouw is a senior project manager at the Getty Research Institute (GRI) in Los Angeles. She holds a master's degree in Latin American Studies from UCLA, where she researched Pre-Columbian and colonial art of Mexico and Peru. She currently manages two research projects with digital outcomes, the Florentine Codex Initiative and the Pre-Hispanic Art Provenance Initiative, which provide new insights on indigenous art and cultural heritage of Mesoamerica. She is interested in how digital media transcends physical barriers to facilitate the study of art and cultural heritage through collaboration and knowledge dissemination.
Alanna S. Radlo-Dzur is an art historian of Indigenous arts in the Americas. With a background as a filmmaker and lens-based artist, she is a research specialist at the Getty Research Institute and a doctoral candidate in the History of Art at Ohio State University. Her dissertation research considers the graphic depiction of invisible concepts – from the sensorium to the divine – in postclassic and early colonial Nahua artistic traditions of central Mexico. A second project developed from her masters thesis at the University of Chicago explores the fluid roles of diplomats, huaqueros, museum staff, and art dealers in the history of collecting Precolumbian objects of Gran Nicoya. Her work with the Florentine Codex Initiative at the GRI and the K'acha Willaykuna Andean and Amazonian Indigenous Art and Humanities community at OSU demonstrate her advocacy for language revitalization and the creation of open-access projects that open archives to empower Indigenous communities.