Transparency Symposium (scroll down for the details)

Wednesday, 5 July 2017 from 10:30 to 17:00 (BST)
Event Details

"The Financial Conduct Authority's Asset Management Market Study, Final Report"
This very special Transparency Symposium is dedicated to the Asset Management Market Study, Final Report, with the keynote speakers being senior representatives from the Financial Conduct Authority itself. 
When the FCA's Interim Report was published in November 2016 it sent shockwaves throughout the pensions and investments industry as their research and analysis suggested that the asset management industry was falling short on many fronts, with several serious issues highlighted.
The FCA looked at this sector because they wanted to ensure that the market works well and the investment products consumers use offer value for money, recognising that improvements in value for money could have a significant impact on pension and saving pots as even small differences in charges can be highly beneficial over time.
In order to assess how asset managers compete to deliver value for money, the FCA had asked questions such as:
How do investors choose between asset managers?

How do intermediaries and fund governance bodies affect competition between asset managers?

What do prices, profits and performance tell us about how competition is working?

Are asset managers willing and able to control costs and quality along the value chain?

How do investment consultants affect competition for institutional asset management?

Are there barriers to innovation and technological advances?
In their Interim Report The FCA explained they had identified several ways in which asset management products and services could work better for retail and institutional investors and they proposed ground-breaking remedies such as:
A strengthened duty on asset managers to act in the best interests of investors,

including reforms that will hold asset managers accountable

for how they

deliver value for money, and introduce independence on fund

oversight committees

Introducing an all-in fee

approach

to quoting charges so that investors in funds can easily see what is being taken from the fund

Hel

ping retail investors identify the best fund for them by m

aking it easier for retail investors to move into better value share classes; 

requiring asset managers to be clear about the objectives of the fund and report against these on an ongoing basis; clarifying and strengthening the appropriate use of benchmarks; and providing tools for investors to identify persistent underperformance.

Requiring clearer communication of fund charges and their impact at the point of sale and in communication to retail investors.
Requiring increased transparency and standardisation of costs and charges info

rmation for institutional investors.

Exploring with government the potential benefits of greater pooling of pension schem

e assets.

Requiring greater and clearer disclosure of fiduciary management fees and performance.
Consulting on whether to make a market investigation reference to the Competition & Markets Authority on the institutional investment advice market.

Recommending that HM Treasury also considers bringing the provision of institutional investment advice within the FCA's regulatory perimeter.
The FCA then sought comment from the industry and their long-awaited Final Report will be of enormous interest to all types of market participants, thought-leaders, industry commentators, academics, Civil Society groups, pro-consumer campaigners, policymakers and politicians.
Our Transparency Symposium will be a first class opportunity to learn the extent to which market reaction has influenced the FCA's thinking, with many wanting to know whether the FCA will be standing firm on their proposed measures or whether the industry has been successful in watering them down.
There will be ample opportunity to put questions and provide comment to the FCA; and to discuss and debate the issues they raise. 
Demand is expected to be particularly high for this event and places are limited so please book yourself onto it without delay. 
Please click on Order Now above to secure your place.
Enormous thanks to IG Group for hosting the entire event; without their support the conference would not be possible.
Here's the programme:
9:30  
Registration, refreshments & networking
10:15
Ian Peacock, Head of UK and Ireland, IG Group
10:40
Andy Agathangelou, Founding Chair, Transparency Task Force
11:00
Becky Young, Manager, Competition Department, FCA
Robin Finer, Head of Department, Competition, FCA 
12:15
Presentation of the Transparency Trophy, Group Photo
12:30
Lunch & networking
13:30
Mike Barrett, Consulting Director, The Lang Cat
13:55
Larry Bates, Consultant, The Wealth Game
14:20
Refreshments & networking
14:45
Mark Northway, Consultant, Sparrows Capital
15:10
Dan Brocklebank, Head of UK, Orbis Investments
15:35
Panel Session:
 - Barbara Saunders, Managing Director, Solutions, P-Solve
 - Daniel Godfrey, Founder, The People's Trust
 - Martin White, Board Member, UK Shareholders' Association
 - Leon Kamhi, Head of Responsibility, Hermes Investment Management
16:15
The great big open debate!
16:55
Andy Agathangelou, Founding Chair, Transparency Task Force
17:00
Drinks and nibbles, courtesy of IG Group
19:00
Final Close
Please note: If the ticket price of £150 is genuinely beyond your budget please Email me at andy.agathangelou@transparencytaskforce.org and we'll look to sort something out for you if you're not too late - we don't want cost to prevent people genuinely engaged with the subject matter from being able to participate - but please be quick as we only have a limited number of reduced price tickets available.
Thank you.
Some pics from previous events: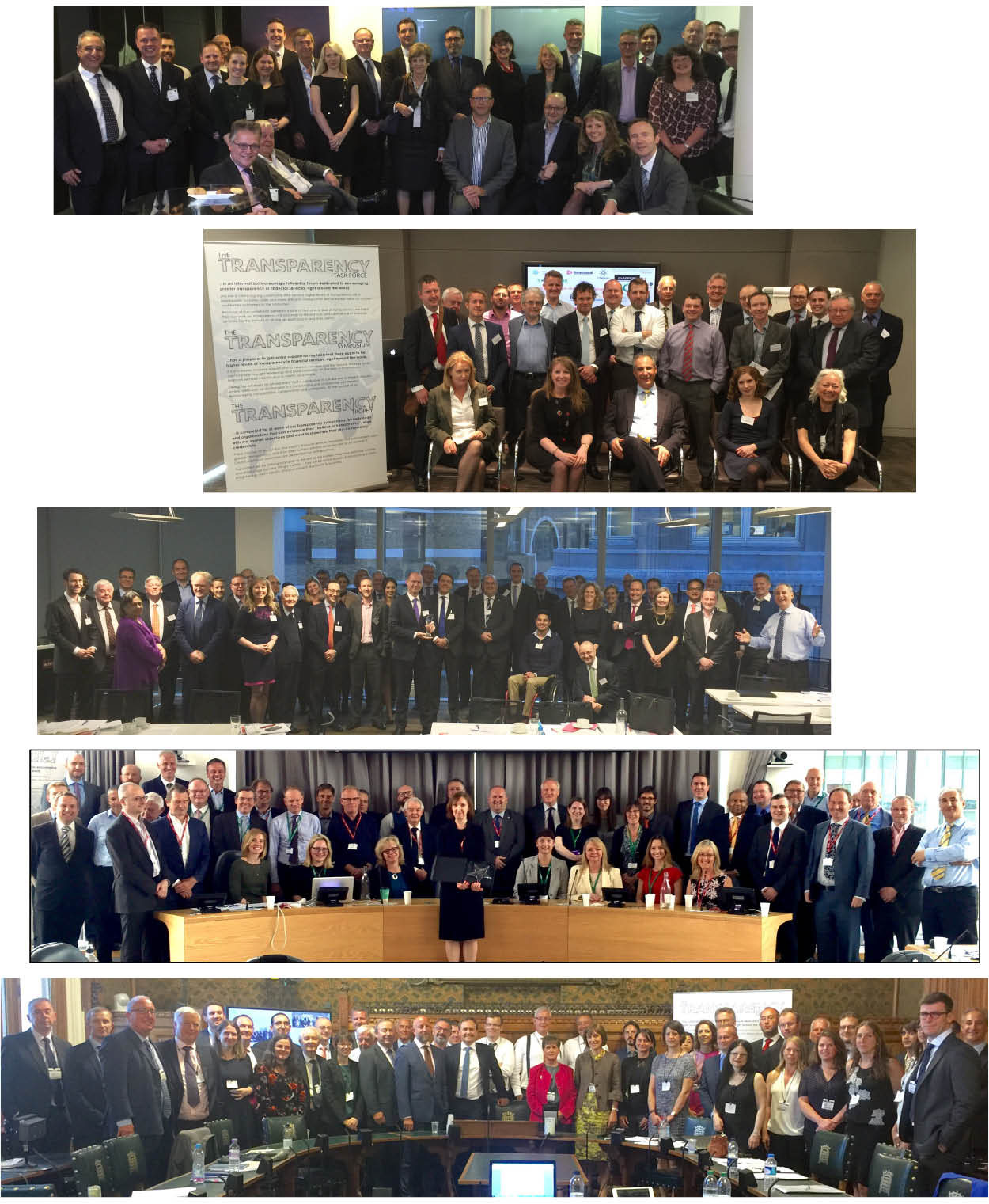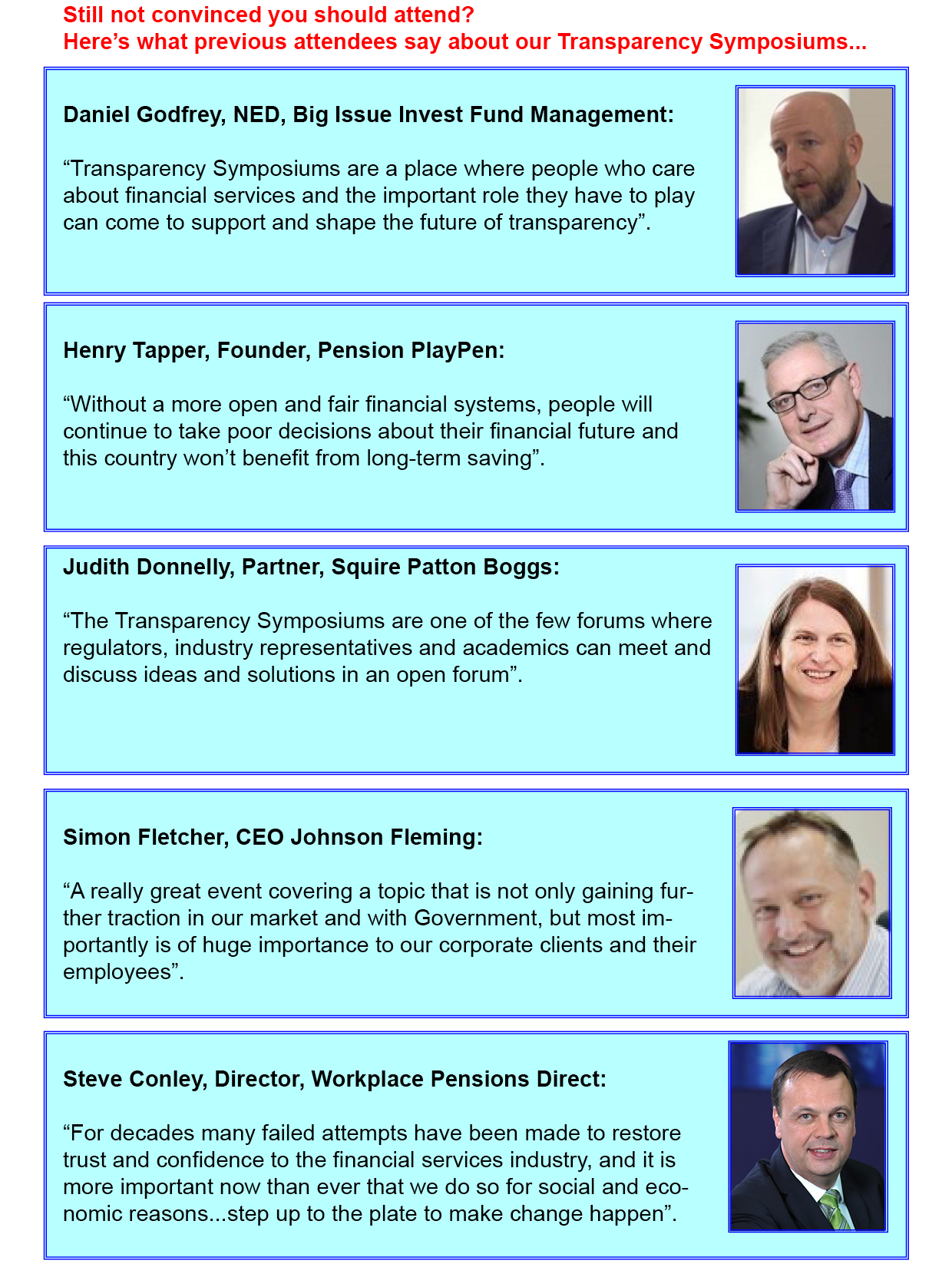 When & Where

IG Group
Cannon Bridge House
25 Dowgate Hill
EC4R 2YA London
United Kingdom


Wednesday, 5 July 2017 from 10:30 to 17:00 (BST)
Add to my calendar
Organiser
The Transparency Task Force is the collaborative, campaigning community dedicated to driving up the levels of transparency in financial services, right around the world.
We believe that higher levels of transparency are a pre-requisite for fairer, safer, more stable and more efficient markets being able to deliver better value for money and better outcomes to consumers.
Furthermore, because of the correlation between transparency, truthfulness and trustworthiness, we expect that our work will help to repair the self-inflicted reputational damage the Financial Services Sector has been suffering for decades.
'Sunlight is the Best Disinfectant'
That beautifully simple phrase sums up what the Transparency Task Force is all about. We believe that financial services market behaviour is improved when it is visible; and conversely, that behaviour that is allowed to happen 'in the shadows' is often at the expense of the consumer.
This is because, rather notoriously, the Financial Services sector is pre-disposed to 'opportunistic obfuscation and opacity'; it has profited from things being kept hidden from the consumer; sometimes deliberately, sometimes not - things like the true costs of investing, the true performance of products and the true risks that consumers sometimes face. 
Opacity leads to asymmetries of information and that's a major concern, because it prevents the consumer being able to make well-informed decisions and thereby stops the market working competitively.
Our Strategy for Driving Change
The Transparency Task Force seeks to operate in a collaborative, collegiate and consensus-building way; focusing on solutions not blame. We seek to effect the change that the financial services sector needs and the consumer deserves.
Our strategy for driving change is to bring together two types of people:
#1, Those with a sense of 'passion & purpose' about what needs to be done – such as the thought leader speakers at this event, the ethically-minded financial services professionals, enlightened market participants, pro-consumer campaigners and leading academics who are involved in our community; and
#2, Those with the 'power & position' to make change happen – such as the regulators, politicians, financial services leaders, trade bodies and professional associations. 
We are an informal but increasingly influential forum - our strategy for driving change seems to be working very well in the UK and we are looking to become a positive influence internationally, because 'opportunistic opacity and obfuscation' in financial services is a global problem.