Refund policy
Contact the organizer to request a refund.
Eventbrite's fee is nonrefundable.
How can you change behaviours if you haven't walked in your audiences' shoes?
About this event
2 timeslots available.
Choose when buying your ticket(s) for 12:30-2pm or 5-6:30 pm BST >>>>>>>>>>>>>>>>>>>>>>>>>>>>>>>>>>>>>>>>>>>>>>>>>>>>>>
Recordings and slides available if you can't join live
Are you an ethical business or campaigning organisation, trying to change habits and behaviours?
Do you understand how and why your audience makes their 'unethical choices'?
Have you walked in their shoes to understand where the opportunities for change are?
Join this audience journey mapping workshop with sustainability and behaviour change consultant, Livvy Drake (Sustainable Sidekicks)
Following this workshop you will be able to:
Get into the mindset of your existing and ideal audiences
Map out their day-to-day lives to understand what leads to their choices, habits and behaviours
Identify opportunities for communication, engagement and behaviour change
Use these principles to increase your audience base
Develop effective campaigns for different audiences
These workshops will help you become a more effective communicator for change, so you can help more people shift their habits, make sustainable choices and become more planet friendly!
The trainer Livvy Drake has delivered award-winning behaviour change initiatives for plastic campaigning organisation City to Sea; as well as delivering training and consultancy to Reuse sector and start-ups developing behaviour change products.
This 1.5 hr workshop will provide you with a variety of simple tools from:
User experience design
Design thinking
Behaviour change
That you can use as you develop new campaigns or products.
Sign up to this workshop as part of the series and get the other two in the series for just £15 each.
As part of this series of events, you can then delve into further workshops that provide you with the practical tools to truly understand your audience's behaviours; when and why they occur and how to develop initiatives to change them.
If you can't attend any sessions live you can watch the replays. Sign up now for these discounted rates.
Behaviour Change Principles for Environmental & Climate Changemakers (26th May) OR
Developing a Behaviour Change Initiative (16th June)
*Accessible pricing*
To make these sessions accessible there is tiered pricing with suggestions for different types of organisations and individuals. Please pay the price point that you can most afford. This will support the scholarship places and the charity that is receiving 10% of the proceeds.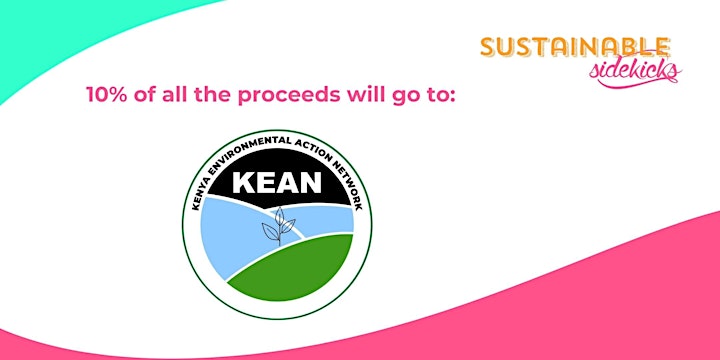 The workshop will donate 10% to KEAN
Kenya Environmental Action Network (KEAN) have set a target to have at least one School Garden in each county. KEAN identified that schools have unused lands and are discouraging of farming and gardening, although it is the backbone of the country, and could be done more sustainably. The objective is to help train learners on the importance of conservation, ways of restoring nature and the art of gardening as well as improving soil. So far KEAN have set up gardens in 4 counties, and they have a target of 47 counties in total.
Through their approach, the projects will create livelihood opportunities for schools and families, while contributing to conservation and the inclusion of different community groups, including schools of Disability and also Children's Homes. It will further promote resource efficiency by introducing students and pupils to organic ways of making pesticides, using organic matter like grass, leaves, kitchen waste and other materials to set up compost manure systems, and further making them restoration stewards through the tree growing and nursery establishment activities.
Testimonials from past participants:
"Thank you so much for another brilliant session last night. Your webinars are really useful and thought-provoking, I will definitely recommend!" - Becky
"Just to say thanks for the session last night. It was excellent. Lots of insights and new things to implement, plus some reassurance that we're on the right track." - Daniel Webb - Everyday Plastics
"Great stuff Livvy! The stuff at the beginning about the 7 different behaviour groups was really interesting." -Rory Brown, Green Pixie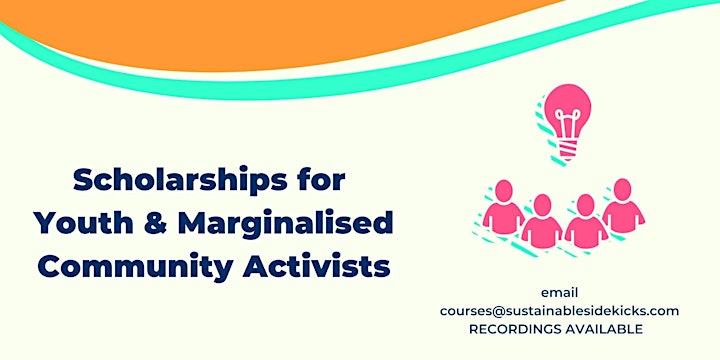 Scholarships
There is a scholarship programme available for campaigners from marginalised and underrepresented communities. Please email through the contact box to get a free place.